Stephen A. Schwarzman is the Chairman, CEO, and Co-Founder of the Blackstone Group; the world's largest leading investment firm with $554 Billion Assets Under Management. He is one of the billionaires who have come all the way without any failure since he formed his own firm in 1985.
He and his former partner, late Peter George Peterson started this group as a small concern dealing primarily in mergers and acquisitions. Under the leadership of Stephen, it grew into the world's largest buyout firm with $439 million.
Furthermore, Stephen has been recognized by Forbes as Forbes 400 2019 ranking on 29, Billionaires 2019 ranking on 100 and Powerful 2018 ranking on 42 for his tackling and beyond belief mind-set.
Net Worth And Salary
When his company, Blackstone Group went public in 2006, it revealed that Stephen had earned about $ 398.3 million in fiscal 2006.
As the CEO of the Blackstone Group, Stephen gathered $786.5 million as his salary including compensation, rewards, and others in 2017. Later in 2018, he collected almost $567.8 million in dividends and compensations in 2018.
Another Wealthy Businessman: James Quincey, CEO of Coca-Cola Wiki: Salary, Net Worth
Overall, Stephen's net worth is estimated to be $11.4 billion, as of now.
As a billionaire, Stephen is also being involved in charities. Only in October 2018, he donated $350 million to Massachusetts Institute of Technology. Also, in June 2019, he contributed $150 million to Oxford University to help in upgrading the curriculum of Artificial Intelligence.
Wiki, Age, And Family Details
Stephen was born in 1947 in Philadelphia, Pennsylvania as a Stephen A. Schwarzman. He celebrates his birthday on 14th February.
He grew up in a Jewish family as the first son of Arline and Joseph Schwarzman. While raising him, his father ran a curtain store. Apart from his parents, he has a twin brother.
Details On His Marriage And Children 
Stephen is happily married to his wife Christine Hearst. She is an intellectual property lawyer.
The couple tied the knot at Stephen's apartment on Friday on 3rd November 1995.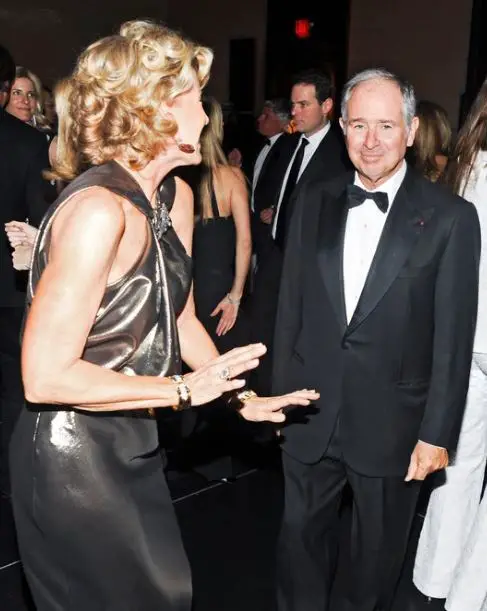 Stephen A. Schwarzman with wife, Christine Hearst at a benefit in 2014 (Photo:nytimes.com)
Though the couple has no children together, Christine has a daughter from her previous marriage.
Before, settling with Christine Hearst, Stephen was married to Ellen Jane Philips on 29 December 1971. She is a trustee of Northwestern University and the Mount Sinai Medical Center; also the daughter of the Chairman and the CEO of Philips Industries. They legally separated after 19 years of togetherness in 1990.
From his previous marriage, he has three children, including Teddy Schwarzman who is a film producer and executive.
Education & Career
Stephen completed his schooling from Abington Senior High School in 1965. And in 1969, he graduated from Yale University. In order to earn his Master's degree in Business Administration, he joined Harvard Business School. Later, he gained his Master's degree in 1972.
Talking about his career, he had already started working while he was in college. He first worked with Donaldson, Lufkin and Jenrette, an investment bank that merged with Credit Suisse in 2000.
Hey! You Might Be Interested In This Too: Reed Hastings, CEO of Netflix Wiki: Salary, Net Worth, Wife, Kids
Soon after that, Stephen worked for Lehman Brothers under the supervision of Peter George Peterson. He served as a Managing Director just at the age of 31. Then, he served as the Head of the Global Acquisitions and The Mergers. Before, forming own group in 1985 with his boss Peter George Peterson, he left Lehman Brothers.
Interestingly, Blackstone Group is the combination of Schwarz and Peter. The word "Schwarz" in German stands for "Black" whereas the word "Peter" in Greek stands for "Stone". Eventually, late Peter retired shortly after Blackstone's 2007 IPO and Stephen started serving as CEO.
Besides that, he is also the Board of Trustees of New York-Presbyterian Hospital since 2016.
Interesting Facts About His Building
He lives in the duplex apartment at 740 Park Avenue,the part of The New York Public Library was previously the house of the Mayflower descendant George Brewster, John D Rockefeller and computer leasing magnate Saul Steinberg; for which he paid $30 million in 2000.
 
The building was founded by the Tilden Trust and the Astor and Linox libraries on 23 may 1895.
 
The metals used was of Stirling Bronze &Co.,furniture used was of Derby Desk $ Co. and the total cost was $9,000,000 on $ 20,000,000 plot.
 
The builders of this building were Norcross Brothers.