In a world driven by digital media, Tai Lopez has found the right medium to get connected with the people. The social media influencer is known for his online courses that are helping people to shape their career and business enterprises through funding and accessing the needs of thriving startups. 
Tai Lopez, An Inspiring Entrepreneur!
Tai Lopez successfully launched a website by his name, tailopez.com, which provides online education for the people in creating better health, wealth with love along with higher purpose through mass marketing. From real estate funding to advertising sponsorships, his site has successfully programmed many individuals to boost their business in remunerative turnovers.
It's been more than 16 years that Tai has been advising more than 1.4 million people across 40 countries worldwide. Apart from his successful startup, Tai has worked in many companies like Wealth Management and LLG Financial Inc.
Influencing People through Social Media
The social media personality was voted the number one Social Media Influencer by Entrepreneur Magazine in the year 2016. He has more than 2.8 million followers on his Instagram page and has surpassed more than 1.1 million subscribers in his YouTube channel.
Today, Tai has become of one of the most successful influential people across the digital platform. His YouTube videos range from the motivational videos to mentorship which will undoubtedly be an essential aid to many young aspiring entrepreneurs.
Personality Test of Tai
As mentioned above, Tai has conducted various sessions about business startups. Similarly, he has written many blogs that defines the trait and personality test for any human to live a positive life.
In his free online course, he has covered important personality test for people that will be beneficial for them to cultivate their character and built an identity of their own.
How Much Is Tai's Net Worth?
The Business magnate lives a lifestyle that not everyone can dream of. He has earned a net worth of $5 Million, and all the earnings are primarily from his advice for the people to acquire wealth. 
Tai currently resides in his luxurious 1,600-1,700 sq.ft house in Beverly Hills which has a fabulous interior designing. Well, it is evident that he lives according to his earnings.
Talking about Tai's garage, he is the proud owner of some most of the luxurious cars across the world. His daily ride includes Lamborghini and Mercedes Benz which he doesn't flaunt on his social media pages.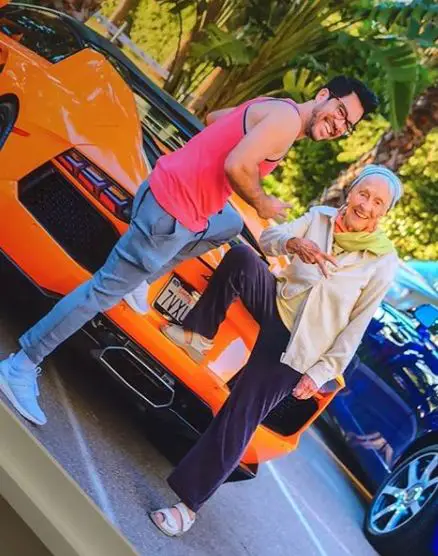 Tai Lopez posing with his Lamborgini along with his 100-year-old Grandma in a picture posted on March 12, 2018 (Photo: Instagram)
His Short Bio
Born on April 11, 1977, Tai Lopez is the native of United States. The 41-year-old entrepreneur stands an elevated height just like his ever charming personality and inclining career. Tai belongs to Caucasian ethnic group.