Abby Ryder Fortson is the daughter of actor John Fortson and actress Christie Lynn Smith. But, she has shaped her fame and eminence by her own will and ability in the acting world—she has built the ability to portray any role she is given to perform. 
Since her entrance in Hollywood, she has accumulated a large fan base and recognition through her irreplaceable presence in the HBO's Togetherness, Amazon's Transparent, Forever My Girl, The Mindy Project, and ABC's The Whispers. Also, she has starred a leading role in the Marvel film Ant-Man and The Wasp.
Abby Ryder Fortson Bio
Abby's birthdate is 14 March 2008. She is only 11, but her endeavors are inexpressible. She started acting since only the age of four; as a result, now she is professional at her work regardless of her very young age. 
She has worked at A Dog's Journey (2019), Togetherness, guest-starred Clementine, the 2013 episode of The Mindy Project, and many more.
With her years of working experience, Abby has understood that the roles are not real, and they are all fake. That strong mindset has made Abby strong, and she doesn't get scared easily, unlike other children of her age. In fact, she watches herself calmly on the screen even though she may have horrible scenes on the screen.
In addition to her strong mentality, Abby is also fit and healthy physically. She has a growing height of 1.41 meters (4 feet 7½ inches).
Who Are Abby's Parents? Her Family
The essence of the acting developed in Abby because of her artistic family background. She is a daughter of actor John Fortson, actress Christie Lynn Smith and an elder sister of actor Joshua Fortson.
Her father, John Fortson, is an award-winning writer, director, and actor best known for his works at his written and directorial debut film Rated (2016). Abby has appeared alongside his dad in the film. Likewise, her mother, Christie Lynn Smith, is also an award-winning actress known for her appearance in many TV shows and movies like The Last Stop Cafe,  Gods and Generals, Super Force, Swamp Thing, soap opera Forever, USMA West Point and many more.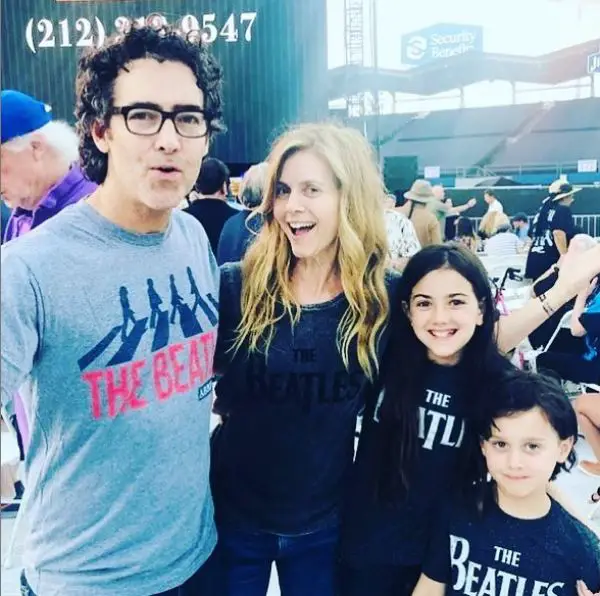 Abby Ryder Fortson with her parents, John Fortson and Christie Lynn Smith and brother, Joshua Fortson. (Photo: Instagram)
Besides her parents, Abby's brother, Joshua, is also involved in Hollywood. He has portrayed the role in the 2016 short movie, Rated and as Alexander Kyle in the 2017 TV mini-series, Urban Nightmares. 
How Much Is Abby's Net Worth?
Abby might be small in age, but her net worth is more than one can ever imagine. Indeed, she is one of the most successful child actresses to sign a contract with $US17,500 ($A23,438) per episode in the first season of HBO's series Togetherness, in 2015. Similarly, in season two, her salary was increased to $US20,000 ($2A6,787) per episode. She was expected to get five more percent in her third season.