Born to the family of a farmer, Adam Henson has perfectly continued the legacy of his father and took his fame to utmost height. Henson, who calls himself slightly dyslexic, has managed to gain recognition in the television world with shows such as, 'Farming Today' and 'Lambing Live,' and also has authored few books including 'Like Farmer Like Son' and 'A Farmer and His Dog.'
How did Adam Rose to Fame?
Adam Henson rose to prominence after presenting the BBC's show, 'Country File' in 2001. He has worked on the programs, 'Inside Out' and 'Countryfile Summer Diaries.'  His extensive knowledge of farming has supported his work on BBC Radio 4's 'On Your Farm,' 'Farming Today' and 'Lambing Live' with Kate Humble.
Similarly, he appeared alongside Nigel Slater on BBC's, 'Nigel and Adam's Farm Kitchen' in November 2013. Henson has also penned few books including, 'Like Farmer Like Son,' 'A Farmer and His Dog,' 'Countryfile: Adam's Farm: My life in the Land.'
Early Career and Net Worth:
Adam Henson earned an HND in Agriculture at Seale-Hayne Agricultural College in Newton Abbot. During the time, Henson met Duncan Andrews and the duo traveled for over a year across Australia working on sheep and arable stations. They visited kiwi plantation in New Zealand and tea plantation in the Atherton Tablelands in Queensland.
Henson and Andrews took his father's farm 'Bemborough Farm' on the lease in 1998. Since then, the pair jointly runs the 650-hectare estate growing varieties of crops and also rare breed animals. His works on the television and farm have helped him summon a huge net worth of $2 million dollars.
Not Married But together Since Decades!
Marriage is only a ritual and what keeps two individuals together is their level of understanding and love. Adam Henson has two children from his girlfriend, Charlie, but the presenter never sensed the necessity of getting married and turning her into his wife. While talking about her, Henson, who has known Charlie since the high school, said,
My best friend is… my partner Charlie. We're not married, but we've known each other since school. She's the mother of my two children.
Proud Father of Two Kids!
Despite the non-formal relationship, Charlie has stayed with him in every up and down and has helped him prosper. She has also given him two beautiful daughters who are a huge part of their life now. In an interview with Express, the presenter revealed the happiest day for him was when his daughter and son were born healthy. He said,
The best days of my life were… when my children were born. I have an 18-year-old daughter and a 13-year-old son. When they were born healthy, it was a huge relief and an amazing day.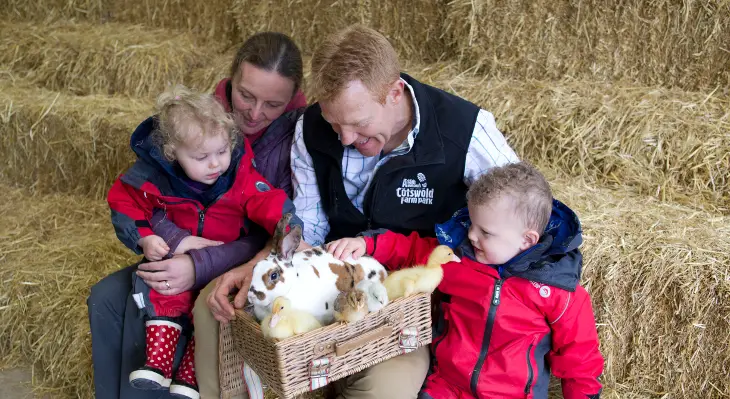 Caption: Adam Henson with partner, Charlie and children years ago.
Source: cotswoldfarmpark.co.uk
Besides that, he owns three dogs named Boo, Olive and Dolly who mean a lot to the family. About the four-legged friends, he says,
"They're incredibly loving. They also have a good bark on them, so if someone comes to the door, they'll let you know."
His Short Bio:
Adam Henson was born on January 8, 1966. His father, Joe Henson MBE used to present a countryside TV program and uncle, Nicky Henson has appeared in films and shows including 'Inspector Morse.' Similarly, Leslie Henson, his grandfather, was a music hall comedian and actor. Henson belongs to white ethnicity and has an impressive height.