Adam Housley is known as a senior news correspondent for Fox News Channel. The award-winning American journalist is also the former professional baseball player who was drafted into major league baseball by the Montreal Expos. During his Fox journey, he covered the significant broadcasts such as Haiti earthquake, Japanese earthquake, and Tsunami, Tohoku earthquake, and Tsunami, and Las Vegas shooting.
How Much Is Adam's Net Worth?
Adam Housley, age 46, has accumulated a net worth of $3 million from his career as an American journalist. According to simplyhired.com, the average salary of Fox News anchor is between $31,122 to $127,141. Adam who worked on Fox News since 2001 has likely received above-average wages from which he derived his net worth.
He started his professional broadcasting career for KVON-KVYN radio in Napa where he produced the newscast. He is working on Fox News channel since 2001 as a senior correspondent. He has won various awards including Regional Emmy Award, Forestry Award, and a Regional Associated Press Reporting Award.
Adam's Married Life; Supports Wife To Fight Criticism
Adam is married to the American actress and model, Tamera Mowry. The duo tied their knot on 15 May 2011 after nearly six years of their dating life. They conducted their wedding at the Villagio Inn amp Spa in Adam's hometown of Napa, California. Among the 300 guests, star celebrities like Candace Cameron Bure also attended their ceremony.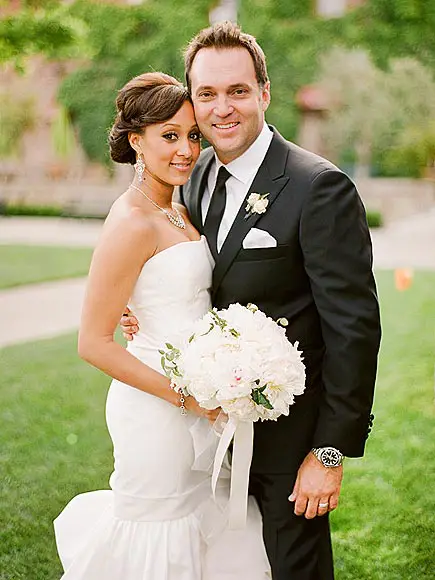 Adam Housley weds Tamera Mowry on 15 May 2011 at Napa, California (Photo: people.com)
According to New York Daily Times, his wife Tamera is a religious person who never slept with any other guys in her life except Adam. The actress further revealed she was 29 years old when she lost her virginity to Adam, in an interview with Hot 97.
The couple has two kids, Aden John Tanner Housley and Ariah Talea Housley. Their son Aden was born in November 2012. Within three years of the birth of their first child, they welcomed their daughter Ariah in 2015. His wife Tamera said that Aden likes to play outside and is interested towards games and sports. Whereas, their daughter Ariah is a father's girl.
In an interview with momtastic.com in 2017, The Hot Chick actress opened up regarding her Interracial marriage with Adam Housley. When the interviewer asked about the criticism of her interracial marriage, she replied:
I think the criticism is even worse now, with the racial tension that we're seeing and the political climate. But my husband, who is so great, said, 'You know what, Tamera? This is just teaching you to focus on the thousands of people that are for you, as opposed to the very few people who are against you.' He's right.
She also said that her dad is white and her mother is black. When her mother found Tamera was dating a white guy Adam in 2005, she told Tamera about the discrimination of interracial marriage. Tamera also considers her parents strong as they spent severe worse moments in their life than she and Adam.
On January 2014, Adam also stated he had received harsh comments and even defended his wife and family. He also slammed the criticisms of their interracial relationship labeling as a 'Bigoted' and 'Pathetic' remarks.
No matter how much Adam and Tamera received criticisms regarding their marriage, they rejoiced their sixth anniversary on 15 May 2017. They even swapped their sweet emotions of love through the social media on their wedding anniversary. The couple is now cherishing their seven years of married life parenting to their kids Aden and Ariah.
Adam Responds To Rumors Of Voting Donald Trump
Adam, who already shut down harsh criticism regarding his interracial marriage, was also criticized for allegedly voting for American president Donald Trump. It all started when he posted an Instagram photo with the American President Reagan and Obama on 21 January 2017. The American journalist also said he had met four presidents including Bush and Carter.
But his followers criticized him saying where he would visit Donald Trump and they assumed he voted Trump. But the actor posted in his comment section where he said he neither supported Trump nor Hilary.
Short Bio
Adam was born on 13 August 1971 in Napa, California as Arthur Adam Housley. He has a height of 1.91 m (6' 3") and belongs to white ethnicity. Adam was also a professional baseball player who played for Junior Olympic All-American as a pitcher and hitter. According to the wiki, he completed master's degree from the University of Arizona where he studied International Relations.