You come across many celebrity couples in Hollywood who meet during work, get close, have some brief flings and part their ways. Aden Stay is one such actor in Hollywood, who made it to headlines when he dated "Teen Mom OG" star, Farrah Abraham just for a week. Their relationship took a toll when the short time couple parted their ways after a brief romance on 7 March 2018.
Stuntman Ends Affair with Girlfriend!
Stuntman Aden Stay and "Teen Mom OG" star, Farrah Abraham called for a breakup on 7 March 2018 after a very brief romance.
As per Radar, the couple came out publicly about their relationship just on 1 March 2018 but already called on quit from the romance. Furthermore, as the split hit every headline of the news website on Wednesday, Farrah, a single mom, 26 explained that she is currently focused on her work between TV and film projects. 
Also, when asked about the split she answered by saying that she has to be quite conscious while dating people as many men target her for her success. She has as well deleted all the posts about her ex-boyfriend from all her social media accounts.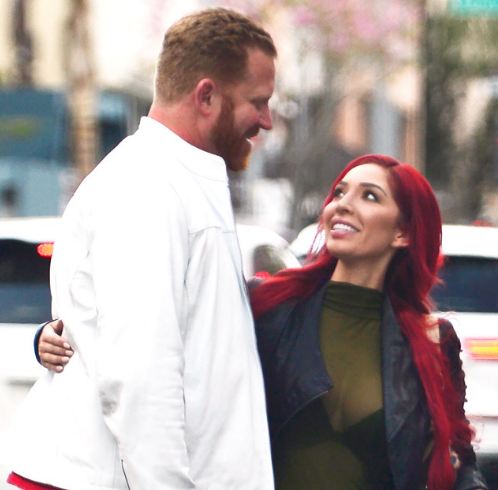 Aden Stay and Farrah Abraham break up after one week of brief romance. (Photo Credit: Eonline.com)
Farrah is a single mom to her nine- year- old daughter, Sophia and she is currently very focused on her ride to motherhood.
Well, that was what Farrah Abraham had to say about their surprising split but what the stuntman Aden Say has to say about it? Let's find out!
According to People, Aden made a statement to them about the spilt and denied the accusation Farrah had on him about dating her for the success.
Aden further adds that their spilt had nothing to do with the success and this stuntman has no interest in being popular. In fact, he didn't even know or heard about the reality TV show or films she has been involved.
The ex-couple even while parting ways wished each other luck and success along their way. As for Aden, he prefers to stay single until the right woman comes his way and he is sure that she will one day or the other.
He once publicly dated movie actress, Rebel Wilson at the 2017 MTV Movie Awards but rumours have it that he was involved in the affair solely for fame.
Career and Progression:
Aden Stay is an American stuntman and actor famous for his roles in hit movies, "Pitch Perfect 3" and "Jumanji." His further contributions as an actor are his characters for the movies, "Guardian of the Galaxy Vol.2," "Jurassic World: Fallen Kingdom" and "A Bad Moms Christmas."
Aden as a stuntman contributed to television shows like, "Lost," "Sons of Anarchy," "Agents of Shield" and "Workaholics."
Well, being an actor and stuntman is not just all to his career achievement, but he is also an entrepreneur who co-owns two businesses in Hawaii, a restaurant named "Lui Bueno's" and an equipment business, "NSC Construction."
How much is Aden Stay's Net Worth?
Aden Stay has done phenomenal work in the Hollywood movie and television industry. Though he was rumoured to be involved in relationships for success, he has entirely proven himself by his awesome contribution as an actor and also a stuntman.
"Pitch-perfect" star cast though hasn't spilt any beans about his net worth in exact figures, judging by the likes of his popularity and success, he probably has it in six figures!
Short Bio:
Aden Stay is an American actor currently aged 40 and was born on 17 July 1977 in the United States. He graduated from the University of Las Vegas and earned his degree in Business.
As per the wiki source, Aden is a father of two daughters, Madison and Logan but the information of wife is unknown. Though this hot looking actor in his 40's, he has well maintained his physique and belongs to the white ethnicity.