Despite having a great career and adorable appearance, some individuals fail to find an ideal partner to share the fame. One of such personalities is Alex Dimitriades who is enviable from every aspect but has ended up single due to some unapparent reasons. Alex Dimitriades is an Australian television and film actor, famous for his performance on 'Ghost Ship,' 'Head On' and 'Deuce Bigalow: European Gigolo.'
Career and Progression:
Alex Dimitriades first grabbed the limelight playing one of the leads in the Australian movie 'The Heartbreak Kid' in 1993, for which he received positive acclaims and reviews. He then earned a primary role, Ari in the controversial film 'Head On.' His excellent performance in the film won him several acclaims and AFI Award nomination.
Moreover, Alex has embraced his acting skills in other Australian movies such as 'Let's Get Skase,' 'La Spagnola,' 'Wog Boy 2: Kings of Mykonos'. He has also worked in some of the Hollywood movies including 'Ghost Ship,' 'Deuce Bigalow: European Gigolo.' Along with acting, Alex is also a professional DJ who is referred as DJ Boogie Monster across Australia.
How much is Alex's Net Worth?
The 43 years old actor, Alex has invested over two decades in the acting industry. He has presented his acting abilities in several movies and television series and earned both praise and economic fortune. His career as DJ and actor on stage, television, and films makes it evident that he enjoys a substantial net worth in hundreds of thousands of dollars.
Unfolding his Relationship History:
Although the career of Alex is well sorted and stable, his personal life has faced many turmoil and broken relationships. Alex was previously dating Anja Lake, a socialite, and business manager for three years. There had been rumors about the affair for a while, but Anji confirmed the news uploading their picture on Instagram on 1st November 2011.

Caption: Alex and Anja on a matching outfit.
Source: DailyMail
The couple was even spotted walking together holding each other's hands right before Valentine 's Day in Sydney. As per sources, the actor and his former girlfriend stayed together until 2014 and parted their ways.
Similarly, he once shared a serious relationship with Terry Biviano, an Australian designer who is now married, the wife of Anthony Minichiello, for eight long years. The former couple enjoyed a romantic bond until 2008 before the article of him and another lady getting intimate on the beach appeared in the media.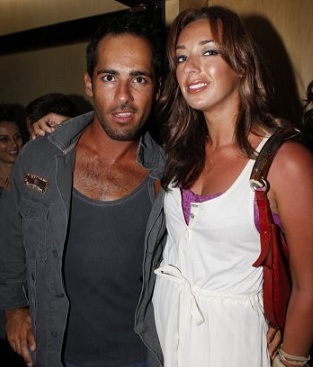 Caption: Alex and Shauna attend the Tiger Army Gig in Oxford Art Factory.
Source: MediaSearch
Along with that, Alex Dimitriates also dated Shauna Mac, a popular fashion agent, for one year. After the break up in 2008, he was arrested for drunk driving and was also spotted partying hard with ladies. Due to his single status and short-lived relationships, he is often suspected of having a gay preference, but hasn't shown any traits that resemble the orientation until now.
Alex's Short Bio and Family:
Alexandra Dimitriades was born on 28th December 1973 in Sydney, New South Wales. He is the child of first generation Greek immigrants and is smallest among three siblings. He has a sister, Melinda, and brother, George. His mother raised the kids as a single parent after his parents got a divorce while he was twelve. He belongs to Australian ethnicity and has an impressive height of 5 feet 11 inches.