Alexandra Grant is a Los-Angeles based artist who excels at painting, drawing, sculpture, photography, and film. She can often be seen collaborating with different artists, philosophers, and authors like Channing Hanse, Michael Joyce, Keanu Reeves as well as philosopher Hélène Cixous amidst others.
Besides Alexandra's massively successful art career, she hasn't forgotten to give her contribution back to society. Alexandra is also the founder of the grantLOVE project, where she raises funds to aid artistic as well as non-profit organizations like HOLA, LAXART, and Project Angel Food.
The visual artist's works have also been honored with the 'COLA Individual Artist Fellowship' and 'The Pollock Krasner Foundation Grant.'
Is Alexandra Grant Dating Keanu Reeves?
Alexandra Grant is reportedly dating a Canadian actor and musician Keanu Reeves. Keanu is well known for his role in The Matrix trilogy, Constantine, 47 Ronin, and John Wick.
You Don't Want To Miss: Olivia Bentley Wiki, Parents, Dating, Net Worth
The news of their romance ignited and immediately became hot gossip when Keanu Reeves walked down the red carpet at the Los Angeles County Museum of Art's Film & Art Festival, holding hands with Alexandra in 2019.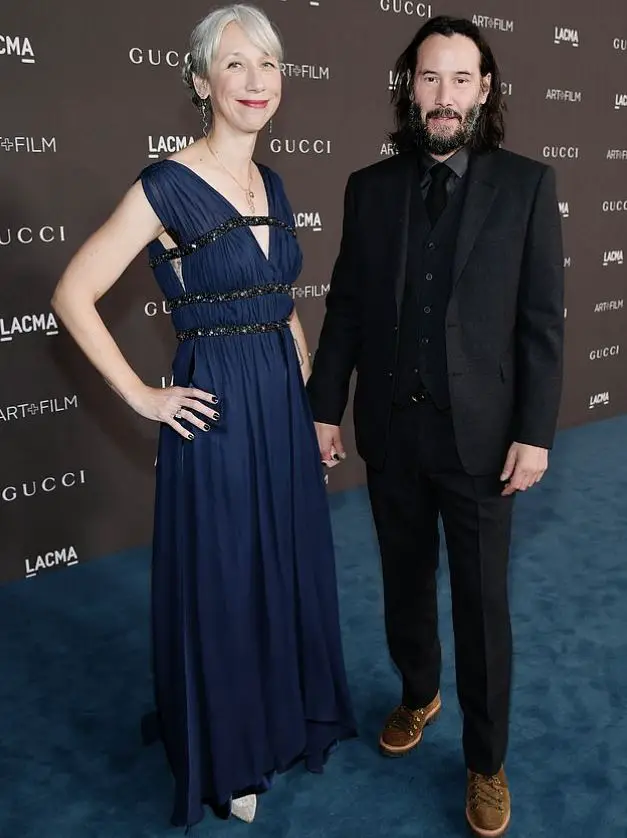 Alexandra with Keanu Reeves at the LACMA Art + Film Gala 2019 (Source: Dailymail.co.uk)
Alexandra, 46, and her alleged boyfriend Keanu, 55, have been friends for more than ten years. Before turning the romantic chapters of their life, Alexandra and Keanu were business partners, who co-founded X Artists' Books back in 2017. Both of them were working on Keanu's book Ode to Happiness since 2011.
Besides that, Keanu also had co-authored the book Shadows in 2016, which was illustrated by Alexandra.
In regards to their relationship, Life & Style broke the news on the couple's love life on 4 November 2019. It was reported that their relationship wasn't a secret, and the couple had been dating since the summer of 2017. However, the duo has not given any official statement regarding their relationship.
Explore This: Kim Sears Bio, Husband, Children, Family
Family and Education
Alexandra attended Swathmore, which is considered the most elite private liberal arts college. She got her Bachelor's degree in Arts for History and Studio Art in 1995. For further education, she enrolled at California College of Arts and Crafts, San Francisco, and graduated with an MFA degree in Drawing and Painting in 2000.
The visual artist, Alexandra 's family life has been entirely private as she barely leaks any information that is directed at her parents and siblings. However, available details reveal that her parents were college professors, who moved across the globe before finally settling in Los Angeles in 1995. She is also sometimes seen featuring her mother on her social platforms. But, sadly, Alexandra's father, Norman Grant, is no more with her.
A Short-Wiki, Age & Height
Alexandra lived in France, Mexico, and Spain during her childhood. While growing up, she got fascinated by the mysteries of Greek mythologies.
Alexandra's work has been put on display all over the globe. From New York, Los Angeles, Paris to Canada and numerous other countries, her pure form arts have crossed the realm of language and cultural barriers.
You May Like: Erin Payne Wiki, Age, Net Worth, Jake Johnson
On her physical attributes, Alexandra stands almost the same height as her boyfriend Keanu, who stands at the height of 1.86m(6 feet 1 inch). She has a slim body build. Her birthday and earlier life are yet to be fully explored.