Ally Law is mostly known for his YouTube channel, Ally Law, for his thrilling stunt of climbing over the buildings. He created his YouTube channel, Ally Law, in December 2014. Ally uploaded his first video in which he performed parkour on the top of the buildings in Southampton city Centre. 
After a year, he grabbed local media attention in the Southern Daily Echo as he climbed Dumbleton Towers in the Thornhill area of the city. Following this, his popularity accelerated all over the social media; as a result, he has more than 3 million subscribers and 352 million views in his videos.
Likewise, he has also over 260K followers on Instagram.
Dating Status
Back in 14th February 2019, Ally made it clear that he is not interested in marriage and relationship by making a tweet on his Twitter which seems to be like,
Go to school, get a uni degree, get a job, get married, get a mortgage, have kids & slave away until youre 60+ & can retire so you can enjoy your last & physically unhealthiest years resting on the sofa watching shit tv. F*** that.
Therefore, he is enjoying his life the way it is.
Controversies
In January 2018, Ally, along with fellow YouTuber, Ryan Taylor broke into the Celebrity Big Brother's house during one of its eviction episodes by being dressed up as a security guard.
Sensational YouTube Star: Lucas Dobre Wiki, Age, Girlfriend, Gay, Family, Height, Net Worth
When they entered the house, they left every contestant shocked and astonished. Soon after that, Ally and Ryan were caught by the show's guards.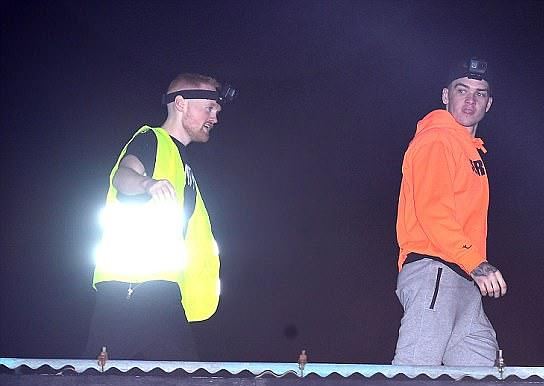 Ally Law (Right) and Ryan Taylor (Left) sneaks Big Brother's house on January 2018 (Photo:dailymail.co.uk)
Consequently, he was banned from performing stunt from bridge or building not open to the public or any commercial property outside business hours, and all properties owned by Merlin Entertainments. In case he didn't follow any of this order, he was even warned to be jailed for five years.
Another YouTube Star: Josh Leyva Wiki,Birthday: Age, Girlfriend, Chachi Gonzales, Ethnicity
Not only this, but Ally was also fined for paying costs and compensation $1,235 in total for entering Celebrity Big Brother's house unlawfully.
Interesting Facts About Him
Ally Law (Allister Law) was born on 11th February 1997 in England.
His height of 5 feet and 7 inches (1.7m).
His birth sign is Aquarius.
Ally completed his education in 2013 from secondary school Oasis Academy Mayfield.
He is a qualified carpenter. 
He and Ryan Taylor were locked for 20 hours for breaking into the Celebrity Big Brother's house for the second time in January 2018.
Ally was also banned to perform the stunts on theme parks and TV studios across most of the country.
He is addicted to video games since he was 13 years old.