Nowadays social media has become a reliable means for the celebrities to get connected with the public. Alx James, an Internet sensation, however, rose to prominence by using the various social sites for presenting his talent. Not only as a You Tuber, but he also comes under the spotlight for his love relationship with boyfriend, Justin Edward Hughes. 
Career and Net Worth:
Following his success on Vine, Alx created his YouTube channel and emerged as a creative You Tuber. He is not only famous on these social sites, but he has also garnered huge followers on Instagram and Twitter. 
He too tried his luck on the singing reality show 'American Idol',  but due to his poor health, he could make up to Hollywood round only. Alx too faced cameras as an actor in some television shows. Talking about Alx's net income, though the exact figure is not known,  it can be suspected that his financial status is in healthy condition
Openly Gay, Alx Has a Boyfriend?
Alx has always raised curiosity among the audience due to his close relationship with the partner, Justin Edward Hughes. Yes, Alx is an openly gay who hasn't been reported of romancing any girlfriend until now.
In a fourteen minute clip posted on June 10, 2015, the sensation frankly discussed his sexuality and problems he faced while growing up due to  Christian values and his parents. He said,
"One of the biggest things obviously dealing with my life with the Bible is being gay and how that's seen as an abomination. It's very easy to pass judgment. It's very easy to talk about someone when they're not dealing with the situation other than yours. Don't let someone tell you who you are. You know who you are and it's okay to be who you are."
Returning to his boyfriend, Justin is also an Instagram star and a model. Alx even posted a video on Facebook on November 12, 2016, entitled 'Having A Gay Day' showing his affection towards the partner. 
Short Wiki:
The famous YouTuber and Vlogger, Alx aged 25 was born on March 5, 1992, in Wilson, North Carolina and was raised on the farm with his family. His birth sign is Pisces. His father's name is Carlton whereas his mother's name is Sandra.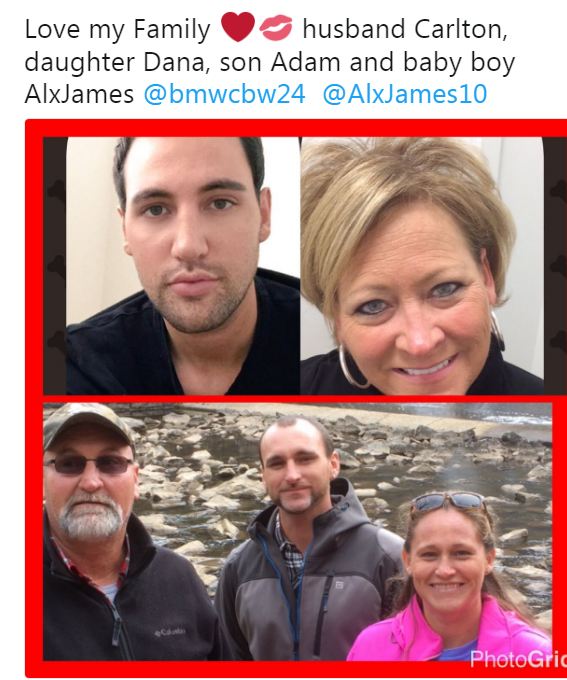 A family photo shared by Alx's mother Sandra on Twitter, dated 6 Jan 2017.
Alx also has a sister named Dana and a brother named Adams. The star of white ethnicity was part of the 'Junior Olympic Volleyball Team,' and earned a scholarship to take a course at a volleyball college, but he left that offer to pursue the career in the entertainment world. He has an impressive height of around 1.82m.