Ama Daetz is best known as the weekday anchor ABC7 News at 4, 6, 9, and 11 p.m. However, the reporter is well-known about her job and displays brilliance in every way. The woman with multi-talent also featured in a short film, 'You!', where she portrayed the role of Claire. Further, in 2015, she appeared in the family movie Batkid Begins.
Ama Daetz's Professional Career
When Ama studied in Fresno, California, she worked as a writer, editor, and producer. After she graduated, she anchored and reported on various news stations.
Ama first started her career as a news field reporter for CBS Station in Amarillo, Texas. She then moves to join News3 in Kalamazoo, Michigan. After working in Kalamazoo, she moved to Detroit and worked at NBC. Shortly, she was hired by FOX as an anchor in Sacramento, California. As of 2018, she is working as an American weekday co-anchor for ABC7 News. 
Besides her career as a news reporter, she has also appeared in several movies. Between 2010 and 2011, she played the role of TV News Reporter in the TV Series The Mentalist episodes.
Blissfully Married Ama Daetz
Ama is cherishing her married life with her husband, John Seymour. The lovebirds had their wedding back on 29 September 2012. John also works together with Ama at the ABC7 News station as a sports field reporter. It is pretty sad that this beautiful couple has not revealed their dating history and how they fell for each other. Nevertheless, Ama is active on social networking sites to share information about her husband and their married life.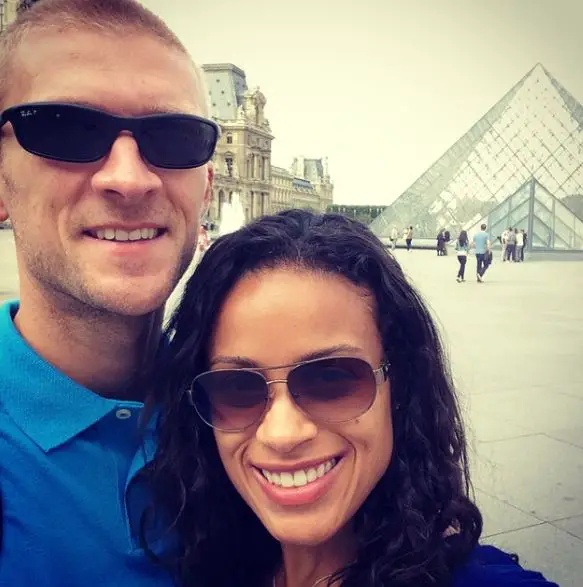 Ama Daetz with her husband, John Seymor, enjoying their vacation in Europe (Photo: Instagram) 
Among her various pictures on Instagram, the noticeable picture is the one that was shared on their anniversary. Back on 17 October 2014, Ama shared a photo of a tasty treat with a 'Happy Birthday' message on it, which was given by a hotel during their anniversary vacation in London.
On 10 May 2017, Ama announced that she is pregnant, on-air, on ABC7 News. The news reporter further revealed that she is expecting her baby to be born in October. She was taking baby girl name suggestions and was happy to share her pregnancy phase experience with her family and friends.
Nearly one month after the pregnancy announcement, Ama shared a sonography picture on Instagram on 2 June 2017 and took a maternity leave from her job.  
After entering motherhood, Daetz also expressed that she no longer feels insecure about her curly hair. However, she realizes that she has to teach her baby to accept herself and lessons about self-esteem. 
Meanwhile, the pair welcomed their baby in October. Nevertheless, the lovebirds are cherishing their happy married life parenting their only child.
Family Life
Ama grew up in San Jose and moved to San Franciso along with her family. Her Fa Daetz is a retired teacher who has taught social studies and economics, and computers in Los Gatos-Saratoga Union High School District. Unfortunately, there is no information available regarding her mother on the wiki sites. But the news reporter used to have a stepmother, Laura Lee Dietz, who passed away in an unfortunate car accident on 23 October 2015. Her grandmother, Virginia Daetz, also passed away shortly after her stepmother died. She has two sisters, Effie Daetz and Ekau Daetz.
Short Bio
Ama Daetz was born in 1979, which makes her age 39 years old. She celebrates her birthday on 17 March and is a native of San Jose, California. Her nationality is American, and she belongs to mixed ethnicity, carrying both white and black identity. In 2011 she graduated from Loyola Marymount University in Los Angeles, California.