Amanda Knox got international hype after she was accused of murdering her roommate Meredith Kercher- a British exchange student- in 2007. At the time, Amanda- an American citizen- was in Italy and was set to live there for a year.
After 21-year-old Meredith was found dead (by stabbing) in the two's apartment in Perugia, prosecutors claimed that the murder was a sex game that went wrong. Among the accused were Amanda, her then-boyfriend Raffaele Sollecito, and a man named Rudy Hermann Guede. While the Italian media was quick to label Amanda as a cold-blooded murderer, their American counterparts were defensive of her. Some even claimed that Amanda's prosecution was a conspiracy against America.
Initially, a fast track court ruled Rude Hermann as the guilty party in 2008; however, Amanda and Raffaele were later declared guilty in another trial that had started in January 2009. Amanda and her then-boyfriend were sentenced to 26 years and 25 years in prison, respectively, but the pair appealed again and were acquitted of the murder charges by a court in 2011. The two were again convicted of the murder in 2014. However, Amanda and Raffaele were finally free of all charges after the Supreme Court of Italy declared them innocent in 2015. 
Found Love At Book Launch Program, Husband
Post returning to her homeland, Amanda had some rough times moving on from her tragic past. She eventually did so and even found solace in the arms of her loving partner.
More About Jack Kesy Wiki: Age, Birthday, Married, Wife, Girlfriend, Gay, Parents
Amanda first met her boyfriend turned husband Christopher Robinson- an author by profession- in 2015 at a book launch event. At the time, she was committed to another person but soon developed feelings for Christopher.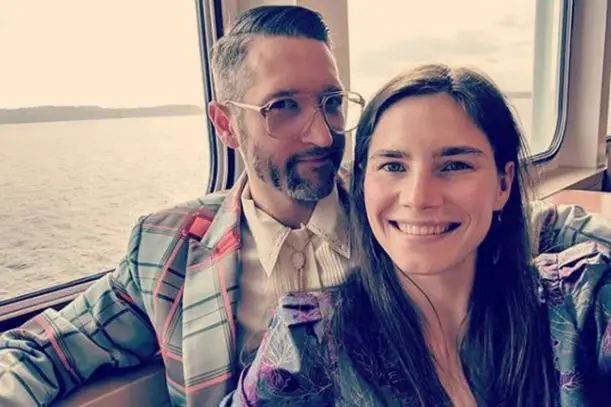 Amanda Knox with husband Christopher Robinson (Photo: NYPost)
The couple gradually commenced a romantic relationship and remained as lovers until 2018 when Christopher proposed Amanda in an ET-themed style. Amanda immediately accepted the proposal.
After nearly two years of getting engaged, Amanda and husband Christopher exchanged their vows in a lavish wedding ceremony on 29 February 2020. Although the couple got legally married in 2019, they wanted to share their special day with their loved ones.
What Is Amanda Doing Now? Her Net Worth Details
As of now, Amanda works for a non-profit organization named Innocence Project- which is active in advocating DNA evidence in cases of wrongful imprisonments.
Do Not Miss: Barry Minkow Net Worth, Wife, Gay, Married
Further, she has authored a best-seller book titled Waiting to Be Heard. To date, she has accumulated a total net worth of $200K. Amanda's fortune comes from the sales of her book and the $4 million deal she made with the publisher before releasing her memoir.
Quick Facts About Amanda Knox
She was born in Seattle on 9 July 1987.
Her parents got divorced when Amanda was quite young. Her mother eventually got married to a man named Chris Mellas.
Amanda has one sister and two stepsisters in her family. 
She completed her high school education from Seattle Preparatory High School circa 2005.