A tall stature, near-perfection body measurements, and symmetrical face are some of the essential requirements for a model.
Breaking this stereotype, model Amina Blue has established herself as a budding talent in the vast world of fashion and modeling.
She came to light as one of Kanye West's muse and stayed far from the extravagances of a typical model.
Despite her shorter height and numerous body tattoos, the girl is killing it with her platinum blonde hair and lovely curves. 
Her Family, Age
Model Amina Blue was born on the 2nd of April 1993 in the United States. The 26-year-old girl falls under the Aries constellation family.
She is the child of a Pakistani father and a German mother, which clears the fan's ethnicity curiosity. The beauty stands at the height of 5 feet 1 inch (1.55 meters), which is considerably small for an It model.
Amina refuses to reveal her actual name, and her second name Blue is an indication of her blue eyes.
Explore More: Jaslene Gonzalez Wiki, Boyfriend, Dating, Model, Net Worth
As for her family, Amina raised by a single mother, and she remembers her mother as a hard-working woman
On the other hand, she recalls that her Muslim father was not supportive of her career. To this day, the father-daughter relationship is quite bitter.
Amina has two siblings, a younger brother who works as a production assistant and an orthodontist older sister.
Amina also had an older brother who sadly passed away in a motorcycle accident when she was in her early teens. He was a police officer by profession.
Amina Blue Dating Boyfriend, Pregnant
It would be an understatement to say that fans were surprised to digest the fact that Amina got pregnant in 2018.
The father was none other than Texans receiver DeAndre Hopkins. She has been in an on and off relationship with boyfriend DeAndre since 2016.
A year later, she semi-confirmed to Sports Gossip about her child's father, but her relationship with Hopkins is still in question.
She deleted his pictures from her Instagram and publicly stated her relationship status to be single.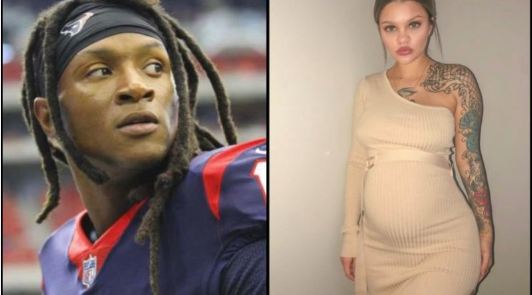 Amina's pregnant photo with alleged baby father, DeAndre Hopkins (Photo: blacksportsonline.com) 
The inked blonde gave birth to her child somewhere in April of 2019. She hinted the fact with her picture where she had no belly bump.
As it seems, the inked model refuses to share her child's photo on social media.
You Will Also Enjoy: Wayne Carini Wiki, Bio, Age, Married, Wife, Family, Net Worth
It also seems like she is not dating anyone right now and doesn't want to associate her baby with DeAndre's name. 
Net Worth, Plastic Surgery
Amina got her big break in February of 2015 when she got booked for Kanye West's Yeezy Season 1 runway show.
Initially, she was a bit hesitant as she had just undergone foot surgery, but her manager, Session Cruz, encouraged her otherwise, and the rest is history.
To this day, she has walked in three subsequent Yeezy Season shows. She has found her way in fashion magazines such as CR Fashion Book and German culture magazine 032c.
In the fourth season of Yeezy, Amina even discarded her shoe mid-walk and continued her walk.
She later confessed that the heat and sweat had made her feet sweaty, and it was a decision she had to make in the heat of the moment. 
Talking about controversies, Amina often finds herself in conversations due to her tattoos. She has an iconic tattoo of a skull on her right thigh.
And her leg is covered with a mermaid tattoo while she has an eye drawn on her chest. None the less, the girl proudly rocks her inks.
Her super good looks always attract the term, "plastic surgery" around the industry.
But, the girl doesn't seem to have undergone any facial or body enhancement procedures.
Another topic people question about it is earnings. Her exact net worth statistics have not surfaced yet, but she undoubtedly earns more than the average annual salary of a model that ranges from $48K.