British journalist Andrew Pierce's contribution to The Times has shaped the new age of journalism in The Great Britian. He has served for the British daily newspaper for nearly two decades and has also worked at The Daily Telegraph as a columnist and assistant editor.
The highest-profile gay columnist has furnished the gossip chronicles and now works at Daily Mail as a consultant editor and columnist.
Gay Columnist Opposes Same-Sex Marriage! Partner Preference Irrelevant To State
Despite being an openly gay, the Daily Mail columnist opposes the same-sex marriage legalization by the Marriage Act 2013 in England and Wales. In one of his Daily Mail column published on 12 June 2012, he had criticized the gay marriage views of former British Prime Minister, David Cameron. Andrew has claimed that despite being a Conservative, his opposition in gay marriage does not make him a bigot.
Read Also: Josh Barro Birthday, Married, Husband, Partner, Gay, Boyfriend
He also objects the 2021 national census that might ask the particular questions towards the people whether they are gay or transgender. The Bristol native claims he might end up 'breaking the law' when the 2021 census form arrives towards his doorways. In his May 2016 article on Daily Mail, Andrew explains:
I have no intention of answering the questions dreamed up by politically correct busy-bodies at the Office for National Statistics on behalf of Downing Street, even though failure to do so could lead to a criminal record and a fine of up to £1,000. This unusual reticence on my part has nothing to do with any dark secrets lurking in the closet. Quite the contrary.
At the age of 22, the British journalist came out as gay to his friends and family. He has been in civil partnership since 2014 and has time and again said that he is not "ashamed of being gay." He has believed that his "sexuality is none of State's Business."
In his opinion, the delivery services of his state should not be based on sexuality and whether or not he has a boyfriend or girlfriend. As per Andrew's article, his partner preference is not an issue for him 'as long as the state delivers its services.'
Besides the controversial statements regarding his sexuality, he is famous for slamming British journalist Kevin Maguire for 'clutching at straws' over pro-Labour comments in the ITV's Good Morning Britain in May 2018.
Andrew Pierce's Salary In Daily Mail Contribute To His Net Worth!
Andrew Pierce, 57, harvests the net worth from his career as a British journalist and broadcaster. According to Payscale, in a British daily tabloid newspaper Daily Mail, employers earn an average salary of £35K which nearly equals $44,900 per year. After working with The Daily Telegraph for almost four years, Andrew got his name carved as a Daily Mail consultant editor and columnist in December 2009. 
Explore More: Symone Sanders Wiki, Married, Husband, Lesbian, Net Worth
In Daily Mail, Andrew has contributed several hot stories regarding the public figures like Amber Rudd, Arron Banks, Tom Watson, Jeremy Corbyn and more. He often appears in the ITV's Good Morning Britian as a Daily Mail Consultant Editor.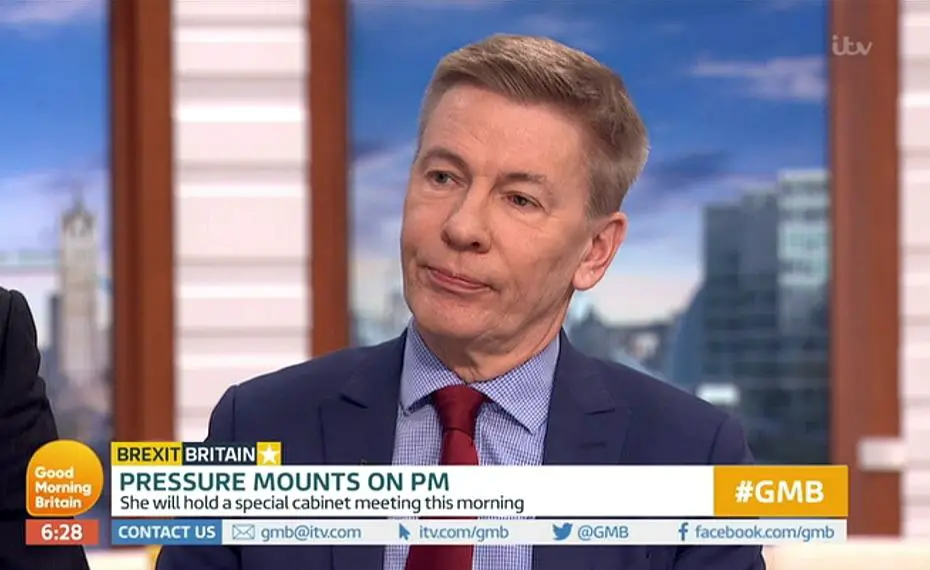 Andrew Pierce in ITV's 'Good Morning Britian' in 2014 (Photo: imdb.com)
The prominent journalist had also worked as a columnist and assistant editor at the British daily broadsheet newspaper, Telegraph. Before joining The Daily Telegraph in 2006, the Bristol native served at The Times for nearly two decades.
Short Bio
Born in 1961 to a Roman Catholic Irishwoman, Andrew Pierce is a native of Bristol, United Kingdom. The Daily Mail employer stands at the height of 5 feet 91/2 inches (1.76 meters) and holds British nationality.
The British journalist grew up in a Catholic orphanage in Cheltenham before being adopted by a Swindon family. His adoptive father worked at an automotive industry, British Leyland.
Don't Miss: Michaela Pereira Married, Husband, Boyfriend, Salary and Net Worth
According to his Twitter, Andrew works as a Friday evening presenter in the talk radio station, Leading Britain's Conversation. The English broadcaster studied at St Joseph's Roman Catholic School and did not attend any university, as per wiki.