It is not difficult to admit that we all have hummed to the tune of the song "Closer." Well, one half of The Chainsmokers that delivered one of the prolific songs in 2016 is Andrew Taggart. The DJing sensation is the part of famous DJ duo Chainsmokers along with bandmate Alex Pall. The star in the making, Andrew is everything that a woman looks up in a man, but he recently broke up with his girlfriend, Haley Crowe.
The Career of One Half of "The Chainsmokers":
The attendee of the Syracuse University saw his fortune turned upside down when he formed an EDM DJ duo called "The Chainsmokers" with Alex Pall in 2012 under the management of Adam Alpert.
The duo took part in DJing and also released some originals, but they became the talk of the town when they collaborated with Indian star Priyanka Chopra to release singles "Erase" and "The Rookie" in 2012 and 2013 respectively.
Their first single was titled "#Selfie" that they released in December 2013 only to be re-released by Dim Mak Records in January 2014 and received success in their first attempt. Since then 'The Chainsmokers' has collaborated with various top music artists like Coldplay, Halsey, Daya, Charlee, Emily Warren, and Phoebe Ryan. Their song "Closer" feat Halsey broke the records in UK and US along with eleven other countries in 2016 and received Grammy Nomination in 2017 and 2018.
Relationship with Haley Rowe!
Breakups and patch-ups in the industry are nothing to be surprised these days. The one half of "The Chainsmokers," Andrew dated Haley Rowe in early 2016.
After they dated for a short period, the couple had a split in September 2016. After their break up, the couple didn't open in public and instead opted to remain private about their personal affairs.
But his pal wasn't going to stay silent and said in an interview that:
I know he really loves her. Things are so hectic right now and … I think he felt really guilty about the fact that we're always away and we're doing crazy things.
After the public statement by his bandmate, it was no secret that the couple loved each other and reconciliation was inevitable.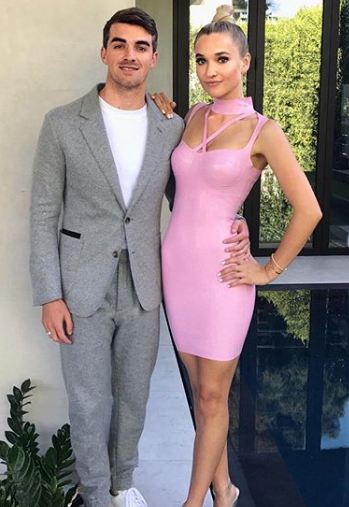 Caption: Andrew with his girlfriend Haley on 28th August 2017
Source: Instagram
Shortly after their break up, the couple got back together and dated for quite a while. Andrew's girlfriend was then pretty public about their relationship and often posted pictures of them on Instagram. On 28th August 2017, the duo posed for a photo in which, she said that she was a proud girlfriend before MTV Video Music Awards.
But with things going thick and fast, there were reports that the couple again decided to end things in October 2017, less than a year after their eventual patch up.
Details about their break up haven't made it to media yet, and it's just a waiting game until his bandmate Alex spills the beans as he did in 2016.
Andrew is Dating Halsey! Is There any Truth Here?
After their super hit combo in the song "Closer," the only thing left was an electric stage performance, and they delivered big time.
Andrew and Halsey gave a thrilling performance in MTV Video Music Award in March 2017; the steamy performance made everyone think twice about their relationship.
Fans and paparazzi all started murmuring that the duo was dating. The undeniable chemistry that the pair shared wouldn't come as a surprise if they weren't dating each other.
How Much is Andrew's Net Worth?
As The Chainsmokers is one of the greatest duos in DJ world, they tour very often with the extraordinary fan base. His meteoric career in EDM has helped him summon a stupendous net worth of $12 million and will enjoy a continuous rise in days to come.
Short Bio:
The DJ sensation, Andrew Taggart took his first breath on 31st December 1989 in Portland, Maine and currently ages 28. The American star stands at a tall height of 5 feet and 7 inches. Belonging to white ethnicity, he has English, Irish, Scottish and German ancestry. Although the name of his parents is still in the womb of mystery, his father sold prosthetics, and her mother was a teacher.