Angela Amezcua is a reality star, who is prominent for her appearance in several acclaimed reality shows like Bachelor In Paradise and The Bachelors. During her presence in the shows, she stirred romance with few well-known stars, which added spice in the shows and recognition on her name. 
She is remembered for her controversial relationship with a reality star Clay Harbor and her appearance in season six of Bachelor In Paradise alongside Clay's new girlfriend, Nicole Lopez-Alvar.
Besides reality shows, she also does modeling and has appeared in a Dannon yogurt commercial with Carolina Panter player Cam Newton.
Clay Harbor's Girlfriend
Angela and the former NFL player Clay Harbor had flourished their relationship during September 2018, but unfortunately, it was short-lived.
It was Angelia, who had first showed interest in Clay Harbor and had requested her friend and former Bachelor In Paradise's star Chris Randone to introduce her with Clay. After that, the duo soon blossomed their love life and made their relationship official in September 2018.
Very Interesting: TikTok Star Leilani Castro Wiki, Ethnicity, Boyfriend, How Old Is She?
But, the pair split after seven months when Clay declared she is not his type.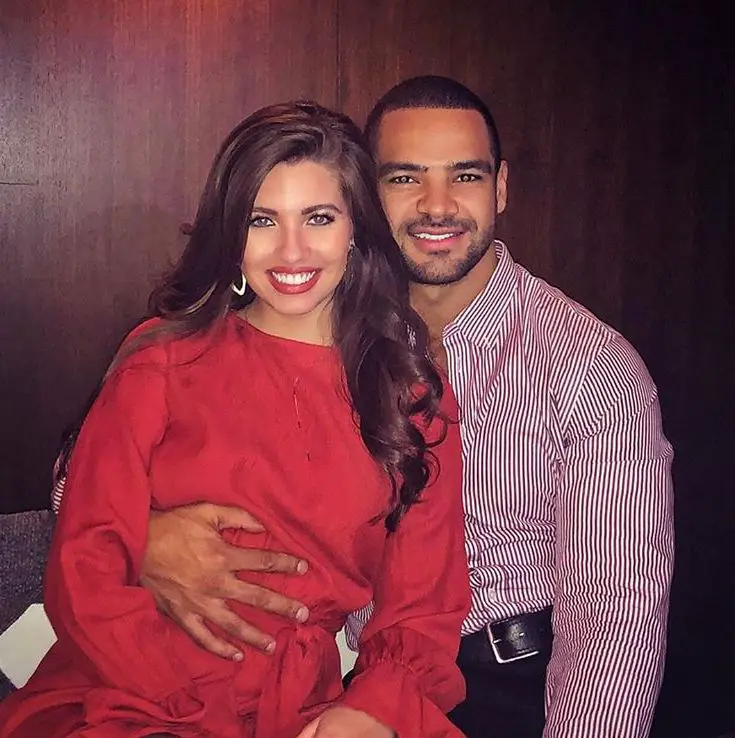 Angela Amezcua, with her former boyfriend, Clay Harbor. (Photo: Instagram)
Within a week of a breakup, Clay left for the season six of Bachelor In Paradise and aroused love interest with Nicole Lopez-Alvar in the show. While the new couple were going strong, the Bachelor In Paradise brought a twist featuring Angela in the show in August 2019.
Surprisingly, Clay and Nicole ended up their relationship. Their departure brought up the possibility of a rekindled romance between Angela and Clay. They had fone on an overnight date; however, they didn't leave Paradise as a couple. 
Influencing: How Much Is Spencer Pratt Net Worth? Glance At Parents, Siblings 
Angela's Relationship History
Prior to her relationship with Clay, Angela was linked with Eric Bigger in the last season of Bachelor In Paradise from Becca Kufrin's season. The two were hit during the season until Cassandre made an entry into the picture, and Eric chose her instead of Angela making Angela eliminated by the show. 
Before Eric, Angela was a contestant at season 21 of The Bachelor for Nick Viall's season. Unfortunately, Angela couldn't exist in the show for more than one night as Nick eliminated her on night one. Following the early elimination, Angela told The E&G Podcast that she wasn't salty enough to play the game and added: "things happen for a good reason."
Weight loss Journey 
Since separating from Clay, Angela had lost so much weight, and her new looks amazed everyone, including hr ex-boyfriend Clay, at their mutual friend's wedding. She was a bridesmaid clad in a beautiful gown looking gorgeous in a perfect body.
Among those eyes lay her ex-beau Clay, who had broke up with her saying she wasn't his type.
Must Not Leave: Who Is Stacey Forsey? Wiki And Facts About Dave Forsey's Wife
Interesting Facts- Wiki, Parents & More
 Angela Amezcua is from Greenville, SC, and she was born on 20 November 1989.
 
Talking about her education, she graduated from her college on 16 March 2011.
 
Angela Amezcua lives 500+ miles away from her parents and her lovely nephews and nieces, whose pictures she frequently posts on her social media listing herself as a "proud aunt."
 
Angela Amezcua and her boyfriend were spotted for the last time on 4 January 2019.