Angelina Jordan is a pop singer who set her path in the music industry after winning Norway's Got Talent in 2014. 
Further, she has also appeared on various other media platforms, including TIME, CNN, BBC, and People. Also, she has performed on the U.S. Network's TV shows like Little Big Shots and The View. 
Leaving beside her singing stardom, Angelina has also represented herself as an author and published a book titled Between Two Hearts in 2015.
Journey To AGT
On 7th January 2020, Angelina tried her luck in the second season of America's Got Talent: The Champions. In the premiere, she sang the basic-version of Queen's classic Bohemian Rhapsody, which helped her to earn golden buzzer from judge Heidi Klum.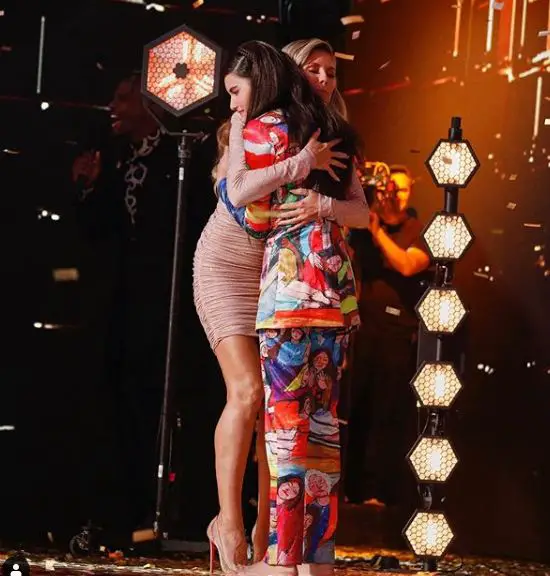 Angelina Jordan and Heidi Klum on the set of America's Got Talent: The Champions on 7th January 2020 (Photo: Angelina Jordan's Instagram)
Also, Simon Cowell praised her talent, saying,
"I don't think you know how good you are."
As per the news published by Goldderby on 1st February 2020, almost 89% of the show's viewers wish to see her as the champion of 2020's America's Got Talent.
Another AGT's Star: Darci Lynne Farmer Wiki, Age, Parents, School, America's Got Talent 2017
Similarly, in an interview with Goldderby on 4th February 2020, Angelina said that she chose to sing Bohemian Rhapsody because it was close to her heart. The song reminded her of her grandfather- who passed away in 2018.
As of now, Angelina is preparing to compete in the finals of the 2020's America's Got Talent: The Champions.
Bio: Age And Family
Angelina was born on 10th January 2006 in Oslo, Norway. She has a younger sister.
Related: America's Got Talent Sofie Dossi Wiki, Family, Show, Record, Dating, Facts
She was born to her parents: father Gerry and mother, Sara. Angelina's mother is Norwegian; whereas, her father is Swedish.
Interesting Facts About Her:
Her birth sign is Capricorn.
Angelina developed a passion for music when she first saw R&B singer Whitney Houston on YouTube performing I Will Always Love You. At that time, she was just one-and-a-half-year of age.
When she was six years old, she met a homeless girl, who was barefooted. Angelina and that unidentified girl talked for hours and Angelina vowed to not wear shoes while performing until every homeless child has shoes on their foot. Since then, Angelina has been performing without shoes on the stage. 
Angelina lifted the trophy of Norway's Got Talent when she was just seven years old. For this show, she auditioned by performing on Billie Holiday's Gloomy Sunday.
After publishing the book, Between Two Hearts in 2015, she became the youngest author in her country.
Back in 2016, the late singer Avicii approached Angelina for the vocals of his worldwide Volvo commercial campaign.