Law and Acting are often considered as the two corners of a square, but this man who holds a degree in law turned out to be the talented actor and starred in many TV series. The "Dark Matter" fame actor Anthony Lemke has a dual degree in common and civil law, but above that, he is a celebrated actor of large caliber. Along with successful life, he has a settled family with wife and children.
Career and Professional Life:
The graduate from McGill University Faculty of Law has degrees in common and civil law. Except being law graduate, he also attended the University of Waterloo to study theatre which explains his passion for acting. His first role came in the form of "La Femme Nikita" in a minor role in 1997. After series of minor roles in TV series, he got a pivotal role in "Queen of Swords" as the Captain Marcus Grishman.
But he received fame for his role of Marcus Boone in a hit series called "Dark Matter" where he had 39 episodes to his credit. In 2017, he appeared in an episode of "Private Eye" as Jack Sugar. He also showcased his taken in a handful of movies where he played in "White House Down," "The Forbidden Room," "One Last Dance," and "Sleepless' to name few notable films.
How Much is Anthony's Net Worth?
The lawyer turned celeb is an actor with the unmatched caliber and potential. His true fortunes are his vast fan base. Except gaining thousands of fans across the globe, he also banks in millions of dollar for his effort. Though his net worth hasn't surfaced yet in the media, his multiple roles in movies and TV series contribute to his fortunes which are expected to be in millions.
Married with Maria!!!
Ontario-native Anthony is a celebrated artist with directors lining up for his latest signature. In spite of his busy schedule, he is blessed with a settled family.
In 2001, he welcomed the love of his life Maria Gacessa as he married her in Toronto. After residing in Toronto for some time, he moved to Montreal with his wife, Maria.
In Montreal, the couple became the parent of three children, two daughters, and a son. After spending years in Montreal, the family of five moved to Prince Edward County in Ontario.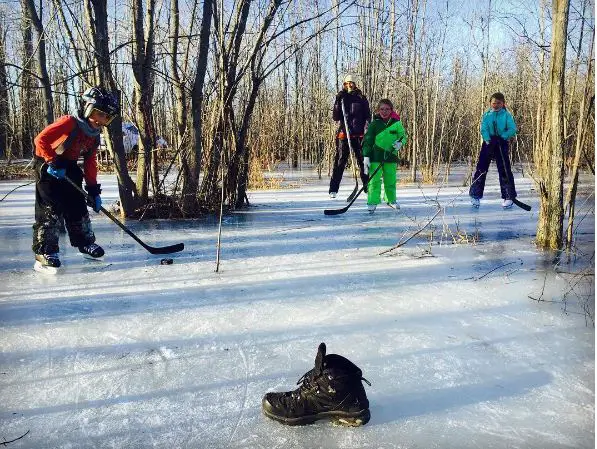 Caption: Anthony's Kid Playing ice hockey on 17th January 2017
Source: Instagram
The family shares a strong bond with each other and accompanies each other in event and vacation. He loves his three children more than anything else and has built a tiny rink in their backyard for their kids to play ice hockey. On 17th January, Anthony posted the picture of his kids playing ice hockey, and he even set the rule to score by hitting the boot.  
See Also: Marc Bendavid Married, Girlfriend, Gay, Bio, Net Worth
Anthony Short Bio:
Born in the icy chill environment of Ontario, he was born with the birth name Roger Anthony Lemke in Ottawa, Ontario. Though his fans wish him birthday on October 7, there are no confirmed reports of his birthday, but he called Jodelle Ferland his almost birthday twin on 9th October. So, he probably celebrates his born-day on early October.
Though his exact birth date is still under evaluation, he appears like a middle-aged man. Belonging to white ethnicity, he stands at a formidable height of 6 feet and 1inches and has a healthy physique to compliment his height.