Being an actor isn't an easy job as you are regularly followed by media and the public judges your every action. The American actor, Anthony Michael Hall has never ceased to stay in the headlines. The actor sometimes appears in the media with this relationship issues, professional updates, and legal problems. Anthony Michael Hall is famous for his performance in 'Sixteen Candles,' 'National Lampoon's Vacation' and 'The Breakfast Club.'
Career And Progression:
Anthony Michael Hall started acting in commercials at the tender age of seven. He made a stage debut in 1977 as the young Steve Allen in his autobiographical drama, 'The Wake.' The celeb has embraced acting abilities in numerous movies which include 'Six-Pack,' 'The Breakfast Club,' 'Edward Scissorhands,' 'The Photographer,' 'The Dark Knight,' 'Natural Selection' and 'War Machine.'
In addition to that, the actor has also appeared in some famous television series including 'The Gold Bug,' Tales from the Crypt,' 'Final Approach,' 'SNL,' 'No Ordinary Family,' 'Zombie Night' and 'Murder in the First.' The celeb is the songwriter and lead singer for his band 'Hall of Mirrors' formed in 1998. He also supports at-risk youth through his literary program.
How Much Is Anthony's Net Worth?
According to Celebrity Net Worth, Anthony Michael Hall enjoys a hefty net worth of $8 million dollars. The actor accumulated a massive amount from his endeavors in the movies and television series.
Also, his earnings from photo shoots, commercials, and other projects have helped in strengthening his total revenue.
Arrested For Felony Battery!!
An arrest warrant was issued for Anthony on November 24 for allegedly attacking his neighbor. The actor is facing up to seven years in jail after being charged with felony battery. According to people, the celeb pleaded not guilty to the prosecution in Los Angeles superior court on December 1, 2016.
Anthony Is Engaged!
Congratulations to Anthony Michael Hall. The Six-Pack star is now engaged to his actress girlfriend, Lucia Oskerova.
The long-time duo engaged on 9 September 2019 and en route to getting married. Anthony, on his Instagram account, shared news regarding their engagement. He posted a collage of pictures of their vacation in Italy which also showed Lucia sporting a beautiful diamond ring.
See Also: Laura Dreyfuss Bio, Family, Dating, 2019
Likewise, Anthony captioned the picture by simply writing "Love Story." It seems love is powerful between the two power couple.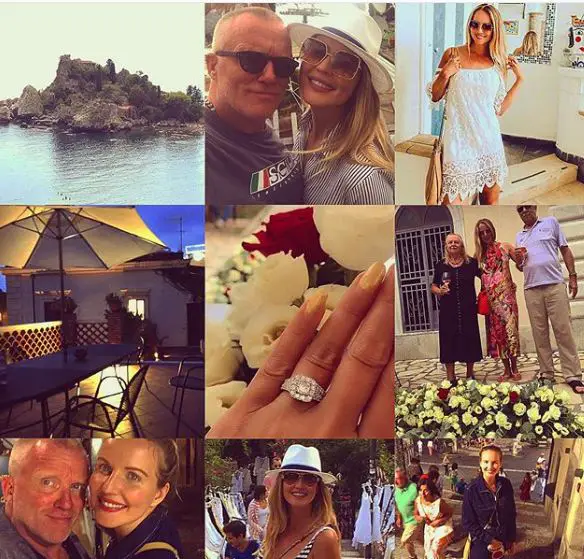 Anthony's collage with Lucia of their time in Italy in September 2019 (Photo: Anthony's Instagram)
Anthony and Lucia were first linked together back in 2016 when they were seen together attending various events and vacations together. Shortly after which their relationship was confirmed, and the pair have been going strong ever since.
As for when and where they will tie the knot has not been revealed, but it would seem, they'll decide on a beautiful setting to commemorate the beginning of a new journey in their life.
Unfolding His Relationship History!!
According to whosdatedwho.com, Anthony Michael dated Fiona Forbes, a Canadian TV personality in 2007. Anthony and his alleged girlfriend were sharing a relation for nearly a decade but hadn't adequately disclosed their love life in the media. The couple also didn't show a hint of getting married and enjoying a husband-wife bond.
Interesting: Alex Burriss Net Worth, Girlfriend, Parents, Ethnicity
Before Fiona, Anthony had a string of girlfriends namely Molly Ringwald (1984-1985), Teresa De Saint (1990-2002), Kelly Stone (1994), Alison Hughes (1999), Sandra Guerard (2001-2006). He also dated Corinne Saffell (2004-2006), Reagan Black (2006), Trisha Paytas (2008-2013) and Diana Falzone (2009). His past relationships and current bonding with Fiona Forbes proves the actor isn't gay and enjoys straight orientation.
His Short Bio:
Anthony Michael Hall was born on April 14, 1968, in West Roxbury, Massachusetts, the U.S. He studied at St. Hilda's & St Hugh's School in New York and Professional Children's School in Manhattan. He is a son of Mercedes Hall, blues-jazz singer and belongs to Italian and Irish descent. Anthony stands tall at a height of 6 feet 2 inches that suit his personality.