Antoni Porowski is a star cast in the Netflix reboot, "Queer Eye," and a food expert in "Fab Five" who is loved and looked up to by all the audience. Porowski, since his young age, was an avid cook who started his career as a waiter and later a food consultant. He used all his lifetime restaurant experience in the famous Netflix show.
Food Expert, both On-screen and Off-Screen!
If you are one of the binge-watcher of the show, Queer Eye For The Straight Guy's reboot, "Queer Eye," then you must be familiar with the fab five in the show. And if you are an ultimate food-lover, Antoni Porowski is your FAVOURITE FAVOURITE character! Did you think that he is just a food expert in the show? Well, it's not true; he is a skilled professional chef in real life as well. It seems that the actor has a deep connection with the show, as well as his role as a Chef.
Don't Miss Out: Ruby Mae Wiki, Dating, Net Worth, Career
According to Eater, Antoni, before joining the Netflix reboot, "Queer Eye" worked as a waiter and a food consultant in New York City. He has a keen interest in home cooking and is an ultimate food-lover who applies his years of restaurant experience in the show. What more, Antoni's Instagram Page is a total Food **** for the viewers.
The food expert has also recently authored a cookbook Antoni in The Kitchen on 9 September 2019.
Is Antoni Gay?
Antoni Porowski, since his young age, was passionate about cooking and was very close to his older sister. His sister was a massive fan of "Queer Eye," Antoni also secretly watched the show and was utterly fascinated by their behavior. Porowski, at that time, was unknown about his sexuality as gay and found his "feminine" behavior quite unusual.
After some time, he found out about his sexuality and came out with serenity and boldness. And as per Porowski himself, the one person who had his back to face the world and who even supported him in his cooking career was his boyfriend, Joey Krietemeyer.
Discover This: Jessica Jung Boyfriend, Parents, Net Worth, Facts
Yes! The man with brown hair and mesmerizing hazel eyes has found his prince charming. He and Joey have now have been in a long-term relationship of seven years. Joey, who is a Senior Designer at 1stdibs.com, lives together with Antoni in a very spacious and effortlessly stylish apartment in New York.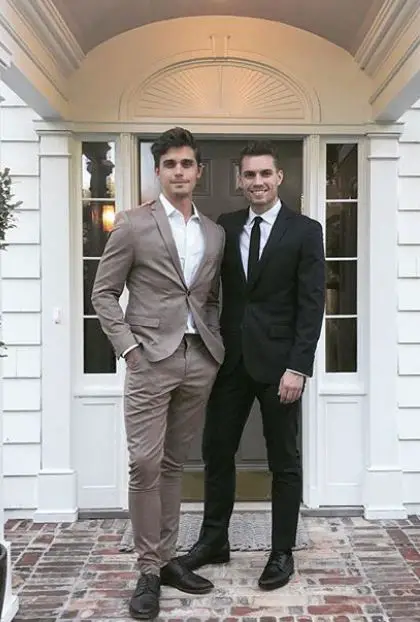 "Queer Eye" food expert Antoni Poworski with his longtime boyfriend, Joey Krietemeyer, on 10 September 2017. (Photo Credit: Instagram)
However, their relationship couldn't sail much longer. The couple decided to go their separate ways after seven years of relationship. They had already split in early 2018 but decided to keep the things under the wrap. The pair decided to end the relationship on mutual terms and have been good friends even after the split.
Antoni started dating Trace Lehnhoff, who's known for the reality TV show Flipping Out is also happens to be an interior designer. They were seen together at Emmy parties on September 2018, and they were not trying to hide that they were exclusive.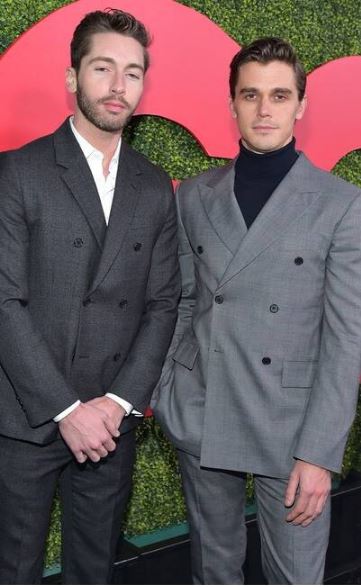 Antoni and his ex-boyfriend Trace Lehnhoff (Source: Eonline.com)
But, romance eventually fizzled out between the couple, and they decided to call quits on their relationship in 2019.
Besides that,  Antoni also dated fellow Netflix's Queer Eye star, Jonathan Van Ness. They kept making romantic posts about each other, referring to another one as bae, which dragged them in the speculation that they were dating.
Antoni's Insecurities
Antoni has been openly gay for a while now. He has even dated numerous men over time. But the dawn of 2019 brought some personal issues of Antoni to light. In an interview with GQ Hype in October 2019, Antoni said that he does not like to know his sexuality. Well, he has dated both men and women, and the fans have been confused regarding his actual sex.
As for Antoni, he dislikes being called gay because it may come as a disrespect for the women he had affairs with. He further added that he refers to himself as gay because it helps other people to understand his sexuality better. He thinks that the terms fluid or queer more suited him as he bounces back and forth between men and women as his dating tastes.
Antoni also stated that working with the judges on the show Fab Five has helped him to feel comfortable under his skin. Surprisingly, he admitted that he was satisfied with his relationships with women as there is less room for comparison. While dating men, things such as physique comparison and other aspects troubled him.   
Short Bio on Antoni Porowski:
Antoni Porowski is a lovely human who celebrates his birthday every 15 March. He graduated from Neighborhood Playhouse School of Theatre. Despite the popularity and success, the actor has gained, information about his family is missing from wiki sources.
Also Read: Sage the Gemini Net Worth, Girlfriend, Daughter, Parents
The actor has a toned physique, stands tall with 6 feet of height, and belongs to the Caucasian ethnicity.