Aron Nelson, better known by the online name AronRa is a podcaster, atheist activist, and the YouTube star of the AronRa channel.
Aron joined YouTube on 24th August 2006 and started uploading the videos related to the skepticism, free thought, and atheism. He gained more attention from his most viral videos, such as Foundational Falsehoods of Creationism, Refuting the Irrefutable Proof of God, and How Aron Ra Disproves Noah's Flood.
Besides being a vocal critic, he has also appeared in the documentary films My Week in Atheism, directed by John Christy and Batman & Jesus, directed by Jozef K. Richards.
In addition, he is also the author as he published his first book, Foundational Falsehoods of Creationism, in 2016.
Aron's Life With Wife And Children
Aron has been married to Lilandra Ra since 19th July 2009. The couple boasts a daughter and a son.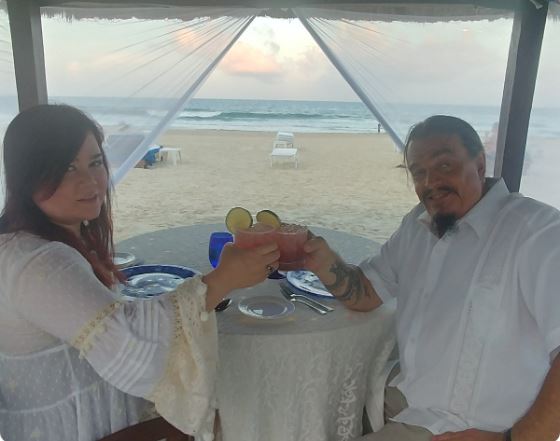 Aron celebrates marriage anniversary with his wife, Lilandra Ra on 19th July 2019 (Photo: Aron Ra's Twitter)
They were grandparents to their daughter's daughter, Sydney. But their happiness didn't last for a longer period of time as their granddaughter, Sydney died at the age of three as she couldn't battle acute myeloid leukemia.
Aron's Short Bio, Education
Aron was born as Aron Nelson on 15th October 1962 in Arizona. He was raised in an environment full of Mormon. Despite this, he is said to be a skeptic from a very young age.
Another YouTube Star: Who Is MrBeast Girlfriend? Dating, Gay, Net Worth
He studied Paleontology in Dallas.
Career Information
Aron serves as the vocal critic of theism and creationism and an advocate for the inclusion of evolution in science curricula.
Similarly, he has also served as the president of the Atheist Alliance of America. But, in March 2017, he resigned from this post in order to run for Texas' District 2 Senate Seat against Republican. Yet, he dropped out of the race after failing to secure the Democratic Party endorsement.
American YouTube Personality: Luhhsetty Bio, Age, Dating Life, Hair Products & other Facts
Moreover, he is also in the process of creating the Phylogeny Explorer Project, a free, volunteer-run, online encyclopedia of the entire phylogenetic tree of life.
Interesting Facts About Him
His birth sign is Libra.
He runs his own Atheist-centric website aronra.com.
Back in 2018, Aron's wife was accepted at Johns Hopkins to Masters in Science Writing program.
Aron makes decent earning through his self-titled YouTube channel, Aron Ra which has over 229k subscribers.