Charming and talented, Asa Soltan Rahmati has played in different shows and television programs as an artist. Rahmati is also a great singer and songwriter. Undeniable beauty is now getting famous in the television industry and getting good critics and having a prosperous future ahead.
How Much Is Asa's Net Worth?
Asa Soltan Rahmati accumulates her net worth from her professional career as a singer and a reality tv star. With her prolific career, she has amassed the estimated net worth of $250 thousand. 
Before getting into acting, Asa sang and performed as a singer with different art forms and shows. Later in 2012, she joined the television show on Bravo, Shahs of Sunset, where she has played her character amazingly with her Iran-American friends.  Also, her career credits her role in the TV series like Watch What Happens: Live, The Jeff Probst Show, Big Morning Buzz Live, and Wonderview.
Apart from her acting career, she started a high end bottled water company, Diamond Water which filters water through diamond before being bottled. 
Relationship Status; Married Before 
Beautiful Asa is currently in an open relationship with her longtime boyfriend, Jermaine Jackson Jr.
They are dating each other for more than six years, and Asa knows this guy when she was just fifteen years old. Although they are in living relation since 2010, the couple is not married or engaged yet; perhaps they are waiting for the right moment.  Furthermore, she can be seen divorce with her ex-husband in her upcoming season which has astounded all her fans.
However, all the rumors are just on screen, and there are no cheatings and divorced in her real life. She is happily continuing her healthy relationship with her boyfriend, Jermaine Jackson.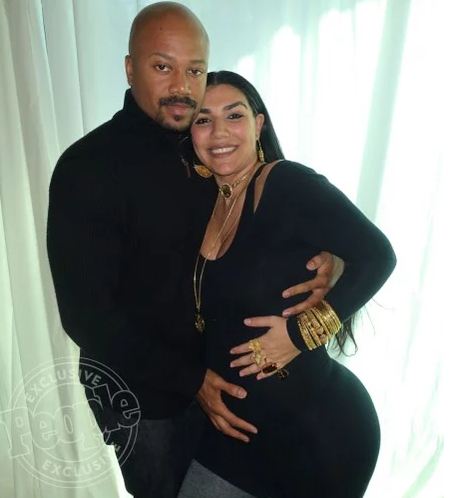 Asa Rahmati with her husband, Jermaine Jackson (Photo: people.com) 
Before dating Jermaine, Asa relished a married life with her ex-husband. Her co-star of Shahs of Sunset, Mercedez "MJ" Javid claimed that she was married for a decade. Mercedes mentioned that Asa's ex-husband found her cheating on him which became the key reason for their split. Her ex-husband found her having sex with another guy during their marriage.
Don't Miss: Lucie Fink Wiki, Age, Wedding, Family
Soon after Mercedes's statement, Asa responded by stating that she was disgusted by her ex-hubby behavior and mentioned that he was drowned in jealousy. She asserted that the allegation she extorted the house from her ex-husband was a lie. 
Two Turns Three: New Baby Has Arrived
Asa Rahmati, age 42, always wanted to have a baby while staying in the relationship. She shared this dream with dailymail.co, and now the dream has come true. Asa has given birth to a baby boy on January 20, 2017, with her boyfriend, Jackson Jr.
Discover More: Dermott Brereton Married, Wife, Children, Net Worth
She was getting very excited to be a mother, as she kept posting a lot of pictures on her official social media showing up her baby bumps. Now, the baby becomes the prince of their life, they both are triumphal and blessed. Asa seems to have a healthy time even after her delivery.
Short Bio 
Asa Soltan Rahmati was born in 1976 in Ahwaz, Iran and she celebrates her birthday on 1 September. She belongs to Asian ethnicity and holds an American nationality.  She was raised in Europe and migrated to Los Angeles after her family left Iran. She graduated from UCLA with a double major in Philosophy and Psychology.