Asaad Amin is best known as the youngest son of the boxer legend Muhammad Ali. Asad loved baseball from his youth, and unlike his father's boxing, he developed a passion towards baseball. He currently works as an assistant baseball coach for a local college.
All About The Legendary Boxer's Son Asaad
Asaad is an adopted son of Muhammad Ali and mother, Lonnie Ali. When he was five years old, his parents embraced the young child and took care of him. Lonnie's sister was caring him in foster when the duo paid to visit and fell in love with the five-years-old tad and eventually adopted the child.
His father Muhammad married Lonnie in 1986 as his fourth wife. With Lonnie, his father doesn't have any children besides Assad. In his family, he has eight siblings Laila Ali, Maryum Ali, Hana Ali, Rasheda Ali, Khaliah Ali, Jamillah Ali, Miya Ali and Muhammad Ali Jr. from his father's previous relationships.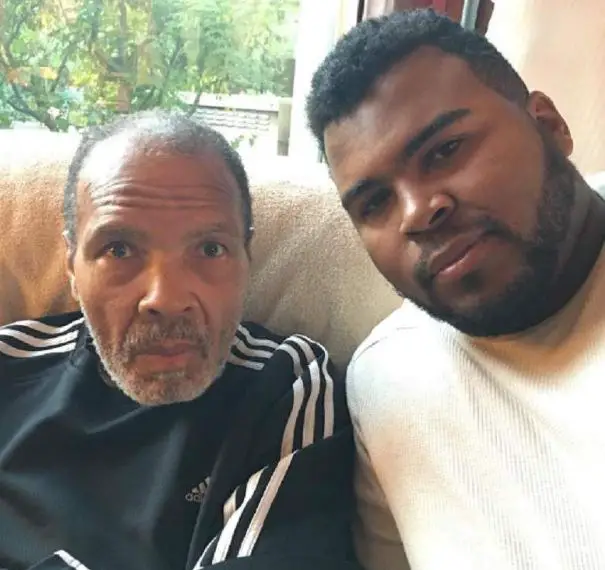 Asaad Amin with his father, Muhammad Ali (Photo: Pinterest)
Unfortunately, his father who was a boxing legend died at the age of 74 on 3 June 2016 from septic shock in Scottsdale, Arizona. After one week of his father's demise, in an interview with Today, he shared the recollection of his final moment with his father Muhammad where he said,
"What I can say about that room, it was just a really emotional, powerful, spiritual moment that we all shared with him. I was able to say my last few words that I really wanted to say to him for a while now."
Asaad further described him as a fearless man who never showed his weakness as he was a sturdy and durable person who never complained about a thing.
Who Is Asaad's Girlfriend? His Personal Life
Asaad on 17 July 2012 merrily tweeted saying he was married to the money. Later on 4 January 2013, he mentions about the wife and kids on Twitter where he said:

Asaad's post about wife and kids on 4 January 2013 (Photo: Twitter)
While he spoke about wife and kids on his Twitter account, he has not uttered any details regarding them. 
But on 14 April 2015 via his Instagram posted a photo where it was written a quote "Every man needs that one woman that calms the beast in him." So, he did hint that he still needs to find a woman.
His Instagram post also leads to the matter that he joked in his previous tweet about his wife and kids. Asaad is staying a low-key to share his romantic life. He is reportedly single and not dating any ladies.
How Much Is Asaad's Net Worth?
Asaad has earned the prominent part of his net worth as an heir. After the death of his father Muhammad, his sibling Muhammad Ali Jr said the inheritance of Muhammad's fortune was agreed to distribute equally with his siblings and Asaad.
Muhammad as an American boxer had a net worth of $50 million. As an heir to his father's wealth, he received an amount which is equal to $5.6 million.
Short Bio
Asaad Amin was born in the year 1995 in the United States of America. He used to celebrate his father's birthday on 17 January. He is taller than his father Muhammad who has a height of 1.9 m (6' 3"). As per wiki, Assad grew up in Louisville, Kentucky.