You never know what is in the menu of RHOP until the end of the season. Ashley Darby disguised her separation with husband for five months, and when she did reveal about her marital problem, fans couldn't believe what they heard. The Real Housewives of Potomac star, Ashley is the entrepreneur and former pageant holder of Miss District of Columbia whose married life with husband, Michael has come under scrutiny since early 2017.  
Separation Behind The Scene
RHOP is nothing less than a Bermuda Triangle which is filled with mystery and jaw-dropping facts. It was back in June when Ashely said that her marriage was way more important than her ego after the fight they had, which was enough caught on camera lenses. 
But after less than one month, she said that she and her husband, Michael Darby, have split, and she also moved out of their house to her apartment in Arlington.
Though she moved and lived a separate life since February, she kept it wrapped up until July. She said with Bravo TV that:
"It took me this long to talk about it because I wanted to deal with it in private since it was something that I wasn't really comfortable with or sure how to explain at first."
Though she lives separately from her husband and stepchildren, she hasn't yet decided to have a divorce as they are still 50-50 partners and have joint ventures in their dream restaurant.
During an interview, she even admitted that their significant age difference of 29 years contributed to their relationship turmoil. But she also claimed that she wants to get back together and keep their relationship alive. She also pointed out that she is only 50% of what happens, and Michael has to be on the same page for the connection.
Married Life With Michael
When you are madly in love, age is just a number. Ashley and Michael were in love, and their 29 age difference didn't matter at that time. Ashley started dating her then-boyfriend Michael back in 2012 and after brewing romance between the lovebirds; the couple decided to tie the knot.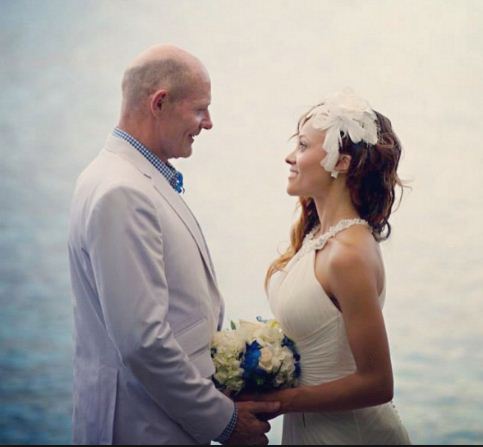 The "I Do" Moment of Ashley and Michael in May 2014 (Photo: bossip.com)
The couple had a lavish wedding ceremony back in May of 2014. When she got married, she was just 25 years old although her stepchildren were almost her same age who aged 25 and 23 at that time.
After getting married, the couple launched a restaurant named "Oz Restaurant and Bar." In a public video, she said that she wants to have a baby of her own to complete her married life. 
Do Not Miss: Lucie Fink Wiki, Age, Wedding, Family
Expecting Their First Child; Miscarriage
Ashley Darby and her husband, Michael announced that they were expecting their first child soon. Back in February 2019,  Ashley disclosed that she was excited about her pregnancy. Also, Ashley stated that she had the most all-compassing feeling ever when she experienced having a child and the miracle of life inside her. She also added that it was a blessing that was bestowed upon her. However, the couple has managed to conceal their baby's gender.
Ashley also shared the happy news on her Instagram with a baby bump and wrote; 'Sending you abundant amounts of love and positivity.'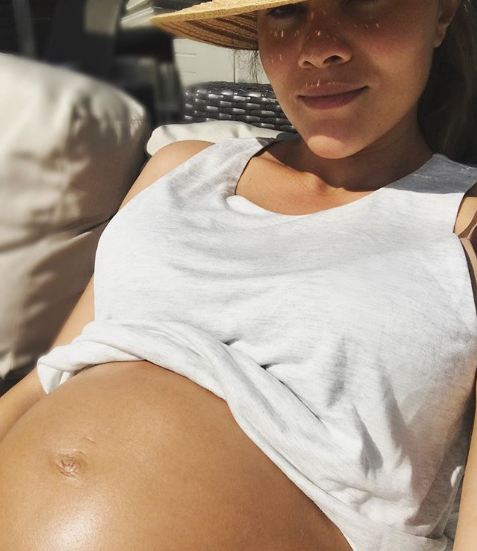 Ashley Darby with her baby bump in February 2019 (Photo: Instagram) 
Before her pregnancy, she went through a miscarriage. During the reunion of RHOP Season 3, Ashley and Michael who were in a rocky relationship, tried to have a baby. Although the couple was able to conceive, Ashley ended up her first pregnancy within a couple of weeks with miscarriage. When she encountered the miscarriage, Michael was upset, and he realized that he wanted a baby eagerly than he thought. Also, she stated that Michael's perception as the right choice through which they are on the run for having a family together. 
You May Like This: Nick Merico Wiki, Girlfriend, Family, Net Worth
Welcomed A Child 
Five months after the announcement of her pregnancy, the Real Housewives of Potomac, Ashley Darby and her husband, Michael Darby finally blessed with their baby, Dean Michael Darby on 7 July 2019. At the time of the birth, the baby son weighed 8lbs and 1oz.
Manifesting their happiness on Instagram, Ashley announced the birth of a baby and pour in a caption that she never thought the happiest day would ever come in her life. She is over the moon now and feels grateful to face a wonderful experience from the first kick of unborn baby to the birth of a baby.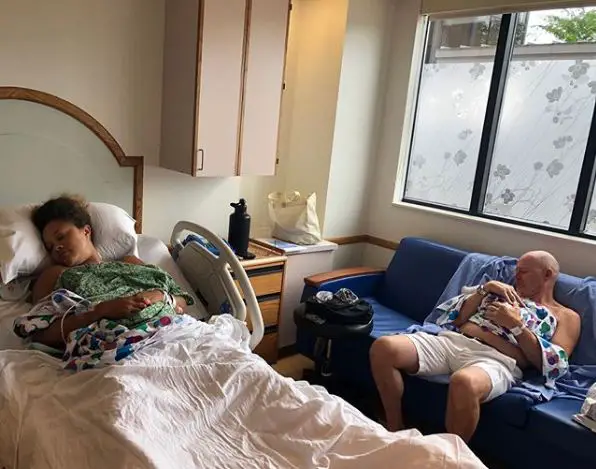 Ashley Darby welcomed her baby boy, Dean Michael Darby with her husband, Michael (Photo: Ashley's Instagram) 
Moreover, Ashley asserted the day of her delivery was the sunniest after a sky filled grey referring to it as the most exciting day of her shared life with Michael.
Ashley and Michael are currently relishing the happy moment of their life since the birth of the kid Dean Michael Darby.  Congratulation to the love duo for the bundle of joy!
Career and Net Worth of Ashley
The attendee of the University of Maryland worked as the bartender to support her parents and siblings. While working as the bartender, she contested in the Miss District of Columbia Pageant and went on to win the title in 2011. After her meteoric rise to stardom, she then became one of six casts of the Bravo's TV reality show called "Real Housewives of Potomac."
The show, which aired for the first time on 17th January 2016, also casts Robyn Dixon, Karen Hunger, Katie Rost, Monique Samuels, Charrisse Jackson-Jordan, and Gizelle Bryant. She then returned to the show for the second season which premiered on 2nd April 2017 welcoming the new member, Monique Samuels.
The entrepreneur, who also operates a restaurant called "Oz Restaurant and Bar," summons her net worth through her reality series. The reality star boasted a stupendous net worth of $5 million and given her age and business mind; she is bound to cash in millions of fortune in coming days.
Short Bio and Family
Born as the oldest children in her family, Ashley stepped in the world in 1988 in Maryland, and she celebrates her birthday on 8th June every year, which makes her age 31. According to the wiki sources, she has multiple younger siblings and was born to mother, Sheila Matthews and claims that she has never seen her father and her attempts to meet him have failed.
Ashley belongs to Afro-American ethnicity and says that her father was a white guy with red hair. She stands at a height somewhere around 5 feet and a half and works vigorously in the gym to maintains model-like curves.