Asia Kate Dillon is an American actor known for their role of Taylor Mason in American TV series, Billions. The pansexual actor also portrays a recurring character of Brandy in the Netflix series; Orange is the New Black. Besides their acting career, they have served for MIRROR/FIRE productions as the production director.
Gender Defined As 'Non-Binary'; Revealed Dating And Mentions Partner
Asia Kate Dillon is a pansexual, who is attracted to multiple genders. Their gender was female during birth but later identified as non-binary and preferred using 'singular they' pronouns. They have also gushed their 'gender and identity' on Twitter. They described their gender as 'Non-binary' and sex as 'female' on 10 Feb 2017. The Billions actor quoted that 'sex is between legs, identity is between ears,' and all that matters is visibility. 
You May Like: Geraldine Viswanathan Wiki, Ethnicity, Parents
The Ithaca-native actor at first didn't quite know how to describe their gender identity. They knew about the term after they read their character of Taylor Mason in 2017 American TV series, Billions. In an interview with ABC News, while attending Critics' Choice Awards on 11 January 2018, they said,
Non-binary is a term used by some people, myself included, who feel that their gender identity falls outside the tradition boxes of man or woman. When I got to the script for 'Billions' and the character breakdown for Taylor Mason, the character that I play, said female and non-binary, a little light bulb went off in my head. ... I did a little bit of research and discovered that female is an assigned sex and non-binary is in reference to gender identity and those are two different things. It finally helped me put language to a feeling that I'd had my entire life.
Meanwhile, their role of Taylor Mason in Billions became the first non-binary role in the history of American TV series. While marching towards Critics' Choice Awards, they got chosen for a best-supporting-actor nomination for their traditional non-binary role in Billions.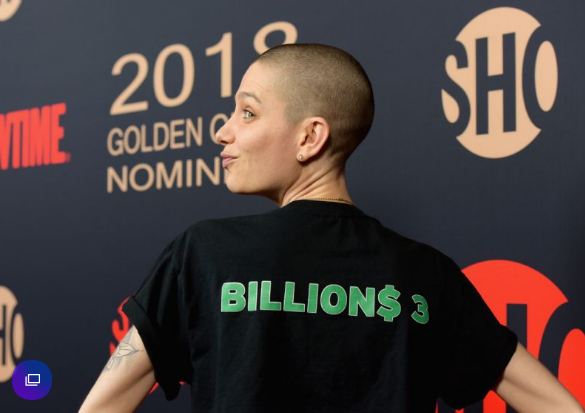 Asia Kate Dillon with their signature short hair attends the Showtime Golden Globe Nominees Celebration at Sunset Tower on 6 January 2018 in Los Angeles (Photo: yahoo.com)
Further, in March 2018, in an interview with Yahoo Lifestyle, Asia Kate said it's extraordinary for them' to have an opportunity to talk about their gender identity. They used to feel insecure about talking about it in various environments but is now proud of being non-binary. The actor also talked about their hair and said that they had short hair since the age of 14. 
The pansexual actor has hinted that they are dating someone special. In an interview with The Guardian on 25 March 2018, Asia Kate stated 'they have a partner who is a self-identified man.' They implied that their boyfriend is from Britain.
They added that in Britain, the term 'partner' is widely used to refer someone's husband/ wife or boyfriend/girlfriend, but Asia Kate and their boyfriend had shown it was easy to establish a 'gender-neutral alternative.' However, they haven't revealed many details about their mysterious partner.
How Does Asia Kate Dillon Gather Net Worth?
Asia Kate Dillon has gathered their net worth as an American actor since 2009. Their income sources are comprised of their stint in TV series like Marcus Garland: A Necessary Option, Opus for All, and We're All Gonna Die. 
Read This: Emmanuel Hudson Wiki, Girlfriend, Dating, Gay, Affair, Net Worth, Family
Likewise, their long-appearances in TV series like Orange is the New Black (2016 to present) and Billions (2017 to present) has served to boost their fortunes.
Asia Kate Dillion On 'Billions'
On the hit Showtime series Billions, Asia Kate Dillion played a non-binary role as Taylor Amber Mason and became the first non-binary character to appear on mainstream television regularly. Talking about their role as Taylor, they are an analyst at Axe Capital who later forms Taylor Mason Capital. The fourth season of the series aired on 17 March 2019.
The LGBTQ community has favored the character of Taylor and are excited to see a transgender as well as non-binary character. By Season four, Asia's on-screen role revolves around the series of ethical challenges that further evolves the story around Taylor.
Most recently in March 2019 on their interview with BusinessInsider, Asia mentioned that their fans are lauding them. The feedback of people was great, and Asia even cried after they knew that they helped the crowd to feel less alone. The non-binary actor that they consider themselves a performer and they wanted their project to be challenging and fun.
Short Bio
Asia Kate Dillon was born on 15 November 1984 in Ithaca, New York.  Asia Kate stands at a height of 1.7 m (5' 7") and posses American nationality. As per wiki, they attended American Musical and Dramatic Academy and completed the Meisner training program at The Actor's Workshop of Ithaca.