Most of you may be accustomed to The Rock as he is one of the legends of WWE and also a Hollywood star. Well, he followed the footsteps of his father towards wrestling. But you may be unfamiliar with his mother, Ata Johnson. Ata, who has gone through a divorce, suicide attempt and head collision in an accident, has remained the most energetic woman. Curious to know more about her? Here we present you all that you need to know about Ata Johnson.
Insight Into Ata Johnson's Married Life
Ata was in an affair with the professional wrestler, Wayde Douglas, known as Rocky Johnson. Ata and Rocky met with each other when he was tag team partner with her father, Peter Fanene Maivia, who was also a wrestler. The duo started dating and got blessed with Dwayne Johnson (aka 'The Rock') on 2 May 1972.
Despite her father's disapproval in marriage, she exchanged marriage vows with Rocky on 22 December 1978. Their son Dwayne was just six years old when they had their wedding. The couple nourished him and were in a happy relationship with each other. However, in 2003, they ended their 25 years of married life with a divorce. The reason for their split is not known. Ata's ex-husband, Rocky got included to WWE Hall of Fame in 2008.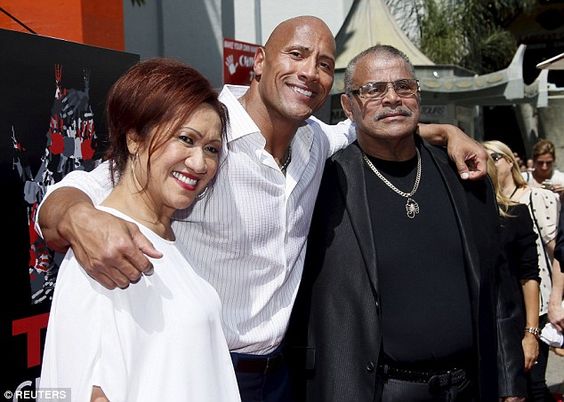 Ata Johnson, her former husband Rocky Johnson and her son Dwayne Johnson (Photo: pinterest.co.uk)
Ata's Suicide Attempt
In 1987, the family of three lost their apartment. Their son, Dwayne was just 15 years old at that time. Meanwhile, Dwayne and his mother were traveling on Nashville in a car to find the comfort during their journey.
According to Dwayne, when they reached on Interstate 65 on Nashville, Ata got out of the car and walked into the oncoming traffic. Terrified by her action, Dwayne grabbed her and pulled her back through the road.
The strange thing about her suicide attempt was she has no recollection of walking into the traffics. Dwayne further spoke that he and his mother are healed and are using their experience to help others who are in pain.
Ata Survived Car Crash
On August 2014, Ata and her son's cousin were traveling in their white SUV. While they were driving, they got hit by a drunk driver. Luck was on their side as their SUV front-end was only damaged. Both were able to survive the head-collision with a drunk driver.
The location of their accident wasn't clear; however, Dwayne posted the news of their unfortunate crash on Twitter on 10 August 2014. He didn't detail their injury, but his cousin Lina Fanene, who is also a WWE Wrestler, posted the photo of him visiting the hospital.
How Much Is Ata's Net Worth?
Ata's information of career is in darkness, so her professional background is hidden. Since her job and professional career is hard to know, her earnings are also something that's difficult to calculate.
Nevertheless, having born in a productive professional wrestling family, her son, Dwayne is also one of the renowned professional wrestler and a Hollywood actor. Dwayne, who is famous as The Rock on WWE, has been featured in various Hollywood films. With his passion for hard work and dedication in his field, he has managed to acquire himself a jaw-breaking net worth of $220 million.
Short Bio
Ata Johnson was born on 25 October 1948 in Hawaii as Feagaimaleata Fitisemanu Maivia. She is at currently at the age of 69. Ata carries Samoan ethnicity and belongs to American nationality. There is no news available regarding her height on wiki sites.