August Getty is a fashion designer and the founder of the womenswear clothing line, August Getty Atelier.
Driven by his passion for the fashion industry from a young age, he became one of the youngest fashion designers to have his collection featured at the New York Fashion Week in 2014. 
Besides fashion, he is also an advisor of the 'Getty Foundation'- a foundation that has a keen focus on supporting the disenfranchised populations and mostly LGBTQ+ rights. 
Family Details
August is the grandson of famous oil tycoon Sir J. Paul Getty- who was once considered the richest living American in recorded history. Similarly, August's parents are Ariadne Getty- a philanthropist as well as the President and Executive Director at the Ariadne Getty Foundation- and Justin Williams, an actor.
His parents got divorced in 2003 when August was only the age of nine. After divorce, his mother flourished a new love life with music producer and songwriter Louie Rubio and has been continuing the relationship till present.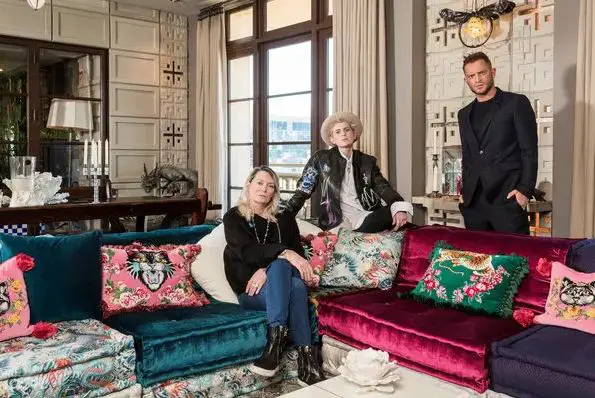 August Getty with his mother Ariadne Getty and sister Natalia Getty (Photo: nytimes.com)
Besides his estranged parents, August also has a sister Natalia Getty- who is openly lesbian and married to YouTuber Gigi Gorgeous since July 2019. Natalia is a model, artist, and fashion designer. She owns a custom leather jacket and lifestyle clothing brand, Strike Oil.  
Openly Gay(Who is August Dating?)
August has been an openly gay fashion designer. Unlike others, he hasn't hidden his sexuality; instead, he has always come forward regarding his sexual preference.
Further, he participated in the celebration of the Ariadne Getty Foundation with GLAAD and the Los Angeles LGBT Center in July 2019.
However, despite his open sex revelation, August was assumed to be single by NY Times in 2018. 
Don't Miss Out: Who Is Naomi Ackie? Meet The Actress Of Star Wars
Net Worth
August launched his debut collection of designs in the summer of 2015 when he was just 20 years old. Over the years, he has worked with A-listed celebrities like Miranda Kerr, Rachel McAdams, Zendaya Coleman, and Katy Perry- which gives an idea about his successful endeavors.
Furthermore, according to Forbes, the Getty family was listed as the 56th richest family in America in 2018. August's sister Natalia's net worth of $30 million is more than enough to understand the family's financial prowess.
August Getty Wiki: Age
August was born on 23 June 1994 in the United States. He grew up having a passion for fashion since his young age, as a result, by only the age of five, August already had started designing his couture gowns for barbie dolls. 
Discover This: Insight Lucy Mecklenburgh Weightloss Diet, Height, Boyfriend Details
Interesting Facts About August:
His mother is also a chief executive of his clothing line.
August designed a gown for Rachel McAdams which she wore on the red carpet at the Academy Awards in 2016.
His mother Ariadne was honored with Variety's Philanthropist of the Year Award in 2019.
His mother donated $1 million to the Glaad Media Institute, an organization that works with journalists and members of the Hollywood community to make sure the stories of LGBTQ communities are being told. 
The fashion designer never came out officially about his sexuality to his mother. He instead informed her that he was going on a date with a guy.