Azan Tefou is a reality star, who rose to the stardom with his presence on the reality show 90 Day Fiancé alongside his online girlfriend, Nicole Nafziger. The show is all about the tangled journey between the online relationship, who have never met in person, and when they meet, the show meets them alongside.
Among many couples in the show 90 Day Fiancé, Azan and Nicole have a unique story with several issues and accusations, including Azan not getting the A-1 visa. Continue reading to quench thrust about Azan and his tangled romance: 
Azan Tefou's Wiki- Age
Azan, 24, is a reality show contestant from Morroco, who belongs to Muslims ethnicity. He is prominently known for appearing in the 4th season of the reality show 90 Day Fiancé. He reached the platform of the show with his online romance with American native, Nicole whom he met through the dating app. 
Interesting: Lisa Meadows Wiki, Age, Married, Salary
Azan is further accessible for his dramatic relationship with Nicole in the show. The two, sometimes tend to be calm and healthy, and sometimes its like fire and flames. Due to their distinctive nature, the fans and audiences kept the straight interest mainly on them. 
However, despite their diversity, the pair are believed to have a close attachment as they got engaged inside the show and are planning to get married soon. 
Azan's Girlfriends
Those who know Azan or have seen 90 Day Fiancé might be well aware of Azan's relationship with Nicole Nafziger. He and Nicole shared a quality moment inside the show; as a result, they end up engaging with each other. 
Learn About: Lina Esco Husband, Gay, Dating, Parents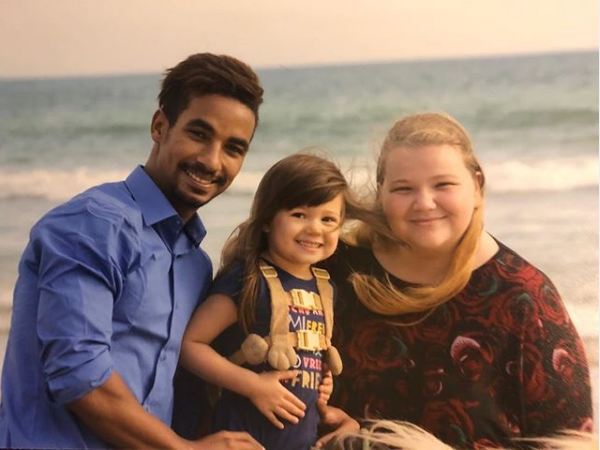 Azan Tefou with his fiancée Nicole Nafziger and Nicole's daughter May on 1 January 2019. (Source: Nicole's Instagram)
Despite his public affair with Nicole, Azen was still not safe from accusations like cheating and having another pregnant wife privately. In March 2018, Azen got publicly exposed by one of his Spanish ex-girlfriends whom he met through the dating app like Nicole. 90 Day Fiancé's YouTuber Keith Brooks helped her to publicize her voice. She kept her name unrevealed but did reveal every cheap insight of Azan. She further added Azan feels embarrassed to be seen with Nicole, and his wills to marry her is only for the US visa and money.
Not only that, but she even accused him of having revealed he has other girlfriends too, in Morocco, in Russia, Japan, Korea, England, and many are still concealed. She further flashed his gold-digging nature and his disgusting character regarding women.
Among all his geographic located girlfriends, his relation with Moroccan girlfriend seemed to last long as she didn't mind as long as they have money. 
You'll Love This: Katie Steiner Wiki, Age, Married, Salary
At present, in August 2019, again, Azan is accused of having a pregnant girlfriend in Morocco. The accusation was taken into more concern when he canceled the trip to Grenada with Nicole at the last moment. Although he never clarified the last-minute cancellations, the media, and the audience were quick to CBI about Azan's matter. Surprisingly, the accusations haven't come out to date, and Nicole is still set to marry this antagonist.
Currently, Azan and Nicole are together despite the blazing rumors all around the internet. Even Nicole confirmed with News Week that they will 'likely' get married in Summer 2020
Net Worth Related
After the accusation upon Azen was flashed all over the internet, all that can be seen and admit was Azan's selfishness for financial support and visa. Indeed, Azan was proclaimed to lend money from all of his girlfriends, including Nicole. 
He was seen taking the money worth $6,000 from Nicole inside the show and even after the show is over. However, at present, surprisingly, Nicole revealed that she has not been sending money to Azan lately and said he has his job now. She also requested to have no concern about her, her daughter and fiance anymore.