When you are the child of prominent celebrities of the industry, you're bound to be famous; even though you are a ten months old infant. Yes, we're here talking about the adorable baby boy Bear Payne, son of the One Direction star, Liam Payne and X-factor judge, Cheryl Cole.
Rockstar Father and Businesswoman Mother!
Liam Payne is a known artist who gained his fame from the English boy band, "One Direction" He auditioned for X factor in 2008 where he was rejected as a solo performer. Liam again auditioned in 2010 and was put into a group to form "One Direction." While Liam is a rock star father to baby Bear, Cheryl is a businesswoman who was the singing sensation back in her days.
Liam Payne and Cheryl Cole are one of the talked couples in the town these days. Liam met Cheryl when he first auditioned in the X-factor where Cole was a judge back in 2009. The couple started dating at the beginning of 2016 when Cole was on the verge of a divorce with her second husband.
The lovebirds did not keep their relationship a secret and made the red carpet debut together in May. Despite the ten years of age difference between they do not seem to hesitate on sharing love and affection in public.
A year after dating, Liam and Cheryl gave birth to a beautiful baby boy in 2017. The couple did not name the baby right after and instead took a week long to think and finally came up with Bear Payne. Mamma Cole chose the name and later revealed the reason for such an unusual name. In a radio interview with the US Liam said that:
"The reason I chose a bear, in the end, was that Bear is a name that when you leave a room you won't forget. And I like that. When I look at him he is Bear. To be honest at first I wasn't having it, I didn't understand it and I wasn't sure. Now I look at him and he is Bear. It's mad."
The couple seems to enjoy every bit of parenthood, and Liam confessed that Baby Bear is a magical baby and had changed Liam for good in many ways and that he loves to watch the boy grow and wishes to become a great father figure.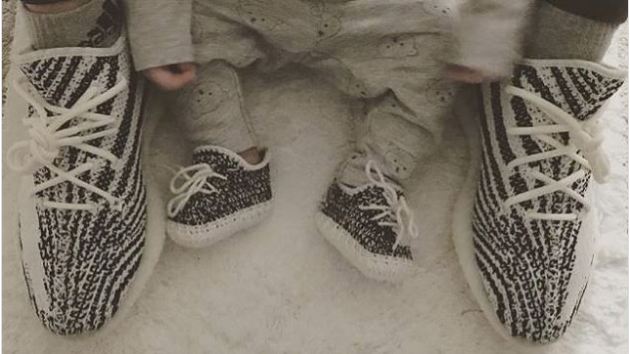 Caption: Liam Payne and Bear Payne twinning with Yeezy on December 26, 2017, How adorable is the picture? 
Source: Instagram
Bear Payne can talk to the ghost and gives speeches when no one's around?
It looks like the baby bear can see ghosts and interact with them. Liam Payne in an interview with the Sun confessed:
 "I was lying in bed the other day and he was sat on my knees. He started giving a speech to no one and was pointing his finger. You do wonder, are there ghosts in the room? Because kids can see that!"
He further said that the house the family is staying in is haunted.
Bear Grey Payne Too Young to Have Net Worth!
Well, you often here young children coming into rising with the talents and fame they have. But here, Bear is one of those children who gained his popularity in young age because of his parents. So Bear Payne is just ten months and is too young to have a net worth. However, his parents earned their fame through their works and career they worked so hard to build and has the net worth in millions.
Liam Payne has a net worth of £54 million and Cheryl Cole has a net worth of £20 million.
Short Bio of Bear Payne:
Bear Payne was born in 2017 and celebrates his birthday every 22 of March. His mother gave him birth in London's Chelsea and Westminster Hospital. Bear's full name is Bear Grey Payne, and according to the wiki source his family calls him by the nickname, "Cub."