Nothing exceeds the happiness of the getting tied in a sacred bond for that couple who have been together for a long time. Meghan McCain and her boyfriend, Ben Domenech also seems ready to go through that high ride of emotions and happiness as the pair has confirmed the news of their engagement. Ben took to Twitter to announce his engagement and unfolded the name of his mysterious girlfriend.
Engaged to Girlfriend, Meghan McCain:
Ben Domenech, who tried his best on veiling their relationship updates, has finally spoken about his girlfriend. The conservative writer retweeted a story about McCain's engagement with a surprising caption which made the entire industry astonished.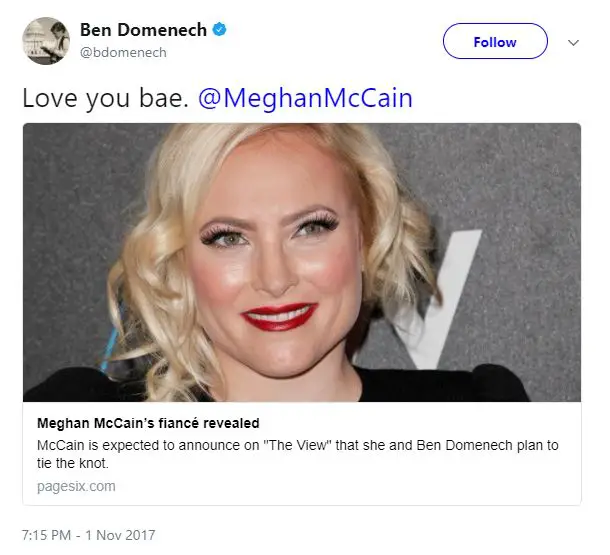 His "Love You bae @Meghan McCain" caption not only revealed the truth behind Meghan's mysterious affair but also made the audience curious about their wedding plans.
Don't Miss: Topher Brophy Wiki, Age, Wife, Net Worth
The American columnist, and blogger, who seems excited to exchange the vows now, had seemed confused about getting settled a year before. While talking to Los Angeles Times on getting married, Megan said,
"I am still dating and love my job and not ready to settle down at all. I don't know if I ever want to get married and have kids. And I think that's a common struggle."
It's not known what made a change in her perspective, but whatever it was, indeed deserves applause. Besides, not only Megan seems positive on starting a formal relationship, but her father, Sen. John McCain also appeared excited about their new move. Upon speaking to People.com about his daughter's relationship, he said,
 "Actually, he's a very fine man, I'm very proud and very happy that they're so happy together."
Shares Wedding Vows; Wife Lose Father!
Just a few weeks after their engagement, he and his fiancée, Meghan walked down the aisle and tied the holy knot on Tuesday evening on 21 November 2017. The love-duo got married in the lavish wedding ceremony in attendance of Barret Swatek and broadcast journalist SE Cup and guests. Afterward, he and his wife enjoyed the ceremony dancing with friends and family.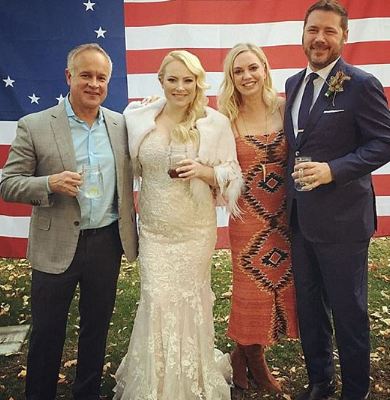 Ben Domenech and his wife during their wedding ceremony (Photo: Instagram)
The love-duo thought to get married and pushed everything up when they came to know about Meghan dad's diagnosis of brain cancer. Her father, John's illness about glioblastoma, a rare and aggressive form of brain cancer, was identified in July 2017.
Unfortunately, he passed away in August 2018 after battling for almost a year with cancer at the age of 81. She mourned on the loss of her father on their first wedding anniversary.
Read Also: Chris Shiflett Wiki, Wife, Family, Net Worth
On 21 November 2018, they surpassed the 1st anniversary of their wedding. Meanwhile, she expressed her happiness sharing the series of old wedding pictures. She wrote;
"1 year married tomorrow baby, I can't believe it's been a year. My ride or die from day one. In the words of the late poet Johnny Cash— we fell into a burning ring of fire."
In addition, she pondered her hard feeling for her dad and showed her gratitude toward him.
Career and Net worth:
Ben Domenech serves as the host of 'The Federalist Radio Hour,' founder and publisher of 'The Federalist' and also writes for a daily subscription newsletter, 'The Transom.' He co-founded the RedState group blog and served as a managing editor for healthcare policy at 'The Heartland Institue.'
Adding to the list, he previously worked as an editor-in-chief of 'The City' and presented a daily free-market podcast, 'Coffee and Markets.' He was hired as a blogger for 'The Washington Post' in 2006 but was compelled to resign after multiple instances of plagiarism came to light.
Explore: Eddie Vedder Wiki, Wife, Children, Net Worth, Height
His Short Bio:
As per a wiki source, Ben Domenech aged 35 was born on December 31, 1981, in Charleston, South Carolina, U.S. He enrolled at the College of William and Mary, but left the college after receiving an offer from US Department of Health and Human Services. Nothing much about his family has surfaced in the media, but they shall appear on his big day. The South Carolina native belongs to white ethnicity and has an attractive height that complements his career.