Benjamin Ayres is a preeminent figure in the TV and film industry who is well known for his role of a chain-smoking sex addict Cancer Cowboy, who is morbidly obsessed with death, in CBC Television series jPod (2008). Benjamin is also one of the Vancouver's most in-demand actors who has nabbed the various roles shifting seamlessly between the genres. If you are unfamiliar to the Canadian actor, then follow through this article as it covers all you need to know about his personal life.
Professional Career
Benjamin began his profession as an actor by making his on-screen debut as a guard on the 2002 TV series Jeremiah. He then played the small role of Lorenzo in the American/Canadian drama series The L Word in 2007. This very role helped him to feature in the 2008 series jPod as Casper Jasperson (aka 'Cancer Cowboy'). The series was based on Douglas Coupland's novel and was a critically acclaimed cult hit aired on CBC Television. 
From 2008 to 2017, Benjamin played various roles on TV series. He is best known for portraying Dr. Zach Miller in the CTV series Saving Hope. He also had a recurring role on HBO Canada series Less Than Kind (2009). In 2017, he played the role of Dr. Jeff Callan on the Television film Falling for Vermont.
How Much Is Benjamin Ayres' Net Worth?
In the year 2008, Benjamin was nominated for Leo Awards for Best Supporting Performance by a Male in a Dramatic Series for jPod. He got nominated for various awards including Gemini Award and Canadian Screen Awards for his best performance role in comedy series.
His series jPod is one of the successful CBC shows and Saving Hope was one of Canada's highest recorded rating premiere figures for summer in 2012. By acting on these series and being nominated for multiple awards as the best comedy actor, Benjamin must have obtained some handsome amount of salary. With his acting skills and involvement in the entertainment industry in Canada, he may have acquired a hefty amount of net worth which is yet to be publicized.
Benjamin's Marital Relationship
As of now, Benjamin is happily married to Erin Ayres, a digital marketer, and storyteller. According to Benjamin's Instagram picture shared earlier this year on 26 January, the couple had their first date eighteen years ago. Well, it makes clear that the pair has been together for almost two decades.
The couple is active on the social media accounts where they don't hesitate to provide some glimpse of their married life. However, the actor has not shared his marriage details with Erin. Nevertheless, Benjamin mostly complements his wife on his social media posts with whom he shares two adorable daughters. He says that she is smart and beautiful and knows about the entertainment industry more than he does. On 29 January 2011, Benjamin expressed how proud husband he felt when his wife interviewed Right Honourable, Paul Martin, who was the 21st Prime Minister of Canada.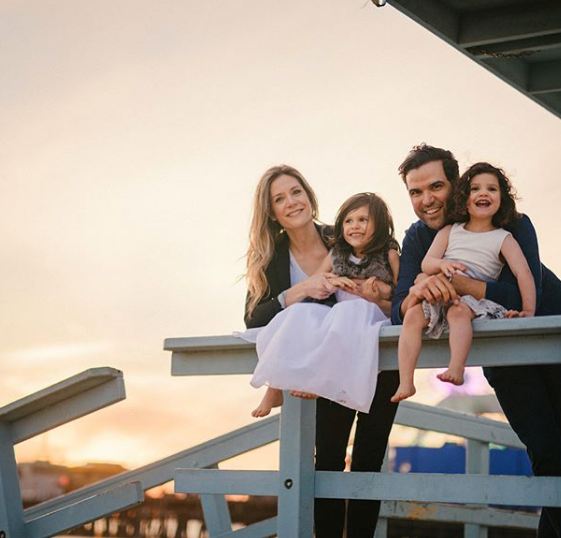 Benjamin Ayres, his wife Erin Ayres, and their two kids (Photo: Instagram)
Even though Benjamin is active on social media flaunting pictures with his wife and kids, he is pretty much tight-lipped when it comes to revealing more about his personal life. Well, he even has not revealed his kid's name, and their birth date remains a mystery. However, inspecting Benjamin's social media posts, one can tell that he is a family man. The couple is engaged raising their kids with their celebration of 18 years romantic affair residing in their hometown somewhere in Canada.
Is Benjamin Ayres Gay?
Benjamin seldom shares gay-related tweets which might have confused his sexuality to many of his fans who have no any idea of his married life. On 3 July 2011, Benjamin joked on Twitter saying that he and Rob Anthony Provost are gays. Benjamin further said that he loves Rob's mustache and finds him pretty cool.
The actor has many tweets relating gay, but he can't be affirmed as gay. Well, Benjamin is straight by sexuality as he is in a blissful married life with Erin with whom he has two beautiful daughters.
Family Life
Like personal life, Benjamin is seen on social media talking about his father and mother. However, the actor hasn't yet revealed his family name. As he is maintaining some privacy and sharing his parent's information only with his close friends, there is no information available regarding his parents on the wiki sites.
Short Bio
Benjamin was born on 19 January 1977 as Benjamin James Ayres. He is a native of Kamloops, British Columbia and belongs to Canadian nationality. His height is 6 feet 2 inch (1.88 m) and studied at The Lyric School of Acting during his early twenties.