Oliver Award-winning stage actor Bertie Carvel is mostly known for his appearance in TV shows like Doctor Foster: A Woman Scorned (2015), Jonathan Strange & Mr. Norrell (2015), and the film- Les Misérables (2012).
Also, he is prominent for his work in musical productions, including Parade Musical (1998) and Matilda the Musical (2010). 
Bertie Carvel's Married Life
Bertie Carvel has been married to actress Sally Scott since 5 January 2019.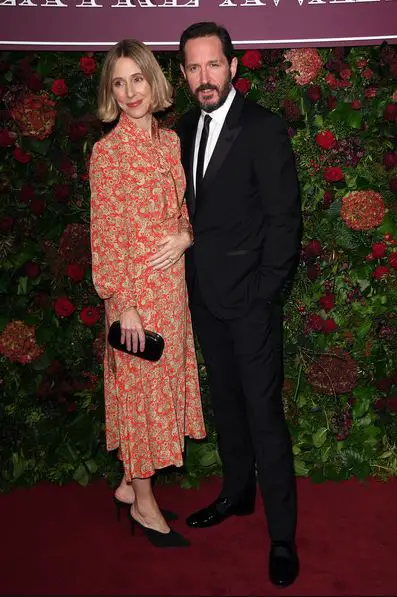 Bertie Carvel and wife Sally Scott at the 65th Evening Standard Theatre Awards on 24 November 2019 (Photo: Zimbio.com)
Sally is an actress known for her acting in the 2018 TV series Trauma, 2015 TV movie Coalition, and the drama titled Borges and I (2009). 
Bertie Carvel's Bio 
Born Robert Carvel, the birthdate of Bertie Carvel falls on 6 September 1977. He attained his primary education in London and later enrolled at the University College School.
Another Prominent Actor: Darren Boyd: Popular Movies & TV Shows, Personal Life Talks
Further, he went to the University of Sussex, Falmer, East Sussex in 2000, and joined the Royal Academy of Dramatic Art in London in 2003. 
Family Info
Bertie is the son and grandson of reputed British newspaper reporters. His grandfather, Robert Carvel, was an acclaimed political editor at the London Evening Standard. Additionally, his father, John Carvel, also worked as a journalist; he worked as a social affairs editor at the Guardian and was an editor at the Star newspaper.
On the contrary, his mother, Patricia, worked as an organizational psychologist.  
Bertie's Character in Matilda & Sherlock
Bertie portrayed the role of Agatha Trunchbull in the musical, Matilda. Miss Trunchbull is a grotesque character in the musical- who was a psychopath, a child abuser, and a murderer. In the musical, the character was seen as the headmistress of Crunchem Hall Primary School. 
Learn About This Movie Actor: Dean Sheremet Personal Life Update & Interesting Facts
Similarly, in the episode The Blind Man of Sherlock, Bertie played the role of Sebastian, a.k.a Seb Wilkes- a bank manager and client of consulting detective Sherlock Holmes. 
Seven Interesting Facts About Bertie Carvel
Bertie stands at a height extending 1.83 meters (6 ft), while his wife Sally has a height of 1.73 meters (5 ft 8 in). 

Bertie won the 2019 Tony Award for Best Featured Actor in a Play. He won the title for his remarkable performance as media mogul Rupert Murdoch in James Graham's play, Ink. 

He was also honored at the 73rd Annual Tony Awards at Radio City Music Hall on 9 June 2019 beating other nominees like Brandon Uranowitz, Benjamin Walker, Robin De Jesus, and Gideon Click. 

Bertie was nominated in 2013 for his turn as Miss Trenchbull in Matilda. Also, he is an Oliver Award recipient for his portrayal in both Matilda and Ink in London's West End. 

Bertie is a black belt in Shaolin System Nam-Pai-Chuan of Kung Fu. 

Bertie has voiced in the video game called Star Wars: The Old Republic. He voiced over the Imperial Agent character.