Brandon Awadis is a YouTube star known for his channel Brawadis. He is also an aspiring NBA analyst and has a second channel BrawadisNBA, which is entirely dedicated to NBA. He is an enthusiastic fan of the basketball team, Phoenix Suns and writes sports for a website VAVEL.
Relationship With Ex-Girlfriend; Girlfriend Prank Videos On YouTube
Brandon was dating an Instagram star, Jackie Figueroa. The duo began their relationship in 2015. Brandon also used to gush about his girlfriend on social media. He and Jackie went to South Beach, in the city of Miami Beach, Florida and chilled together. Brandon shared their photo on 14 August 2015 via his Twitter.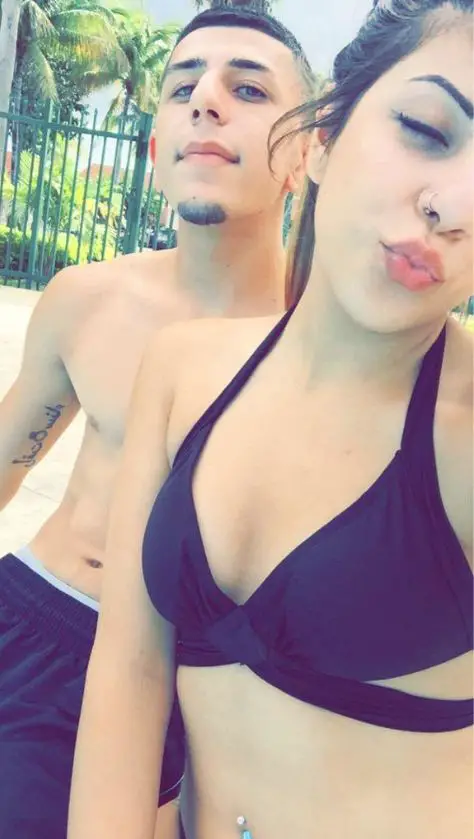 Brandon Awadis and Jackie Figueroa in South Beach in a picture posted on 14 August 2015 (Photo: Twitter)
The YouTube star also tweeted a photo of Jackie on 13 July 2016 and said that his 'girlfriend is hot.' He even commented that he couldn't wear basketball shorts during his outing with Jackie.
During Jackie's 21st birthday in August 2017, Brandon gifted her a car. He shared a 27-minute video titled 'BUYING MY GIRLFRIEND HER DREAM CAR! (She cried)' on his YouTube channel on 18 August 2017. He wrote 'Happy Birthday Jackie' in the car and even wrote 'Just Married.' She became emotional after receiving a car. The Instagram star also stated that she wasn't expecting it as a gift and took it for a drive. 
However, after dating for two years, they could not maintain their bond and had a split in 2017. After Brandon got separated from his ex-girlfriend, he posted new girlfriend prank video on 1 December 2017. The YouTube star has mostly shared prank videos labeling different women as his girlfriend. However, as of June 2018, Brandon has yet to confirm his new sweetheart.
Family Of YouTubers
Brandon's mother, Mama Rug is also a famous YouTube personality. Her real name is Sana Awadis and was born in Iraq. She has a YouTube channel called Mama Rug & Papa Rug in which she has gathered more than 100K subscribers. Brandon's father, Papa Rug also hails from Iraq. His real name is Ron Awadis and has appeared in several videos of his sons. His father, Ron also has a YouTube channel.
Brandon's brother is also known as FaZe Rug. He has posted various prank videos on his self-titled YouTube channel. Faze's video called 'Cocaine Prank' has gathered almost 8.9 million viewers. He also shares Call of Duty's video along with vlogs. Brandon's brother, FaZe Rug's real name is Brian Awadis. Brian also has featured his brother and other family members in several of his YouTube videos.
What's Net Worth Of Brandon Awadis?
Brandon Awadis has accumulated his net worth as a YouTube star since 2015. According to Socialblade, his YouTube channel, Brawadis has estimated earnings of $4.4K to $69.8K monthly and $52.4K to $838.1K yearly. Brandon has been generating a chunk of revenues from his YouTube channel.
Brandon created YouTube channel Brawadis at the age of 20. His first reaction video of NBA team Phoenix Suns losing to the Golden State Warriors, which was published on 3 April 2015, has gathered more than 102 K views. Since then, he has posted various vlogs, pranks, reactions, and basketball videos. His YouTube channel has also amassed more than 2.8 million subscribers along with over 516 million video views.
Short Bio
Brandon Awadis, who was born in 1995, celebrates his birthday on 23 June. He is a native of San Diego, California. Brandon has the height of 1.75 m (5' 9") and posses American nationality. He studied journalism in media studies from his college.