Every person in this world is born with a gift, and it's up to you how you identify your talent and exploit it to achieve success. Well, Bre-Z stepped out of her family business and used her insane rapping skills to gain the limelight.
Initially, she followed the footsteps of her father and grandfather and pursued a career in hairstyle, but she later reintroduced herself to the world as a rapper and a brilliant actress.
Is Bre-Z Dating Ray Christopher?
Bre-Z often keeps flaunting the photo with Emmy nominated actor Ray Christopher. Ray posted a picture of him with Bre-Z and mentioned her as her Dreamgirl. Likewise, Bre-z also wished him on his birthday and wrote in a caption:
"Happy birthday to my babyyy!!! @hair4kicks BRE-Z loves you honey and she hopes today is amazingggg!!!! ME + YOU= FOREVER."
Following caption indeed gave a hint that Bre-Z and Ray have a close bonding nothing less than boyfriend and girlfriend.
Read More About Rapper: RZA Wife, Net Worth, Albums- Everything About American Rapper
The pictures they share on social media is no less any romantic than a couple drowned in love. But, the story between the couple is mere conjecture as in one of the recent post, Ray surprised his followers after he mentioned Bre-Z as her sister while he wished her on birthday on 23 July 2018. He even hashtagged a picture as "Sis."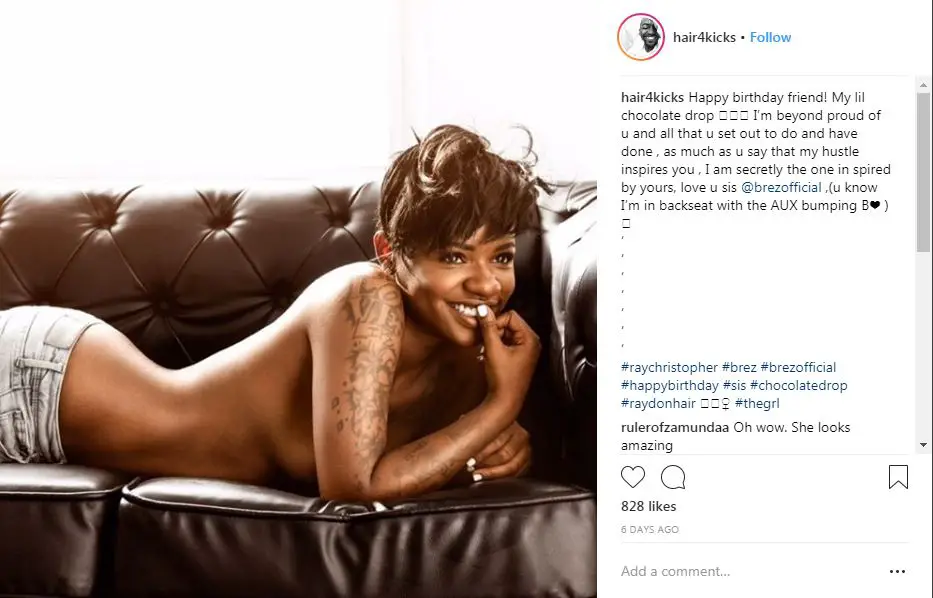 Ray Christopher wishes Bre-Z on her Birthday (Photo: Instagram)
Meanwhile, confusion among fans arose when Bre-z on her comment on the same photo wrote: "I love you boyfriend!!!"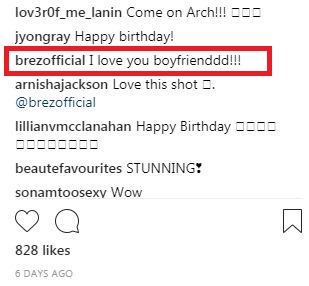 Bre-Z comment on the photo by Ray on 22 July 2018 (Photo: Instagram)
Well, after raising the confusion, the duo is yet to clarify their actual relationship.
Professional Career:
Inspired by her barber father, Bre-Z began cutting hair at the age of 10. She had an interest in cutting hair to earn a cosmetology license for herself at the high school. Following her passion for hair cutting, she became a professional celebrity hair stylist at the age of 21. Ludacris, Akon and much more were her hairdressing clients.
At the age of 14, she had generated interest in rapping as her side profession. Calesha has worked in the lights of many artists such as Jennifer Lopez, Wiz Kid, Dr. Dre, Asia Bryant and much more in her musical career. She had a unique tone of pronunciation with the raspy voice to generate an audience from her rapping skills.
The career of the artist took a U-turn when she was approached to play a character of 'Freda Gatz' in the Franchise move "Empire" (2015). Calesha is also known for some of her movies like 'Fat Camp' (2017) and 'The New Edition Story' (2017).
Ray also had worked with some of the top artists like Mariah Carey, Ludacris, Adrienne Bailon and many more.
You Don't Want To Miss: Will Tudor Gay, Partner, Dating, Net Worth, Bio
When Bre-Z moved to Los Angeles for pursuing her dream, she only had $1 in her bank account. Through her hard work, dedication, and barbershop connections, the actress was able to make a breakthrough in the entertainment industry with a role of  Freda Gatz on Empire at the age of 27. Her dynamic rap skills and knack for the music flourished her to be a rapper in no time.
How much is Bre-Z Net Worth?
The multi-talented and charismatic actress has earned a massive fanbase. Her appearance in movie and career in rap has helped her amass a decent net worth, but the exact figure is yet to be disclosed.
She co-starred a role as a gay teen Tiana "Coop" Cooper who attends the South Crenshaw High in Compton with Spencer James in the TV series All American. Ian Charleson Awards-nominated actor Daniel Ezra portrayed the role of Spencer in The CFW's series. During her audition, Bre-Z was confident enough to tell her agent that she would without a doubt nail her character for The CFW series.
Bre-Z Family: Parents
American rap artist was born to parents, David Mayfield and Carla. Her parents were of mixed ethnic background. So, she belongs to mixed ethnicity (African-American).
Discover More: Samantha Markle Wiki, Net Worth, Parents, Meghan Markle
Her father and grandmother were barbers. Since her family was barbers, she used to work as a barber and had fashioned hair of artists such as Akon and Ludacris's hair. She started cutting hair at the age of 10. 
Short Bio And Her Real Name
Bre-Z was born on the 22nd July 1987 in Philadelphia, and later she moved to Wilmington, Delaware. Her real name is Calesha Murray. The story behind her name as Bre-Z is quite fascinating. When she was in fifth grade, her mother received a call from her teacher who said that Calesha keeps on writing her name as 'Bre-Z' on her paper. When people called her with her real name, the rapper insisted on calling her Bre-Z as she thought that was way cooler.
Bre-Z is short in height than her boyfriend, Ray Christopher. Bre-Z holds an American nationality. She completed and earned cosmetology license at a vocational high school, as per wiki.