Bridgid Coulter is a native of Los Angeles who rose to fame as an actress and producer for Rosewood(1997), Martin(1992), and Westworld(2016). Coulter is a married woman who has a fairytale-like love story.
She married actor Don Cheadle in a secret marriage ceremony held amidst a pandemic during 2020. Let`s dive into the details of their relationship timeline and Coulter`s career insights. 
Married After Two Decades of Relationship!
Well, if you have been following this Silver Screen diva, you probably know about her love life since day one. She has since the very beginning been hooked up with her only man and a fantastic actor, Don Cheadle. The couple initially dated in the year 1992 and tied the knot after 28 years of dating. A true dream come true! Their fans eagerly waited for them to get married but didn't expect it to be a surprise. However, Cheadle reacted very casually about the marriage via The Ellen DeGeneres Show and said,
"Yeah, I mean, that's understandable given that we've been together 28 years before we got married."
Together the pair shares two daughters, namely, Imani Cheadle and Ayana Tai Cheadle.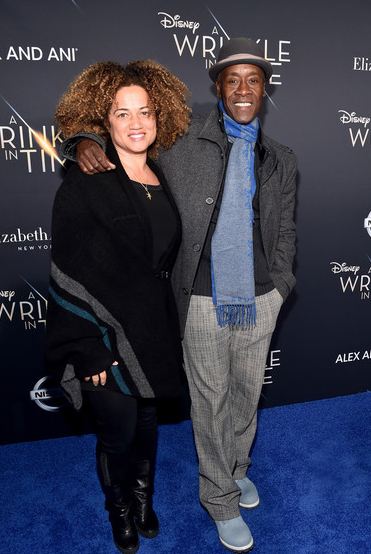 Bridgid Coulter with the partner, Don Cheadle, at the premiere of Disney's "A Wrinkle in Time" at El Captain Theatre in California on 26 February 2018. (Photo Credit: Getty Images)
Career & Net Worth as an Actress!
Though renowned as the wife of popular actor Don Cheadle, Colter has paved her career with her hard work and dedication. 
She is known for her roles in films like "Rosewood" in 1997, "Westworld" in 2016, and "Martin" in 1992. 
Her further contributions to the television industry are her appearances in "Class of 96`" and "Family Matters." This phenomenal actress made her silver screen debut in the film "There's No Place Like Homegirl" in 1994.
Besides giving a jaw-dropping performance on screen, she has also marked her career as an interior designer. Bridgid owns an interior designing firm named Bridgid Coulter Designs.
Coulter`s career as a well-known actress and a successful interior designer has undoubtedly brought a substantial amount of fortune to her. Her net worth is more than a million dollars. 
Married to a versatile and highly famous actor, her husband, Don Cheadle, has a net worth of $35 million.
Opens Up About Venice Beach Home!
Bridgid is a long-time actress and has experienced life in front of the limelight. But apart from this, she relishes her interior designer role and opens up about her Venice Beach House that she designed herself.
As per Latimes, the cozy bungalow of 800 square feet was drastically altered by Coulter into an eclectic and modern beach home. Furthermore, her favorite room in the house, er spacious, spectacular looking living room, is w worth $2.45 million.
Currently, she, along with her family, resides here and enjoys the lavish-looking home!
A Short Bio:
American actress Bridgid Latrice Coulter was born on 2 August 1968 in Alameda County, California. She earned her undergraduate degree from the University of California, Los Angeles, in theatre and later graduated with an interior designer degree.
Despite her success and popularity, wiki sources have failed to give information about her parents and family. The only information she has disclosed is her personal and professional life.
Coulter is a sassy actress with a beautiful personality and has impressively maintained her physique. In addition, she possesses an average height and belongs to the American ethnicity, and her racial features suggest that she is white.