A passionate art and interior lover, Brittany Lopez is not just the wife of an American Actor, Christian Slater, but is also an independent lady who does not only enjoy the glitz and glamour of her husband's profession but has got a professional identity of her own.
Brittany's Relationship With Christian
Brittany Lopez is a well-known celebrity wife of American actor and producer, Christian Slater. Christian is best known for his 1985 debut movie, 'The Legend of Billie Jean' and the 1998 release, 'Hard Rain.'
Know More On Chance the Rapper's Girlfriend Kirsten Corley Wiki, Age, Height, Instagram
She met her husband Christian back in 2009 at the Little Palm Island in Florida, and since the first meeting, Christian got fascinated by Brittany's charm.
After dating for almost four years, the lovebirds got engaged in February 2013, and the news of their engagement was made public by Christian himself in one of his interview on 'Late Night With Jimmy Fallon.'
The couple made an appearance at the Emmy Awards on September 2013. The pair sparkled the red carpet of the award night from their presence. Christian perfectly fitted his tuxedo and completed his sleek look with a black bow tie. Brittany looked scintillating on her blue apparel.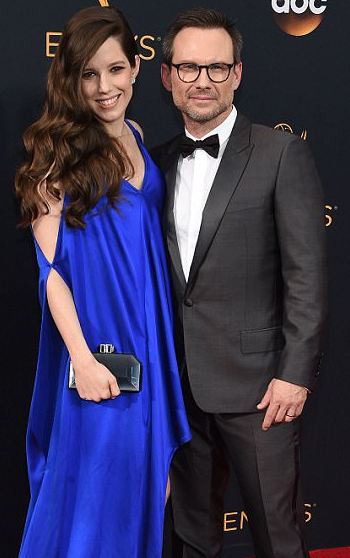 The couple photographed at Emmy Awards back in 2013 (Photo: dailymail.co.uk)
Brittany and Christian decided to get married in the same year on 26 December 2013, at a courthouse in Coral Gables, Florida.
Brittany is seen in multiple pictures posted by Christian on his social media handles. The actor posted a photo kissing his wife during their visit to Manhattan on Instagram on 29 December 2016. He wrote, At Rockefeller Center with my lovely wife, in the caption. To mark their fourth wedding anniversary, Christian shared their wedding picture on his Instagram in December 2017.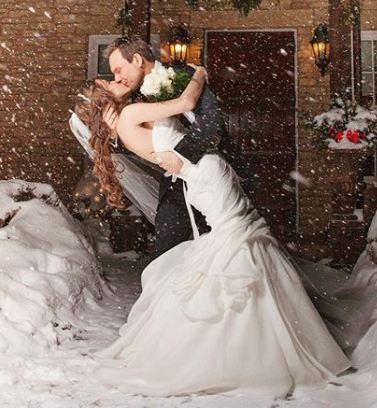 The wedding picture of Brittany and Christian on 26 December 2017 (Photo: Instagram)
In the photo, Christain said that he had cherished every moment of life after getting married to Brittany.
Also, Read:  Ava Elizabeth Phillippe Wiki, Boyfriend, College, Net Worth, Age, Height
Just like their budding romance in the social sites, the couple has also attended many award nights and public events over the years. The duo were the guests at the 75th Golden Globes Awards, and Christian shared a picture on 12 January 2018. The actor described that he felt honored to be at the award night with his wife and mentioned that Britanny is the phenomenal woman on the planet
Brittany, Christian's Second Wife; Husband Talks About Stating Family With Her
Brittany is the second wife of the performer as he was previously married to Ryan Haddon, who is the daughter of 1970's model Dayle Haddon. Christian tied the knot with Ryan back in 2000. With Ryan, Christian has two beautiful daughters named Jaden Christopher and Eliana Sophia. Well, their marriage came to an end due to their conflicting relationship. The pair separated in the year 2005 and officially divorced in 2007
Her husband on his recent interview with the morning show, Today on 13 August 2018 discusses expanding his family. The artist told us that he already has two children and is trying to start a family with his second wife, Brittany. The actor said that they are working on "introducing new humans."
They also discussed their married life and said that their relationship is excellent. Her husband even added that after eight years together, he is still nuts about her. Britanny claimed that plenty of communication laid the foundation for a great marriage. She also revealed that her husband's maturity played a pivotal role in their relationship.
Do Not Miss: Touré Roberts Wiki: Age, Wife, Married, Net Worth, Children - Details!
Christian, in an interview for Dailymail magazine in August 2018, talked about the transformation of his image from an on-screen bad boy to the offscreen husband.
The Vampire actor also revealed about his past criminal records including a drunk-driving car chase with police, a gun found in his luggage in JFK airport, and being sent to prison for 90 days for an assault in 1997. The actor then admitted by punishing himself with his past guilt, and the immense support from the fans changed his perspective on life and career.
The actor is prepared to star in the second season of Dirty John. The series revolves around true-crime anthology. This season's story is about a double homicide case which will air under the name The Betty Broderick Story.
Children?
In 2019, couple Brittany and Christian added a number to the family. Yes, they welcomed a baby girl who happens to be the first child of Brittany. The date and time of birth are unknown as of yet but it not the first time the couple has stayed mum about their private matters. The first time the audience came to know about Christian's engagement to Brittany was when Jimmy Fallon congratulated him on his show Late Night With Jimmy Fallon. In the show, Christian finally opened about where it all started.
The lovely duo had a unique first encounter in 2009 at a small Palm Island. Christian had mistaken Lopez for a lesbian when he saw her proposing to an older lady. But as it turned out, Lopez had just been pranking her aunt. The witness of this hilarious moment, Christian, found Brittany's character exciting and the next thing you know, they started hanging out.
Family: Father Is A Contractor
Brittany has a loving and caring family, which includes her parents and two sisters. Talking about her parents, her father, Albert Lopez, is the proud owner of General Asphalt, the most prominent civil contractors in South Florida.
One of her twin sisters was a medical student in Michigan.
How Much Is Brittany Lopez's Net Worth?
Brittany gathered some part of her net worth, while working as the director of Corporate Development for two years and left the museum back in 2013 as she had plans to return to the world of art. 
Besides her earnings, she also relished the net worth of $20 million summoned by her husband from his professional acting stint since 1977. 
Short Bio
Brittany Lopez is 30 years of age. The Native American was born around the year 1987 as per wiki. Despite knowing her birth year, the information on her birthday is still hazy. She stands a few inches shorter than the height of her husband, Christian who is 172.7 cm (5' 8") tall and possesses Caucasian ethnicity.
Brittany is a merit scholar who studied literature and economics from Carleton College in Northfield, Minnesota. During her college days, she had the fortune of meeting an American writer and art historian, Bonnie Clearwater, who got impressed with her personality and offered her the role of Assistant Director in Museum of Contemporary Art (MOCA).