Brittany Matthews is not only recognized as a former soccer player but also for her work in fit fashion. Since 2011, she has been promoting her fitness program named Brittany Lyanne Fitness through social media. The famous fitness trainer stands at the height of 178 cm and weighs 114 lbs.
What's more,  she is the girlfriend of a famous football player who plays as a quarterback for the Kansas City Chiefs. They have been dating since high school.
Brittany Matthews Bio (Date of birth & Age)
Born on 1 September 1995 in Tyler, Texas, Brittany was born to Scott Mathews and Diana Massey. She was born as the youngest child in the family. She has one elder brother Evan. 
Read also: Olivia Sanabia Nationality, Wiki, Parents, Family, Nationality
She and her older brother were raised by their mother and stepdad Paul Massey, who died in 2018. 
Brittany Matthews Married Or Not 
It is evident that people will get concerned about the marriage of their favorite celebrities, especially when they have been together near to a decade. But for Brittany, she has said that she and her long-time boyfriend, Patrick Mahomes, who is a Kansas City Chiefs quarterback, will get married whenever they desire. 
On the occasion of their 7th anniversary on April 1, 2019, she posted a captioned photo and embraced the time she had spent with her partner, Patrick. In addition, she revealed when she would get married to her boyfriend, stating,
"7 years, the greatest 7 years with you! Lots of life changes, lots of growing, lots of surprises, lots of memories! Cheers to a lifetime with you?? P.s- to everyone that's gonna ask when we are getting married, the answer is whenever we want."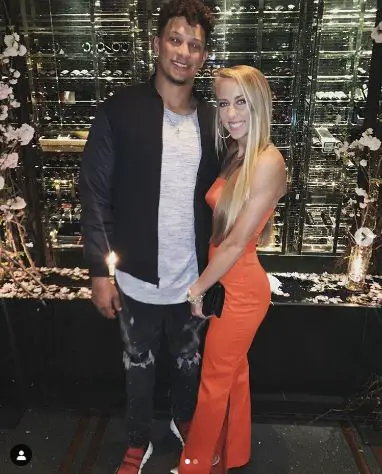 Anniversary: Patrick Mahomes celebrates seven years anniversary with his girlfriend, Brittany Matthews. (photo: Patrick Instagram)
The pair first met when they both were in Whitehouse High School. They have been in a dating relationship since and still enjoying each other's company. 
Brittany Matthews Education, Career
For her education, Brittany was sent to Whitehouse high school, where she grew the passion for soccer. Her passion led her to become the team captain during high school and eventually, a professional soccer player. 
While in her college, she made into the ASC Academic All-Conference Team in her senior session and also won the American Southwest Conference Offensive Player of the Week twice in 2015 and 2016. In May 2017, she signed a contract with Iceland UMF Afturelding, starting her career as a professional soccer player. 
Later, Brittany quit her career and eventually started her own personal training business. 
Brittany Matthews Net Worth
It won't be wrong to say that the age of the internet has culminated the popularity of many fitness enthusiasts. But what makes Brittany different is that she doesn't promise to be your go-to fitness trainer. 
Instead, she has built a fanbase of more than 130k subscribers on Instagram out of her fit-friendly videos and posts related to her self-fitness brand extracted out from what she has learned over time.
Therefore, out of passion, she regularly updates her followers about her training regimes, her fitness journey, and what makes her happy. 
While she gifts itsy-bitsy tips and to-the-point videos to her followers on her Instagram, she has compiled her fitness experience into training modules that she sells on her website.  
Amazingly, her 25 workout training guide is not that expensive and sells at only 30$, according to her website. But if it's working as it has promised, it won't be that hard to guess that she might have been earning a reasonable sum annually, given her social media popularity can connect her to the targeted audience in a buzz.
And as it turns out, she is getting just enough push from the fans to advance even more in the fitness world. That's why she is on the way to earn even more - she is planning to open a brand new website and has been preparing workout guides to market on it.  In addition, she draws the income from advertising, featuring clothes and other items on her Instagram.   
However, her net worth remains undisclosed at the moment, but what is known is that her football star boyfriend Patrick is estimated to have a net worth of $10 million with his professional stint in NFL. 
He became Kansas City Chiefs starting QB in 2018. Before, he had signed a four-year deal with a Kenasa city chief for $16.2 million ( $10million signing bonus).