The handsome appearance and impressive personality never miss grabbing the attention of viewers. Sam Brody Jenner is an American television personality, socialite, and model who has earned much recognition for creating, producing, and starring in the reality show, 'The Princes of Malibu.'
He has also appeared in the famous TV shows, including MTV's 'The Hills' and E!'s 'Keeping Up with the Kardashians.'
Career and Progression:
Brody Jenner first appeared as an actor in the reality television series 'The Princess of Malibu' in 2005. Later in 2009, he hosted, and executive produced his reality show 'Bromance.' He also has modeled for Guess clothing, OP, Agent Provocateur underwear, and the magazine Cosmogirl.
The actor returned to reality television in 2013 after being a cast in 'Keeping Up with the Kardashians.' The actor has also appeared in the shows including, 'The Hills,' 'Party Monsters: Cabo,' 'The Playboy Morning Show,' etc. In 2015, the actor appeared as himself in the 'Sex with Brody.'
For his acting competence, he was nominated for Teen Choice Awards in 2006, 2008 and 2009.
Engaged Now!
The actor, Jenner, has finally met his soul mate after his multiple relationships with gorgeous women. Previously, he dated a series of beautiful ladies, including Kristin Cavallari, Lauren Conrad, Jayde Nicole, and the pop-singer, Avril Lavigne.
After his various unsuccessful relationships, the actor was to make his relationship stable with the girlfriend, Kaitlynn Carter. The actor started dating Kaitlynn since 2014 and got engaged on May 4 of 2016.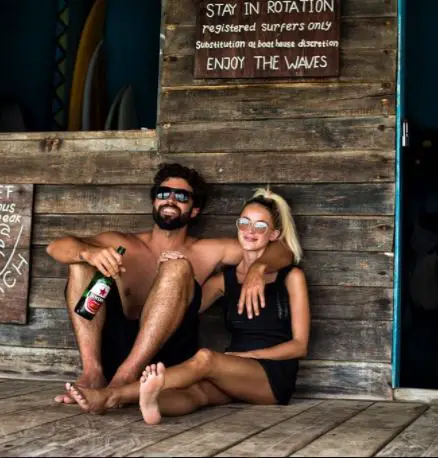 Brody Jenner and fiance, Kaitlynn Carter enjoying a vacation on Nihihatu, Sumba on June 14, 2017 (Source: Instagram)
Jenner couldn't hide his excitement and announced the engagement via his Instagram account on May 6. If sources are to be believed, the lovebirds celebrated their engagement party at an intimate private dinner in West Hollywood, California. 
In May of this year, the actor enjoyed the first engagement anniversary with his fiancee Jenner. He posted a picture of a well-decorated bed of Nihiwatu Resort Sumba in Indonesia and made the followers known about the beautiful day. 
A year later, on the 2nd of June 2018, Brody and his fiancée got married on the island of Nihi Sumba in Indonesia, surrounded by close family members and friends.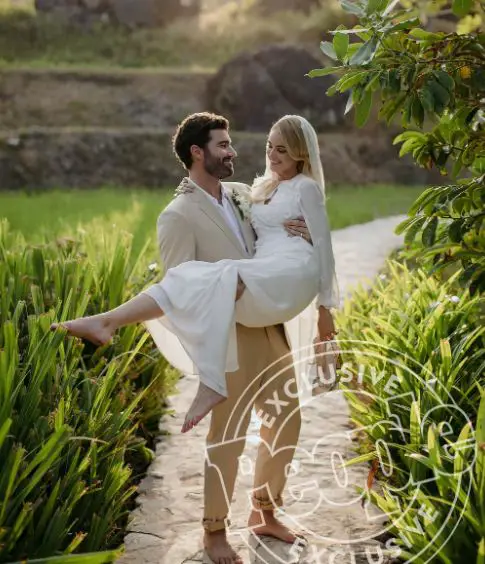 Brody and his wife Kaitlynn on their wedding day. (Photo: People.com)
Before their wedding, the pair held their pre-wedding party in Bali before heading off to the island to exchange vows.
Split With Kaitlyn 
Yes! You read it correctly, Brody and his wife Kaitlynn are now parting their way.
Just after a year of their wedding, the married couple decided to call it quits on their marriage and their relationship n August 2019. The news comes as a shock to many because the pair have been in a relationship with one another for about seven years.
A source close to the couple confirmed that Kaitlynn had already moved out of their home in Malibu, California.
Interesting: Bobby Lashley Wife, Sisters, Net Worth
Their relationship always had its ups and downs, but a split was never the couples' choice. And it has also been revealed that, although the pair married one another, their marriage was not a legal one. But now, the end has come.
New Girlfriend? 
Following the spilled relationship with Kaitlyn, Brody, and his girlfriend, Josie started their bond as friends. Later, they made their love affairs official in August 2019 as Brody shared a clip of Josie applying makeup while wearing a black robe from the 2018 Victoria's Secret Fashion Show, which Canseco walked in.
Currently, Brody Jenner and Josie Canseco have publicly appeared as a romantic couple on 15 September for receiving the approval of reality star's mom Linda Thompson. Josie, who is an aspiring model, has been featured in Love Magazine, Teen Vogue, Aeropostale, and Urban Outfitters.
Brody Jenner and Josie Canseco kissing during Montana trip (Photo: Josie's Instagram) 
The couple shared their spared time-tripping to Montana on horses. Also, Josie updated their picture of Instagram, showcasing their intimated romances through the lip-lock mode. She captioned 'Thank You' on the post and even documented the seventeen hours road trip to the stunning locale. 
Also, Brody shared an image of themselves riding the horses. He mentioned he would somewhat be lost in the woods than found in the city. As of now, the couple treasures their budding relationship with immense love and harness. 
Split After Three Months Of Dating
Brody and his supermodel girlfriend, Josie Canseco, have recently split. After dating for about three months, the ex-pair decided to part their ways.
They had stopped seeing each other a few weeks earlier before the end of October 2019. They were seen for the last time together on 18 October 2019, enjoying dinner with friends in West Hollywood.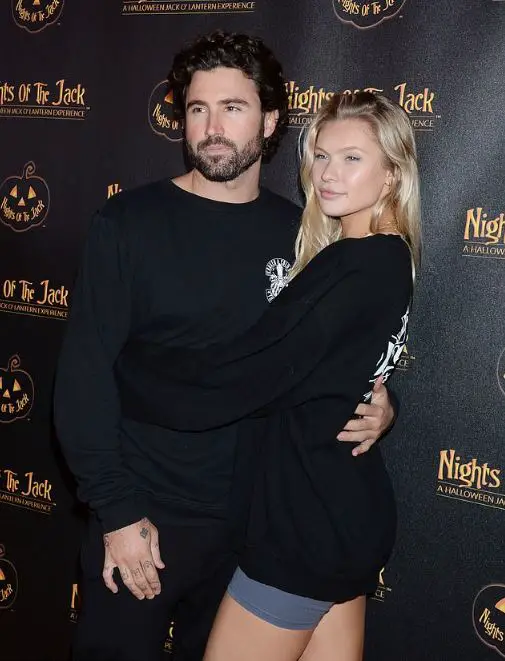 Brody with his ex-girlfriend Josie Canseco (Source: dailymail.co.uk)
Brody had been busy focusing on his music career and was trying to focus on himself.
Split Reason
E! News revealed that Brody was one who broke off the relationship. He didn't wish to get any pressure on a new relationship, and things were getting too serious.
However, according to TMZ, the real reason for their split was the 13 year age difference. The couple had a hard time finding anything in common and were on different pages of life, so they decided to call it quits.
There were also rumors of Brody getting in touch with his ex-girlfriend Kaitlynn Carter who recently split with Miley Cyrus in September 2019. It was also speculated that Brody decided to end things because of Kaitlyn's newly single status; however, TMZ revealed that it had nothing to do with Kaitlyn's split.
His Short Bio and Family
The American actor, Jenner, was born in 1983 in Los Angeles, California, United States. He celebrates his birthday on August 21 and is 36 years of age. The American national originates from the white ethnicity and has a height of 5 feet and 11 inches.
He was born to his parents, Caitlyn Jenner, a reality TV personality and retired Olympics champion, and Linda Thompson, who was an actress. Speaking of his well-known family, he has siblings; Kyle, Kendall and Brandon Jenner.