From being a lieutenant to an amazing adventurer, explorer, documentarian, and trekker need some gut and dedication. Well, this guy right here has guts and courage to take a risk and live a dream life. Bruce Parry is television presenter in BBC documentary series Tribe, Amazon, and the Arctic. The explorer who gave up on sex, alcohol, and tobacco says that he wants to enjoy the life that he loves rather something he has a lust for.
Career And Professional Life
After finishing his academic career from the Wells Cathedral School, he joined the Royal Marines and completed training at the Royal Marines Commando Training Centre. He was commissioned as a Second Lieutenant at the age of 18 after being selected by the Admiralty Interview Board.
He was deployed to Norway as a Troop Commander Comacchio Group and Commando Logistic Regiment. He was also posted to Iraq, where he served in a security and humanitarian capacity in Iraqi Kurdistan for Operation Provide Comfort during and after the First Gulf War.
Besides that, Bruce Parry was a man on a mission and being the youngest ever officer to be named Head of Fitness and Training in Royal Marines Commando Training Centre wasn't enough for him. The militant after six years being a Lieutenant left the service to study physical science and sports science but dropped to become trekking leader for several scientific and conservation expeditions throughout Indonesia.
Don't Forget: Touré Roberts Wiki: Age, Wife, Married, Net Worth, Children - Details!
The former militant tasted the television screen in 2002 for the first time when he appeared in an episode of BBC's Extreme Lives entitled Cannibals and Crampons. Since then there was no turning back for him and was even awarded Royal Television Society Award for Best Presenter in two successive years for two different show Tribe and Amazon.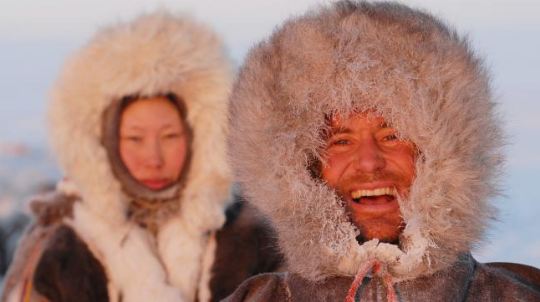 Bruce Parry during his work in 2018 (Photo: thetimes.co.uk)
The traveler is now making to look film sector a place of his known. After finishing with BBC's Arctic, the militant is currently busy directing and producing his debut feature documentary TAWAi- A Voice from the Forest in 2017.
The documentary intends to make a wider look into several concerns within his TV programmes and personal lessons which he has learned from his travels and explorations.
With the due respect for his career, he has been provided with many awards. Parry received the Royal Television Society Award for Best Presenter for Tribe in 2007. Likewise in 2008, he won the BAFTA Cymru Award for Best On-Screen Presenter for Tribe and also Royal Television Society Award for Best Presenter for Amazon.
How Much Is Bruce Parry's Net Worth?
Given that, he didn't settle in any of his profession explains his insignificant net worth. The former militant, author, Documentarian has a net worth of thousands only, but he has earned fun and experience more than anything else.
Is Bruce Married? Or Is He Gay?
Media is always ready to twist and misconceive any portion of celebrity's words to make big news out of virtually nothing. Well, the adventurer offered them a wild space to run media's imagination.
The adventurer who says that his job doesn't allow him to live a private life was questioned about his sabbatical on December 29, 2009, in Nepal. And he admitted that he hung out with shamans, learned to meditate, and spent silent time in monasteries. During that, he reportedly met with leaders of a South American tribe who recommended him to pursue a strict regime of abstinence.
The former militant said in an interview in 2010 that he gave up on sex, alcohol, tobacco, and everything over a year ago. And the news was bound to cause some stir. Some of the fans even claimed him to be gay after his revelation. But the adventurer never cleared the air about his sexual orientation.
The documentarian has done remarkably well to maintain his certain personal boundary and hasn't revealed anything about his relationships. So, it's hard to speculate his marital status and dating profile. But as of now and interpreting his interview, he probably doesn't have a wife and is not thinking about having married life anytime soon.
The adventurer who enjoys life on television is possibly single but is living the dream life of any adventure seeker.
You Also Need To See This: Fearne Cotton Married, Husband, Parents, Ethnicity, Height
Short Bio
The Englishman was born to a family of militant where his father was a Major in Royal Artillery. The former militant took his first step on 17th March 1969 in Hythe, Hampshire England. The explorer who loves trekking has decent body shape and possesses a height of 5 feet and 5 inches. The "Tribe" star belongs to white ethnicity.
Parry attended Wells Cathedral School in England and was Head of House, a Combined Cadet Force, and a member of the Rugby First XV.