Raising child is a challenging job for every working parent, and it gets more difficult for the single parent. Camilla Poindexter is also going through this tough phase as she has a toddler to look after along with an exceeding career. Camilla Poindexter is an American model and television personality who is famous for her appearance on season eight of Oxygen's 'Bad Girls Club' and 'America's Next Top Model.'
Career and Progression:
Camilla Poindexter got exposure from 'America's Next Top Model' where she made to Top 20 finalist. After that, she appeared on the NBC series 'Momma's Boy,' the program focused on mothers, as a contestant in 2008. She also featured as a contestant on season 4 of the 'Bad Girls Club' spin-off program 'Love Games: Bad Girls Need Love Too.'
In addition to that, the celeb served as a host for many specials of 'Bad Girls Club' including 'Making it to the Mansion' from 2010 to 2014. She also featured in the commercials of 'The Smurfs' on Oxygen. She later joined the thirteen season of 'Bad Girls Club' which is regarded as 'Bad Girls Club: Redemption' in 2014.
How Much is Camilla's Worth?
The gorgeous television personality, Camilla Poindexter has appeared in many popular shows. She has flaunted her skills and beauty in several commercials, runway shows, and photo shoots. 
Moreover, it has been almost a decade since she entered in the media industry and she hasn't ceased to work from then. Although the host hasn't revealed in bright figures, we suspect she enjoys an enormous net worth in thousands.
Turbulent Relationship with Her Baby's Daddy and His Wife:
Camilla Poindexter gave birth to her first child, daughter, Dylan Noelle Poindexter, on March 18, 2016. The star gave birth to her little one in March, but nobody knew about the father, Donald Penn, an Oakland Raiders offensive man, until October 2016. If you are confused, let us clear that Camilla isn't married to Donald nor is he her boyfriend, in fact, he is the husband of Dominique Penn.
In April 2017, Camilla and Dominique caught into a fight. It all started when Camilla posted a picture of her baby and her father on Twitter with a caption mentioning 'Nobody Want Him" where Dominique replied with sarcasm that the host wouldn't have got pregnant if nobody wanted him.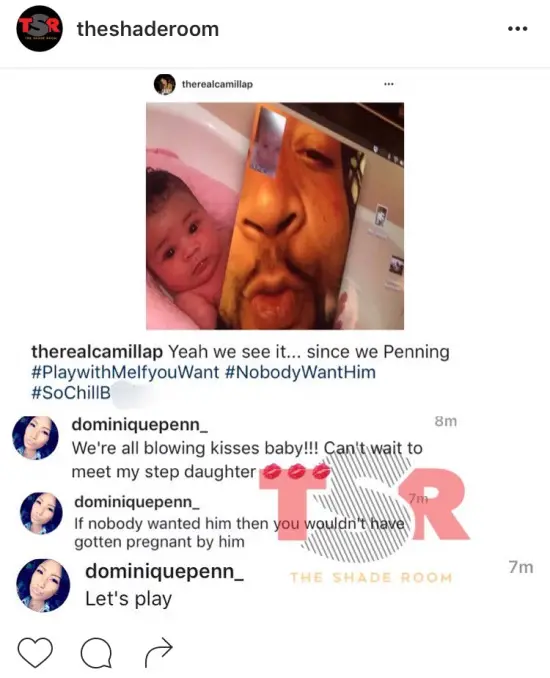 Caption: Donald's wife Dominique offended with the caption in Camilla's post.
Source: Bossip .com
After that, Dominique posted the picture of her daughter along with Dylan with an offensive caption. Camilla then getting furious wrote several posts signaling Dominique. As of now, their fights seem to be settled, and they haven't chosen to write on Twitter and Instagram.
Her Short Bio:
Camilla Poindexter was born on August 30, 1986, in Harbor City, California. She was very active in school days and engaged herself in several extra-curriculum activities such as dance, tennis and drill team. The actor studied at Woodrow Wilson Classical High School. She has an incredible height of 5 feet 11 inches and beautiful face that enhances her personality.