The beautiful correspondent had a matching wedding ceremony, which is worth remembering for a long time. Carissa Culiner, who has a successful career as E! News correspondent, now is bracing herself to welcome a new member to their family.
Entered Trimester with a Baby Boy!!
Carissa Culiner is bracing herself for the first baby as she announced on Instagram that she's into 28 weeks of pregnancy.
The news of the pregnancy was confirmed by herself in the show, 'DailyPop' during the segment called "Guess the Instagram Pic." When Justin Sylvester, one of the co-hosts, guessed the "Knocked Up," she unexpectedly revealed that she is pregnant with husband Shanon Culiner. The picture on Instagram surfaced on 1st June 2017.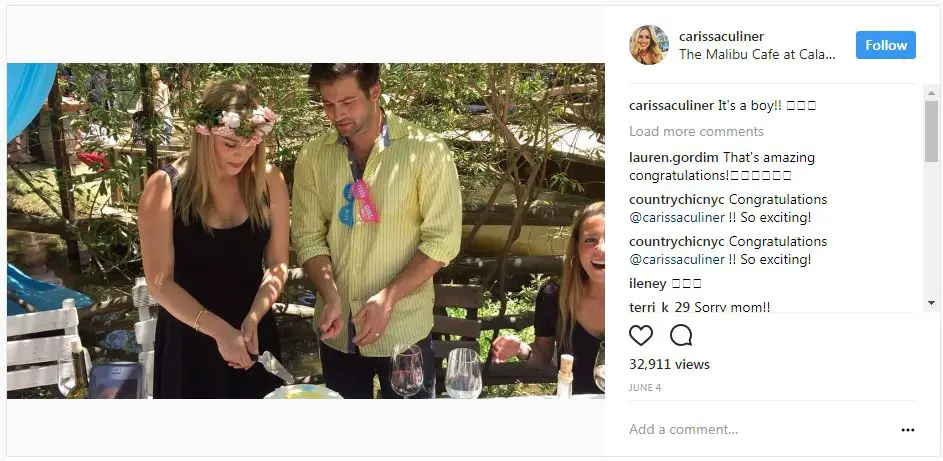 Caption: Carissa reveals Its a Boy on 4th June (Source: Instagram)
Though she didn't know the gender of the baby at that time, she promised to reveal the sex after further examination. Then, on 4th June, she fulfilled her promise and said that it's a boy.
On 7th September, she announced that she is officially into the third trimester of the pregnancy. Now that she is 28 weeks pregnant, she proudly flaunts her baby bump on social media.
Married to Shanon Culiner!!!!                               
It wasn't until 26th December 2014, when her husband-to-be Shanon Culiner proposed her, and she let her fans know that she is getting married.
After months of planning the perfect day, she shared her vows with Shanon on the 3rd day of June 2016 in the outdoor wedding in Islamorada, Florida, which was officiated by Shanon's stepfather Michael Josephs.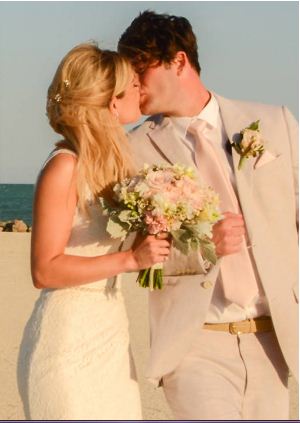 Caption: Carissa Culiner and husband, Shanon Culiner, on their wedding day.
Source: E! News
Interesting: Madison Sawyer Wiki, Married, Family, Salary
The wedding pictures emerged on Instagram and on E! News, where she flaunted a beautiful white wedding dress. The adorable photos in the outset of the sunny day created many memories for the couple, and the day went as they planned for, and guests witness one of the picture-perfect weddings.
Birth of First Child!
On the 4th of June 2017, Carissa revealed that she and her husband Shanon were expecting a baby boy. The pair took to Instagram to share the happy news. Along with a video, Carissa captioned it off by writing 'It's a Boy!!".
After waiting enthusiastically for months, they finally endowed with the new members of the family. On December 9, 2017, baby Chase was born, sparking a new beginning as parents of Carissa and her husband, Shannon.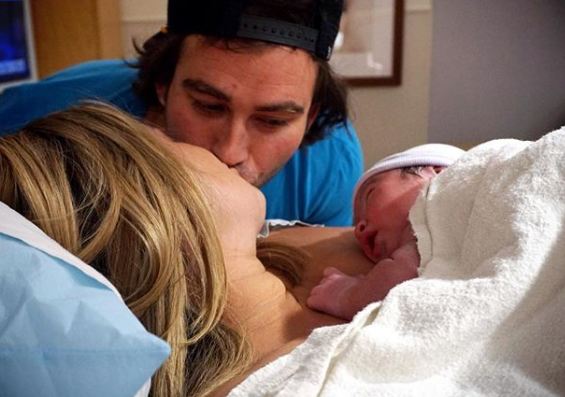 Carissa, along with her husband, Shanon holding her newborn son Chase. (Photo: Carissa's Instagram | 9th December 2017)
As usual, Carissa took her to Instagram and shared news about the birth of the baby. She uploaded a photo of her newly-born baby with her husband. Congratulations to Carissa and her Shannon!
Expecting Second Baby!
Well, it seems that Culiner's family is about to grow. On 22 October, Carissa told her companions at E! News that she is pregnant and expecting baby number 2. The day after, she shared a video of the eldest son Chase reacting to the news that he would be the eldest brother to his to-be born sibling. And in the same post, she said the baby is expected to arrive somewhere in 2020.
The news about their second kid has brought more joy to Carissa and her family. So, Congratulations to Carissa and Shanon for the wonderous occasion.
Career and Professional Life:
The Missouri native started her broadcasting journey in the country radio, where she co-hosted the show named "Scotty and Carissa." In 2012, she became managing editor and anchor at the Newsy, which is an online news company.
After plying her trade in TIME Magazine and About.com, she made the breakthrough in her career when she became the host and correspondent for "E! News" and "E! News Now."  
You Might Enjoy: Yante Maten Family, College, Salary
The highly talented correspondent indeed banks in her effort and is subject to a handsome salary from the E! News, which is yet to reveal. Her career in E! News attributes to her net worth, which reaches millions.
Carissa's Short Bio and Family:
According to the wiki sources, Carissa was born as Carissa Renee Loethen and adopted her husband's family name after their wedding. She was born in Jefferson City, Missouri, in around 1986, which makes her age 33. Carissa, who now resides in Los Angeles, California, was born to father David Loethen, 63, who walked her down the aisle for the wedding.
The American correspondent belongs to white ethnicity and stands at a tall height with lean body shape. Though she remains secretive about her family, she has a brother named Kyle David Loethen.