Carl Benjamin is a YouTube star who amassed immense fame by creating channel, Sargon of Akkad, in 2013. His first video in 2013 dealt with the issue of feminism, which helped him grab attention.
In his YouYube channel, he makes comments on a range of socio-political topics but mostly centers his rants on anti-feminism, anti-leftist, defending political issues regarding Trump and Brexit. He has gained over 960K subscribers to his YouTube channel.
Moreover, Carl is also known as producer and writer for his work in The Thinkery Podcast (2017), The Thinkery Channel (2017), and We Wuz Britons (2018).
Besides this, Carl is recognized as the creator of the game titled Necromancer.
Is Carl Benjamin Married?
Carl is married to Lucy Benjamin. Together they are blessed with two children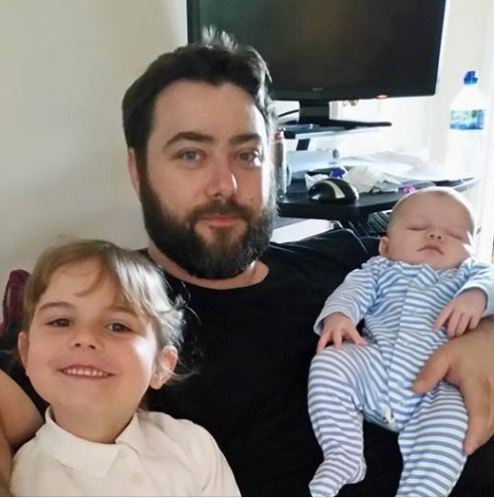 Carl Benjamin spends quality time with his children on 16th April 2019 (Photo: Carl Benjamin's Facebook)
The pair reside with their family in Swindon.
Twitter And YouTube Related Comments
Back in 2016, he was in controversy. While one of a female member of parliament named Jess Philips was receiving a rape threat from online, Carl added a rape comment on this issue. He tweeted,
 "I wouldn't even rape you." 
Following the same incident, Carl added more by saying, 
 "nobody's got that much beer", 
As a result, Carl's YouTube channel was demonetized in May 2019 and was also banned from Twitter for his acts.
Political Career
Carl joined UK Independence Party in June 2018 along with the YouTuber Mark Meechan and far-right conspiracy theorist Paul Joseph Watson. In the European Parliament's 2019 elections in the United Kingdom, Benjamin was second on UKIP's list for the South West England constituency.
YouTube Personality: JP Sears Bio,Age: Details On His Married Life, Religion, College
However, Carl was not selected as his party got only 3.22% of the vote in his native South West England constituency (a drop of 29.1% from 2014). He lost both of its seats in the region, as well as all twenty-two of seats across the rest of Britain.
Carl's Short Bio
Carl was born on 1st September 1979 in England. He holds British nationality.
Keep Exploring: Amelia Gray Hamlin, Harry Hamlin's Daughter
Talking about his physical appearance, he stands tall in the height of 5 feet and 4 inches (1.64m).
Interesting Facts About Him: 
Carl's birth sign is Virgo.
His first couple of videos, posted in 2013, was directed at blogger Anita Sarkeesian.
Carl is also an advocate for Brexit.
His other YouTube channels are The Thinkery, Akkad Daily and Sargon of Akkad Live.
Carl created his game video in 2014.
He is also a member of the UK Independence Party.