It is a well-known fact that nothing in life is inevitable, and nothing could be predicted beforehand. The death of the New Orleans based sports reporter Carley McCord is evident to this fact.
In a deadly mishap that occurred on 28 December 2019, she had to depart from this world along with five others in a plane crash. It was a private plane that got skidded into a parking lot and burst into flames after getting pounded with one of the parked vehicles. 
Surprisingly, only one passenger survived in this plane crash. Reportedly, the plane was about to make the emergency landing before getting crashed nearby the parking lot of the Post Office. 
Bio-Age
Carley McCord was born on 24 July 1989 in Baton Rouge, Louisiana. She was a member of the WDSU's sports team, who had to lose her life at the vibrant age of 30. 
Take A Snoop:- Moriah Elizabeth wiki-age
She completed her education from Northwestern and Louisiana State University.
Married Life, Husband
While people are pouring their sympathizing words to the bereaved family of Carley McCord, her personal life is something that couldn't be missed out.
Carley McCord tied her wedding knot with Steve Ensminger Jr on 29 January 2018. But unfortunately, she couldn't enjoy her marital life for a long period. Since her wedding, she had maintained familiar ties with her husband Steve Ensminger Jr and her father-in-law Steve Ensminger who is the Lousiana University, an offensive coordinator.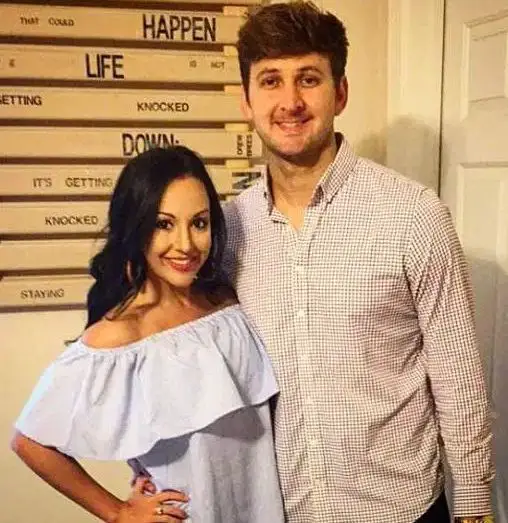 Carley McCord with her husband Steve Ensminger Jr. (Photo:- heavy.com)
Talking about her husband, Steve Ensminger is the Chemical operator at CF industries based on Donaldsonville, Louisiana. He also served as the Assistant football coach for Covenant Christian Academy and Patterson High School from June 2011 to March 2012.
Broadcasting Career
In a brief period, Carley McCord developed her broad personality as a professional broadcaster and reporter.
She began her career journey working as an in-house reporter for the Cleveland Browns. Afterward, she got hired by CBS radio Cleveland where she worked alongside other members for a morning show, which got aired from Hot AC formatted station. 
Likewise, after spending two years in Cleveland, she returned to Baton Rouge to pursue her career in broadcasting. There she started honing her broadcasting skills in Guaranty Media as a radio host of 100.7 The Tiger and 104.5 ESPN Baton Rouge. 
This May Surprise You:- Taras Kulakov net worth
And after spending three years in Guaranty Media, she discovered her true potential and left for pursuing her passion as a sporting host on Television. After that, she started working for various Sports Medias, namely Cox Sports Television, ESPN3, WDSU New Orleans, and more.
Quick Facts About Her
She served as the digital media reporter for the Louisiana Sports Hall of Fame and she has also covered a game for the New Orleans Pelicans and The New Orleans Saints.
 
She had hosted various fundraising events including The Louisiana Sports Hall Of Fame Induction Ceremony.
 
She was fond of sports and had developed a special affinity with news reporting and sports coverage. After leaving Guaranty media she pursued her passion as a sports reporter.
 
She has also participated in the beauty pageant and ended up as a runner up in Miss Louisiana in 2011 and 2012.
 
She also worked as a freelance advertiser and hosted in a different sports event. She hosted the 2017 NBA All-Star game.