Carley Shimkus is currently making her on-air appearance as 24/7 Headlines reporter for FOX News Channel (FNC). She makes the report on social media trends and provides the entertainment news on FNC. Amidst her career, the news anchor is in the romantic association with a Bloomington's native, who is a successful businessman.
How Much Is Carley's Net Worth?
Carley has mostly earned her net worth working as a news anchor. According to the source, a news reporter makes an average of $56K per year on Fox News Channel. The salary also may vary from $50K-$61K with the top payment being more than $66K. Their compensation on FNC also includes base salary, bonus, and tips. Carley, who joined FOX in 2009, has nearly nine years of experience working on FOX and her net worth is speculated to be in millions.
When Carley was in high school, she tried to become a model but eventually got fade with it. In 2008 she interned at D.C. bureau gathering experience in the related field. After nearly one year of her intern, Carley joined FOX News in 2009. She was also an associate producer of the talk show Imus in the Morning. In 2012, she became an assistant producer for FOX Business Network (FBN). While on FBN, she featured on the programs such as FOX & Friends First, FOX & Friends and Mediabuzz.
Carley Married A Businessman
Carley met Peter Buchigani on her 23rd birthday in 2011. After knowing him for quite a sometime, she eventually started dating Peter, who works as a securitized product sales at Amherst Pierpont Securities in Chicago, Illinois. On 15 May 2015, the news anchor hinted her fans the fresh impulse on her romance and stated that she is ready to get married. She posted a picture of the duo on Twitter and said that the wedding bells are coming close and she can almost hear them.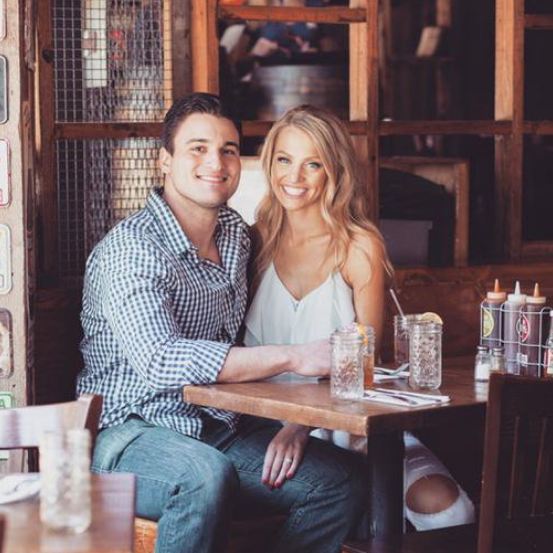 Carley Shimkus with her husband, Peter Buchigani (Photo: Twitter)
Being excited about her matrimony, Carley posted different videos on FOX News giving her wedding details. She tied the knot on 8th of August, at Fiddlers Elbow, a historic country club in Bedminster Township, New Jersey.
Carley and her husband Peter, who both are a fanatic of Michigan Football, are savoring almost three years of their married life. Both the duo is focusing on their profession engaging in their respective jobs.
Family Life
In 1982, Carley's parents met on an airplane where her father, Edward Shimkus was a passenger, and her mother, Zulma M. Shimkus, was a flight attendant. As a sibling, she has an older sister named Margot Shimkus in her family. Margot is an artist and art teacher. On 20 April 2017, Carley tweeted that her parents made a TV debut starring on FOX & Friends, a daily morning conservative news/talk program.
Short Bio
Carley Shimkus was born in 1986 and celebrates her birthday on 7th of November, which makes her age 31 years old. As a native of Long Valley, New Jersey, she was born as Carley Noelle Shimkus. The news anchor stands at the height of 1.83 m (5' 10'') with an attractive body figure and possesses white ethnicity. As per wiki, Carley graduated with BA in Journalism from Quinnipiac University in 2009.