Canadian artist, Caroline Dhavernas is widely famous for her collaboration with an American writer, Bryan Fuller in multiple projects She has amassed a great fan following that has added an excellent source of revenue from her performances in Fuller's 2004'S Fox Comedy Drama Series Wonderfalls.
How Much Is Caroline Dhavernas' Net Worth?
Caroline Dhavernas amassed a net worth of $2 million. She has made impressive fortunes from her impeccable actings skills in 2013's NBC'S Psychological thriller Hannibal. Caroline also makes good earnings from endorsing elite fashion brands like ELLE.
Caroline started her career at the age of eight when she debuted as a dubbing artist for Canadian animated show Babar in 1989 and later commenced her acting career at the age of 12 in 1990's movie named Common un Voleur. 
In an interview with parade.com in 2017, she expressed her happiness as her movie Mary Kills People was well received by the public. Although the series is based on a sensitive subject, the audiences appreciated the show thoroughly.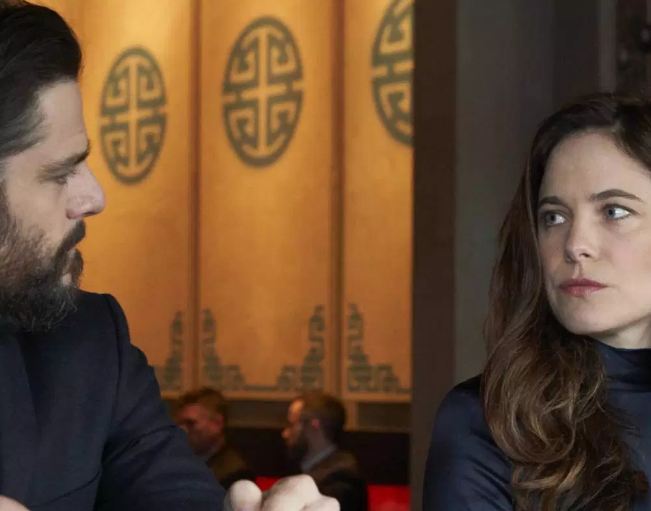 Caroline Dhavernas movie still from the second season Mary Kills People in 2017 (Photo: globalnews.com)
Caroline Dating But Who Is Her Boyfriend?
Caroline was also rumored to be dating Sands actor Maxime Le Flaguais in 2016. Maxime did not feel comfortable talking about his relationship with Caroline during his interviews for Swinger in 2016. Maxime then showed his displeasure that gossip columns have become too insensitive to write something without the consent of the involved individuals.
Then in Caroline in one of her interview with decider.com for her 2017's film, Easy Living revealed to have a boyfriend. She was asked about her character in the movie which was a big fan of mantras. Caroline is a spirited person in real life and also loves reading psychology books.
The actress also reveals that her possible husband-to-be recommended her to remain flexible every day to live a healthy life. Although she mentioned about her boyfriend, it remains a mystery whether she was talking about Maxime or some other guy.
In December 2017, Caroline collaborated with Maxime in a video and encouraged people to sign Quebec-Catalonia Public Declaration of Solidarity. Though the question of them dating remains unanswered, they remain close friends.
After the interview, it is clear that Caroline is yet to get married and the 40-year-old artist is not in a hurry to tie the nuptials. She confines to share any relevant information of her husband to be that further speculates about her affairs.
Caroline Dhavernas' Family
Caroline comes from a movie family. Caroline is the daughter of Sébastien Dhavernas and Michele Deslauriers. Both her parents have been a real treasure in the Canadian movie industry.
Caroline's father, Sebastian is known for his role as Fred Samuel in the 1984's The Gunrunner. Her mother, Michele has been active in the films since 1971. Michele's acting credit includes Nic et Pic of 1971 and 1986's French Canadian drama L'Amour Avec un Grand A to name a few.
She has a sister named Gabriella Dhavernas who is also an actress. More than her acting, Gabriella is a specialized dubbing artist. Both the sisters possess similar voice tone, and Gabriella can even dub for Caroline's movie characters.
Short Bio
Caroline was born on 15 May 1978 in Montreal as per wiki. Caroline learned English at a young age since her parents send her to The Priority School known for English Speaking Elementary. She is 1.55 meters (5' 1") in height and belongs to a white ethnic group.