Holding multiple acclaimed professions like a theatre actress, YouTube star, author, and musician, Carrie Hope Fletcher has carved her name as one of the most celebrated personalities in the entertainment industry. 
She is an actress known for movies and plays like Les Misérables (2001) & The Adams Family (2019), and TV series such as Ollie's Vlogs! (2012), Becoming YouTube (2012), and The 4:01 Show  (2013). 
Likewise, she is an author known for All I Know Now: Wonderings and Reflections on Growing Up Gracefully (2015), which is one of her best selling books. 
Carrie Hope Fletcher's Bio & Family 
Carrie was born on 22 October 1992 in Harrow, London. Her father, Bob Fletcher, was employed at Kodak as a caretaker. Similarly, her mother, Debbie Fletcher, worked as a special-needs teacher.
Besides her parents, Carrie has an older brother named Tom Fletcher- who is a musician, singer, YouTube vlogger, and children's author. Additionally, her brother, Tom is also known as the former member of the supergroup McBusted and as the lead vocalist of the rock band, McFly. 
Also An Actress: Season Hubley, Kurt Russell Ex-Wife Wiki: Where Is She Now?
Influenced by her musical theater lover parents, Carrie grew up dreaming and attending actings and singings workshops. At the age of seven, she debuted with the role of young Éponine in 2001's Les Miserables.
Who Is Carrie Hope Fletcher's Boyfriend? 
Carrie's boyfriend is singer-stage actor Oliver Ormson, best recognized as Lucas Beineke from the UK Tour of The Addams Family. 
Interesting: Who Is Dr. Jackie Walters Husband? Her Married Life Insight
Carrie started dating Oliver Ormson on 9 March 2018 and the two have been together since.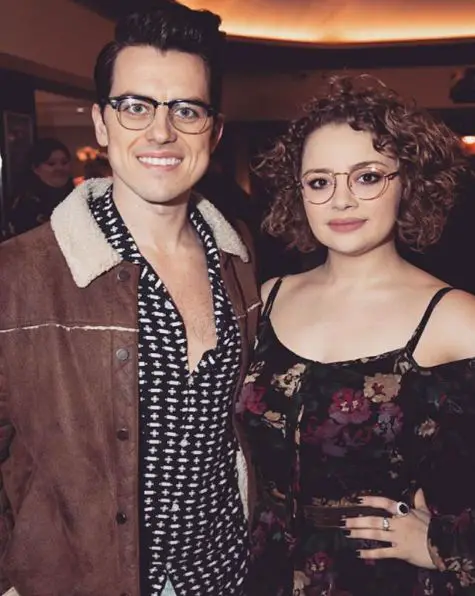 Carrie Hope Fletcher with her boyfriend, Oliver Ormson on their first anniversary on 9 March 2019 (Photo: Carrie Hope Flecther's Instagram)
Before Oliver, Carrie dated Pete Kingston, a YouTube star, in 2016 but split in 2017. Additionally, long before dating Pete, she was also linked with Lady Godiva singer Alex Day in 2012. However, by June 2013, the two had broken up.
Details On Carrie Hope Fletcher's House
Carrie moved into a new house on 18 January 2019, which she had purchased in September 2018. The house is a gorgeous cozy cottage that was built in late 1978 but got all the space Carrie required for her personal and professional life. 
Learn More: Susan Crow [Tony Bennett's Wife] Bio: Age, Wedding, Family, Net Worth
The owner of the house was dead and so Carrie had to pay less for it. However, it was not the reason for Carrie to buy the house, instead, she wrote on her blog that she saw her life in the house.  The actress considered the house as her dream home and even mentioned raising a family in it.