Carter MacIntyre is an American TV and film actor who is well known for drama-romance American Heiress. He is famous for playing angel no. 2 in comedy-drama Drop Dead Diva. He was able to win the heart of millions from his magnificent performance and kept grasping new feats of success down his career in the film industry.
Along with his career in the industry, the talented actor has also starred in acclaimed TV shows and movies like Hunter Killer, When You Find Me, The Least Among You, Benched, NCIS, and The Tomorrow People.
Bio & Family
Carter was born on 8 January 1979 in Atlanta, United States. The Atlanta Georgia native finished his school from The Lovett School in 1997 and attended Wake Forest University for further education.
Don't Miss Out: Haley Ramm Boyfriend, Married, Family, Net Worth
Besides his busy work schedule in the entertainment industry, Carter likes traveling to new places and enjoys golf sessions. He loves playing Wiffle ball. Carter played the games for hours while growing up in Cape Cod and Atlanta. He also shared a fair amount of time with videogames as well.
The current resident of Los Angeles, Carter, likes to read sociological psychology books. He is curious about human nature, so he keeps himself entertained with these kinds of books. The Hollywood star has been quite mum regarding his family matters. The pieces of information regarding his early years or family background are yet to be fully explored.
Married, Wife?
The entertainment industry isn't just full of glamour and stardom. The stars have to go through frequent rumors, scandals, and grow the habit of being followed by paparazzi when they are just trying to enjoy a happy moment.
Despite the negative sides of the glamour world, some celebrities are able to manage their personal life, keeping it away from the fame-light as far as possible. Similarly, the Drop Dead Diva star Carter MacIntyre has also led to sneak in his own life off the radar.
There aren't any pieces of information on his personal life that sheds some light on the romantic aspects of his life. Carter may be enjoying a single life focussing on the next big things in the industry.
Nonetheless, Carter has never been reported to get married or having a wife.
Explore More: Fenton Merkell Wiki, Dating, Parents, Net Worth
TV Shows, Movies, and Net Worth
Carter made his big-screen debut from a short-comedy Wrong Turns in 2006. Carter also has made a guest appearance in Bones, The Mentalist, Trauma, and CSI: NY. However, the roles that shot him to new heights of stardom was as JD Bruce in the series American Heiress in 2007.
His portrayal of Leo Nash in action-thriller series Undercovers in 2010 added up momentum to the star's fame.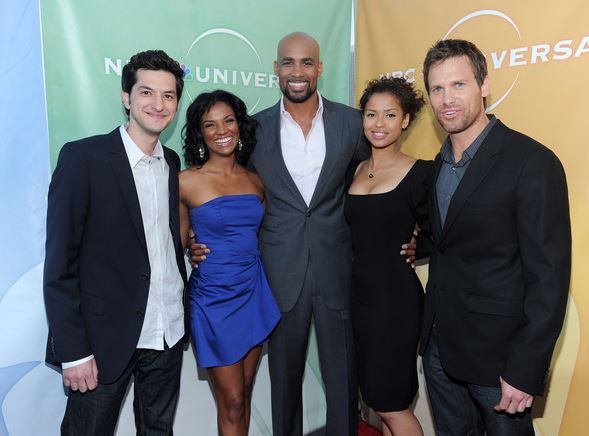 Cart with the cast of Undercover at NBC Universal's 2010 TCA Summer Party (Photo: zimbio.com)
He has led a pretty fruitful career in the industry; as of now, he has also been casted in The Man in the High Castle's final season on Amazon. The fourth season is based around the man in the castle exploring what the outcome would be if Allied power had lost World War II.
There is no doubt that his successful career in the fil industry has helped him garnish immense fame and wealth in his life. However, his net worth is yet to be disclosed to the public.
(Note: The estimated average salary of an actor in TV and movies is around $50,539 annually, as per Payscale. The A-listed actors reportedly make $15 million to $20 million on big-budget projects.)