One cannot get away from the limelight when he/she is related to the celebrity star. Jessica Gadsden is known for her low-key personal life, but she often comes into the public domain being the wife of popular TV host Charlamagne Tha God. She is a successful fitness coach who runs her own fitness center. 
Shared Wedding Vows With Charlamagne Tha God; Mother Of Two Kids
Jessica Gadsden, age 37, and her Radio host husband have been together since their high school days and have come a long way being together. The pair started dating each other from the late 1990s, and it's going on strong and steady.
After being together for sixteen years, the couple shared their wedding vows in September of 2014. In an interview with Xo Necole in January 2016, Charlamagne revealed that his eldest daughter convinced them to get married,
"You have to show your kids love. That's one of the reasons why I wanted to get married. Me and the mother of my kids have been together since high school. When you have your seven-year-old daughter asking why you and mommy don't have the same last name, that affects you as a man. It made me think, 'Well, why don't we? What's stopping me from taking that next step?"
The couple has two daughters; however, their identity remains concealed. As concerned parents, Jessica and her husband have chosen to remain that way. Her husband, Charlamagne explained the couple's parenthood decisions in a statement,
First of all, I'm not raising my kids via social media. I never felt like that was a place for my family to be. I don't knock anyone who does it, but I don't want my family on Facebook or Twitter. That's something I chose not to do.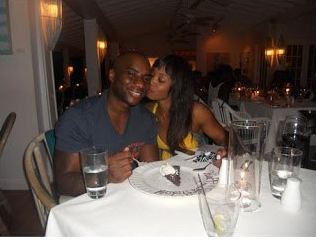 Jessica with her husband, Charlamagne Tha God enjoying their dinner date (Photo: empireboobookitty.com)
In some interviews, he also cleared that both husband and wife cheated each other before marriage, but they remained honest with their relationship following their marriage. This is evidence that the lovebirds for nearly twenty-five years are a perfect match for each other. 
In 2001, her partner was accused of raping then-fifteen-year-old Jessica Reid when he was 22 years of age. South Carolina Ninth Circuit Solicitor Scarlett A. Wilson dismissed that case from resurrection again on 12 July 2018.
How Much Is Jessica's Net Worth?
Jessica Gadsden has accumulated a staggering net worth of over $1 million. She has derived her net worth mainly from her fitness career. 
As per News Swirl, Jessica earns her fortunes from her job as a personal trainer and fitness instructor. She specializes in bodybuilding, Pilates, and gymnastics. She has even amassed her earnings by working for the organizations like East Shore Athletic Club, New York Blood Services, and Core Fire Pilates.
Her husband, Charlamagne Tha God, age 40, is a wealthy man who is most notable as an American Radio host and TV personality. He is reported to have around $10 million of net worth. She benefits from her husband's staggering net worth. He has successfully gathered his fortunes by co-hosting The Breakfast Club along with Guy Code, Guy Court, and Girl Code.
Short Bio
Jessica was born in 1981 and celebrates her birthday on 29 November. As per wiki, she hails from South Carolina, which makes her of American nationality. Jessica completed her education at the University of South Carolina-Columbia in Bachelor of Arts degree in Journalism and Mass Communication. Jessica also earned her MBA from Webster University. She also got a degree in Biology from Bergen Community College in 2013.