Charlie Kirk is the founder and president of Turning Point USA and works on the free marketing principles amongst the youths. 
In July 2021, he found himself amidst various controversial questions when the veteran adult entertainer Brandi Love was kicked out of Turning Point USA, Florida, for merely being present at the conference. 
However, Kirk is also not a stranger to various controversies as his tweets are often rude and targeted to offend people who have different aspirations than him. 
Brandi Love Controversy And His Tweets!
A drama arose when a Turning Point USA, Tampa, Florida attendee noticed adult entertainer Brandi Love who was welcomed as an "Adult VIP." The backlash began when a former Kansas State student took to telegram and wrote,
"Imagine sending your kids to this conference think they're gonna learn about Christian Conservative values, and they come home with photos with p-stars." 
The white nationalist who promotes far-right politics began storming Love in -person and all over social media. 
As a result, her "VIP batch" got canceled, and she was banned from the conference. The adult entertainer then took to her Twitter and expressed her disappointment at the event and people like Charlie Kirk saying,
"Can't make this s**t up lol!! I just watched Charlie Kirk, Dan Bongino, Rick Scott, Kat Timpf, speak about freedom, censorship, how inclusive the 'movement' is," she continued, "And then they had me thrown out of the Turning Point USA conference. The Republican Party is broken."
However, TPUSA`s team defended the mishappening stating that the program was designed for minors. 
Since the program indicated an adult`s presence, was Brandi Love only kicked out because of her professional choice? The FOX News guest Ben Domenech displayed his utter disappointment by stating,
"I'm disappointed that TPUSA kicked out Brandi Love for no reason whatsoever. She's a Florida conservative businesswoman who loves America."
Kirk passed other controversial statements via his tweets when he speculated that more than a million people have died after the vaccination. Furthermore, he even went against senator Mitch McConnel and other political leaders for making the vaccine mandatory for everyone.
Is Charlie Married?  
Charlie Kirk is a tight-lipped person when it comes to advocating his personal life. However, we do know that he is married to a young entrepreneur Erika Frantzve. 
The duo turned the 2020 engagement to marriage on May 8, 2021. They tied the knot in the beautiful setting of Scottsdale, Arizona. 
Frantzve is a podcaster, businesswoman, and doctoral student. On June 8th, he shared a picture with his wife via Instagram, thanking everyone who helped them celebrate their marriage and the 9th anniversary of TPUSA.
Erika also often shares pictures on her Instagram, flaunting her beautiful relationship with her husband.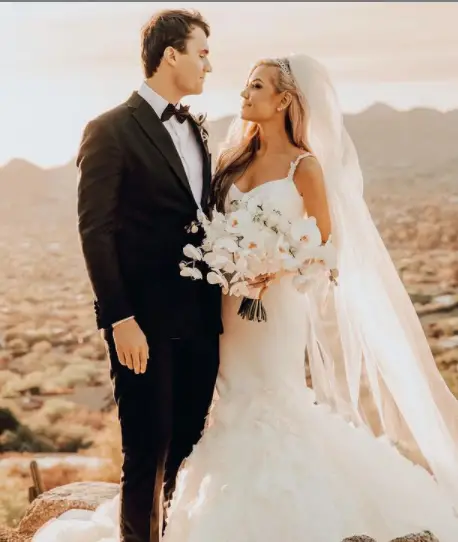 A picture from Charlie Kirk and Erika Frantze`s wedding. (Source: Erika`s Instagram)
Don't Miss: Pamela Adlon Daughters, Husband, Partner
Career | How Much Is Kirk`s Net Worth?
Charlie Kirk is the founder and executive director of Turning Point USA, which promotes the principles of a free market by identifying and empowering young people. 
As per PayScale, the median salary of the business executive is $85,163 per year, and concerning his stint in business, Charlie might have smashed the substantial fortunes from his company. 
Charlie founded Turning Point USA on 5 June 2012, and his non-profit organization now represents over 1200 high schools and college campuses nationwide to promote marketing principles.
Along with his career as a business executive, he also served as a spokesman and was the youngest speaker at the 2016 Republican National Convention. Similarly, on 29 July 2017, he spoke at the Pasadena Convention Center in Pasadena, California, alongside Tomi Lahren, a Fox News contributor. 
Also, Charlie has released his book entitled Time for A Turning Point in 2016, which has $9.99 and $16.15 in Kindle and Hardcover edition at Amazon. Appearing on Fox News, CNBC, and Fox Business News, Charlie has also made his way as an author of the Time for A Turning Point. 
Also known as the spokesman, he has been credited for his speeches at the 2016 Republican National Convention and the Pasadena Convention Center. As of 2021, Kirk has massed a net worth of $2 million.
You May Like This: Kaylyn Slevin Wiki, Age, Parents, Boyfriend
Bio, Wiki, And Parents
Born in 1993 in the United States, Charlie Kirk celebrates his birthday on 14 October. He belongs to white ethnicity and holds an American nationality. Charlie has a height of 6 feet 4 inches (1.93 meters). He pursued his education from Wheeling High School, where he was involved in Eagle Scout, Marching Band, and Nationally recognized Wind Symphony. 
Charlie was born to his parents Robert W. Kirk and his mother, who raised him during his childhood. His father, Robert, is the project architect manager for Trump Tower in New York City.