Charlie Webster is an English TV presenter, a model, and a personal trainer, who not only hosts Television shows but also hosts radio shows. Throughout the years, she has been able to capture the hearts of millions of people around the world through her bold on and off-screen personality.
Apart from the media field, Charlie became the first woman to host a live heavyweight world title fight when she covered the fight between Wladimir Klitschko and Alex Leapai.
But, things were not as easy as people would expect. England-born sportscaster nearly lost her life during the 2016 Rio Olympic Games. She became the victim of malaria and was only 24 hours away from death had it not been for proper medical care and attention. She has since made a full recovery and is back doing what she loves.
Dating A Boyfriend; Married?
Charlie's love life is something that everyone is inquisitive about finding out. The beautiful television host is sure to have many guys lining up at her doorstep asking her out for a date.
Dwelving into her personal life, Charlie she was once in a relationship with Downton Abbey star, Allen Leech. In June 2014, pair began their dating relationship and often used to accompany one another in several red carpet events.
You Might Enjoy: Scott Rogowsky Wiki, Married, Wife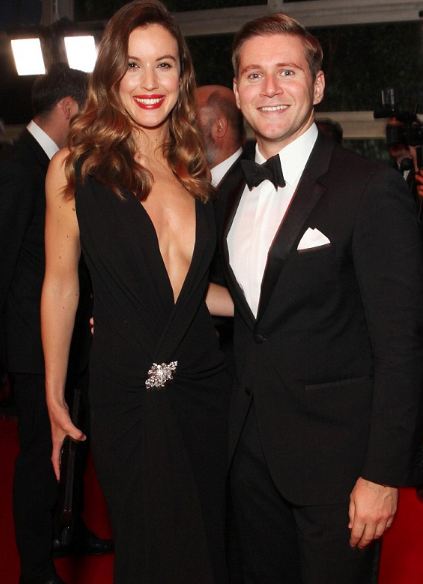 A throwback photo of Charlie and Allen together at an event. (Photo: dailymail.co.uk)
But after a year of dating, the Charlie split with her boyfriend, Allen. The pair stated that their decision to split was mutual and that they felt it was the wrong time to be in a relationship. The couple growing stardom in their respective field made it difficult to maintain an on-going relationship, and thus the pair separated. Fortunately, the two are still friends of one another.
Afterward, she was never seen cuddling around with a possible partner. Her Valentine's day post is sole proof of her singlehood as she proclaimed that she would begin dating once she becomes ready.
As of now, she is currently single and does not have a partner in her life.
Salary
Charlie has been working as a television host since she was 23 years of age. She currently works as a broadcaster and a journalist and a regular for BBC 5live radio. While serving for the network, she has covered major sporting events around the world such as Wimbledon, World Cups, and more.
Besides, she also worked as a host for Sky Sports for six years, covering several Premier League matches. As per reports of Paysa, the average salary of a Sky Sports reporter is about $83,028. With her six years of experience in the network, she definitely earned above average salary.
In 2015 she made the headlines when she became the first woman ever to host a live heavyweight world title fight when she covered the fight between Wladimir Klitschko and Alex Leapai.
Find More: Jordyn Taylor Wiki, Parents, Net Worth
Apart from that, she is the brand ambassador for Skechers. Overall, she has had an illustrious career and able to make a decent chunk of net worth
Bold & Beautiful At The Same Time
Charlie Webster is somewhat of an inspiration to millions of women around the world. Webster is an avid supporter of the victims of sexual abuse and rape.
She had showcased her support towards the victims a number of times and has also gone on to share her life story when she was sexually abused by her running coach the age 15. Webster stands tall in support of all those, who have been victims of such cruelty.
Along with that, Webster is also a social worker and has donated to different charities. She can often be seen taking parts in marathons as a part of charities. In 2014, she helped raise money for Women's' Aid by running a marathon for seven days. It is safe to say that Webster is indeed bold and beautiful.
Charlie Webster's Wiki
Charlie Webster, who is of white ethnicity, was born on 9 November 1982 in Sheffield, England. Information about her parents remains little to not available. But what is known is that her mother was adopted and Charlie had a perfect relationship with her family, and she especially was close to her grandparents
Charlie can often be seen posting pictures of her alongside her mother, spending quality time together.
Interesting: Charlie Weber Wife, Daughter, Girlfriend
For her measurements, Charlie stands at the height of 5'9" and is of the average weight. As for her education, she studied Language and Linguistics at Newcastle University.